An open letter to Jose Mourinho from a disheartened Chelsea supporter
3.67K //
13 Mar 2015, 16:02 IST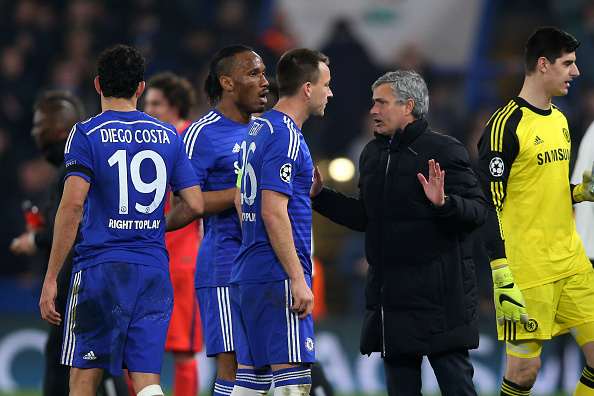 Hello Jose,
It is very disheartening to lose and more so when the opposition uses the same tactic as yours against you. Sir, this has been a really embarrassing loss, a team down to ten men, a game which could have been won very easily, was lost because of the negative tactics which were deployed. Being a Chelsea fan myself, I must say that Paris Saint-Germain deserved it. They showed the resilience and the character to bounce back and show the hunger to get something out of the game. They showed great character and patience to slowly build up and create opportunities and two of them were taken superbly which knocked our team of the Champions' League. Well played PSG! Good luck in the quarters.
Our team just did not play well. Chelsea were so ill-disciplined, so lethargic, so casual and so very slow throughout the match against PSG where the lack of desire and the laid-back attitude dearly cost us a place in the quarter-finals. This is very detrimental to the team, in general, which invites pressure from the opposition and is an invitation for that team to capitalize. Why so many touches? Why so many back passes? When the ball should go forward, it suddenly caresses the middle line and goes back to a defender. The shots have dried up, literally, where no one is taking them and the only way possible for the players is to go at the opposition and try to fool them and it comes out to be nothing in the end. Either a defender barges in or the ball takes a heavy touch and the attack fizzles out.
Our players specially Diego Costa, need to be taught some discipline. His physicality should not be taken too far. He pushes and manhandles defenders as if they were nothing. I personally would like these duels to stop. He is a prolific striker without a doubt, but such ill-discipline is surely not called for. Call it luck or something else, somehow he escapes. We always desire a clean game from Chelsea.
Eden Hazard, who is a spectacular player and a delight to watch, somehow stops taking a shot even when there's space available and he passes it to Cesc Fabregas whose delightful assists work most of the time but they also do backfire when they hit a defender and the chance goes away. That time delay is dangerous considering the fact that the opposition can launch a quick counter attack and score. Sir, having a crack can make wonders and many goals can be scored instead of just one goal and sitting back on the lead. This has been because of the negative mindset of the players. Just instinct sometimes works so correctly that you feel as you watch the game that too many cooks do spoil the broth.
Time wasting is another tactic which is hurting us. Why waste time when we have such world class defenders in John Terry and Gary Cahill and Cesar Azpilicueta? Why not score a barrage of goals and kill the game off? To frustrate does not mean slowing the game down when you have only a one goal lead. Either a feisty and end-to-end encounter should be there or a bossy game where you are 3-0 up and enjoying yourselves on the pitch. That should be the team's ethic.
Sir, your policies are backfiring, and teams now know how to tackle us. They have seen it through and PSG rightly taught us a lesson and humiliated us. These worked during the initial stages but now it's time for a change. The hopes of a quadruple are now trimmed to a double. If Manchester City do not provide us a challenge then the title is ours. Bradford City showed us that the overconfidence was growing, and PSG just brought us back to the ground. We fans had such high hopes of a stellar season where after no silverware in the previous, there would be trophies galore for our trophy cabinet.
Sir, this is just a fan's reaction to your tactics which are so negative and so redundant that it has become boring to see Chelsea play. If you see our defeats, they have come because of our own faults and the other team growing in confidence seeing our dip in it. The urgency should be there, the hunger to play more so. All our hopes are now of a double when we shall see images of a blue-decker bus with the trophies held aloft.
I sincerely wish we should have got the treble when we had everything on our side and still PSG won. I pray that the bus is parked at the right destination. You are a great manager Sir and surely the right man to lead the club and I have the utmost respect for you as well as all the players. It is just that we fans want our team to win and gun for more glory. Here's to Chelsea glory! Vive La Chelsea!
Yours truly,
A Chelsea fan.