On 6 June 2015, a bearded man wept in Berlin. Photos were taken and were posted hurriedly on social media channels. Was this the end of a splendid legacy which drew fans of the sport in one fell swoop? Will we no longer see this man weave magic with the ball at his feet, drawing gasps of awe from millions across the world? Time will tell, as we wait with bated breath.
The early years
The aforementioned bearded man, known more commonly as Andrea Pirlo, was born in a province of Brescia. He grew up to play for his hometown before being inevitably picked by one of the big boys in the country. Internazionale Milano signed Pirlo from Brescia, a chapter of Pirlo's life which he may want to forget.
He constantly struggled to break into the first team and spent time on loan spells at Reggina and Brescia. But some good came out of this phase of Pirlo's career, and a good deal of credit for that must go to Carlo Mazzone. He was the man responsible for reinventing Pirlo as a deep-lying playmaker.
It was a decision that would have a defining impact on modern football. Pirlo would go on to become (arguably) the finest deep-lying playmaker of this generation.
Finding glory at AC Milan
Pirlo set upon his journey to achieve greatness, as he moved across town from Inter to Milan in 2001. Under the guidance of Carlo Ancelotti, Pirlo cemented his position as a regista. He continued to develop his ability to strike a dead-ball, adding to his admirable armoury of passing and movement.
Being surrounded by a plethora of globally renowned superstars, Pirlo carved for himself the niche of the metronome, the player with the metaphoric keys to the team. Combining with the richly talented Rui Costa and the charismatic Kaka, he helped establish Milan as one of the best teams in European football.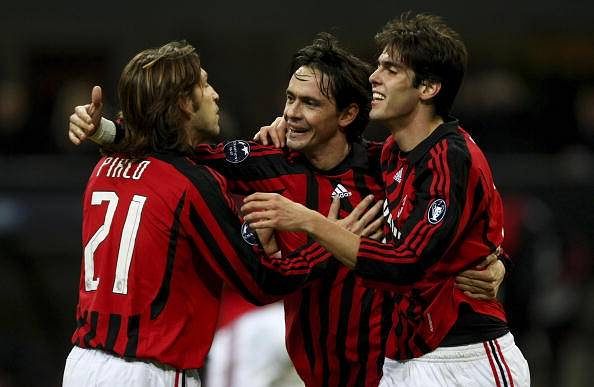 Pirlo's flair was never demonstrated in isolation. In order to enable him to deliver his best, the coaches placed central midfield destroyers such as Massimo Ambrosini and Gennaro Gattuso beside him. Their primary duty was to protect Pirlo and to deflect any attention the silky midfielder might attract.
The formula worked gloriously for Milan as the team lifted silverware aplenty. Pirlo won two UEFA Champions League titles, the league title in 2004, a Coppa Italia in 2003 and the FIFA Club World Cup in Japan in 2007.
Pirlo's impact and importance gradually reduced following Ancelotti's departure to Chelsea in 2009. The coaches that succeeded him invested their attention in other areas of the pitch as they attempted to change Milan's style of play, which admittedly was getting quite predictable by then.
Pirlo did win the Scudetto with Milan in 2011 under Massimiliano Allegri, but he no longer remained integral to the team's play. Allegri apparently questioned Pirlo's ability to play in front of the defence, which consequently affected contractual negations between the playmaker and the club.
Pirlo had reportedly requested for a three-year contract, but Milan offered him no more than two years at the club, with the half-hearted intent to reduce the average age of the squad. Confident that he still had a lot to offer the world of football, Pirlo proceeded to pack his bags and depart for a team that would rule Calcio thereafter.
Proving his critics wrong at Juventus
Juventus signed Andrea Pirlo on a free transfer in the summer of 2011. Several people scoffed at their decision to sign a "has-been", washed-out Milan reject. But some others still saw promise in the aging maestro.
Gianluigi Buffon was among those who were not just hopeful but delighted with the transfer. His comments to Radio Monte Carlo seem to have had a prophetic outcome on the club.
When Andrea told me that he was joining us, the first thing I thought was: "God exists". A player of his level and ability, not to mention that he was free, I think it was the signing of the century! – Buffon
Pirlo has won the league title every year since. Furthermore, adding salt to injury, he has accomplished this by playing in front of a back three/four while being protected by the doggedly sturdy Claudio Marchisio, Paul Pogba and Arturo Vidal.
If that wasn't enough, Massimiliano Allegri, the very same man held responsible for Pirlo's departure from Milan, retained Pirlo in his position, whilst almost leading Juventus to a historic treble last season. These achievements appear to have a celebratory effect when compared with Milan's decline during this period. The long-haired artist has made a statement, and how!
Italy's irreplaceable man
Few Italian players have the legitimate right to be considered crucial to the national team. Pirlo is the fourth most capped Italian ever and he continues to wear the blue proudly. His pivotal role in the World Cup win in 2006 and in Azzurri's tremendous performance in Euro 2012 reminded the world of his significance.
Cesare Prandelli and Antonio Conte have probably endured several sleepless nights in the attempt to replace the decisive importance Pirlo holds in central midfield.
Many have tried to embrace the responsibility but they have all fallen miserably short of achieving this titanic task. Marco Verratti is now being considered to be the man to take over the reins of the team once Pirlo decides to hang his boots. However, the Pescara born midfielder is still raw and unpolished, apart from being a different type of player. The transition has not been smooth, which has forced Pirlo to remain a prominent member of the national team set-up.
Italy are currently struggling to find a world-class striker, but there are goals from the team with the wingers and midfielders contributing amply. Moreover, Simone Zaza, Manolo Gabbiadini, Andrea Belotti, Stephan El Shaarawy and Domenico Berardi form an inspiring unit of attackers for the future. Mattia Perin, Salvatore Sirigu, Alessio Romagnoli, Daniele Rugani and Davide Zappacosta will inherit an impermeable defence.
But who next after Pirlo for the national side, apart from the obvious Verratti? The silence that proceeds is terrifying, pronouncing the unmistakable influence Pirlo has upon the Azzurri.
Michael Cox, of the famed zonalmarking.net, wrote an article on Andrea Pirlo in 2011, describing him as a 'giant of his generation'. In his article, he concluded by stating, "Is he the best player of his generation? Not quite, but he is the most important."
---
Paul Merson predicts Man City vs Liverpool and other Premier League GW 29 fixtures! Click here