Andy Carroll at Liverpool: £35 million down the drain!
7.56K //
25 Mar 2012, 01:10 IST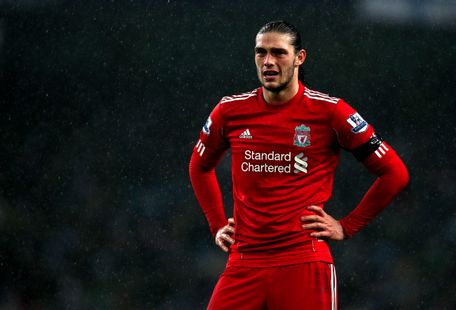 Liverpool striker Andy Carroll has been a super flop infront of the Kop (oh, that rhymes!) since his big money move to the Merseyside last January. To see him placed eight in the most expensive football transfers list alongside Ronaldo, Figo, Zidane (to name a few) seems a severe aberration. The tall forward amusingly is the most expensive British player in the world, Liverpool's record signing and the second costliest footballer playing for a British club, right behind his close friend and mentor Fernando Torres! He remains Premier League's most overrated star and an excess baggage for Kenny Dalglish, the same man who vastly overpaid to Newcastle for his signature.
Ask the Liverpool faithful, Carroll has been an absolute disaster on the pitch and often seems like a fan who won a pre-season award to play at Anfield. He literally has no skill, pace and flair and we are not even talking about his football IQ. Where all the goals came from in Tyneside is still a big mystery. Andy Carroll's misery on the pitch has accorded him with a 'worst ever piece of business' award.
Here are a few fun facts and jokes on Andy, by the fans, for the fans!
Fun facts!
# Fernando Torres (3 in 36), Andy Carroll (5 in 31) and Luis Suarez (10 in 36) have scored as many goals in 103 combined PLgames as Messi has in 7!
# Thomas Vermaelen has scored the same number of goals this season as Fernando Torres and Andy Carroll combined (5).
# Wigan's Gary Caldwell has scored more Premier League goals at Anfield than Andy Carroll this season.
# Andy Carroll, a £35m signing, has made only 20 starts, at a cost of £1.75m per game. He has scored five goals, at £7m each.
# In his last 2 games, Lionel Messi has had more touches of the ball (187) than Andy Carroll has had all season (144)
Just for laughs!!
# Rumour has it that Andy Carroll's girlfriend locked him out of their home last night. She painted a goal over the door & he couldn't get in.
# Kenny : " Andy Carrol is our wonder Boy . Everytime he plays I wonder why I signed him!"
# Kenny to Officer: "I need you to arrest Andy Carroll, he's useless!"
"On what grounds?" -"All of them!"
# Why does Stewart Downing have 0 assists? 'Coz he only passes to Andy Carroll!
# Andy Carroll's Text to Fernando Torres after the Chelsea-Leicester FA Cup game (Leaked): "I thought we were friends." :-(
# Aston Villa rejected Liverpool's (25million + Andy Carroll) bid for Darren Bent saying that they want only 25 million!!
#  "I am shocked and disappointed." The Liverpool captain responds to news that Andy Carroll will not be sold in January.
#  I met a fairy today who granted me one wish. "I want to live forever," I said.
"Sorry," said the fairy, "I'm not allowed to grant wishes like that."
"Fine," I said, "I want to die when Andy Carroll scores a hatrick ."
"You crafty Human!" said the fairy.
# The FA have brought in a new ruling. Anyone found passing to Andy Carroll will automatically receive a yellow card for time wasting.
# Liverpool have offered to sell Andy Carroll back to Newcastle Utd for free. Newcastle have reported Liverpool for threatening behaviour.
# Andy Carroll walks into a bar and orders a pint. "Thats £35 million pounds please" says the barman. "You've got to be joking?" says Carroll. "Funny thats what I said when I saw your transfer fee" says the barman.
# Andy Carroll has turned down being the new face of L'Oreal hair products as everyone burst into fits of laughter everytime he uttered the words "Because I'm Worth It!"
# Reports indicate Muamba can breathe unassisted, recognise people and regained control of his limbs. Liverpool have offered a  swap deal for Andy Carroll.
# What were the last words Andy Carroll heard from the club hypnotist before he transferred from Newcastle to LFC??? 'Look into my eyes, not around my eyes, not to the left or to the right, but straight into my eyes….good you are under my command….. if you want to make your mark at Liverpool, remember one thing and one thing only – Be Like Torres!'
Feel free to add some of your own in the comments section!