First there was MSN, [Lionel] Messi, [Luis] Suarez and Neymar Jr of Barcelona, then BBC took the spotlight in [Gareth] Bale, [Karim] Benzema and Cristiano [Ronaldo] of Real Madrid, but, now, a new trio have formed and taken the footballing nation by storm.
That triumvirate of players include Lorenzo Insigne, Dries Mertens and José Callejon of Italian outfit Napoli.
Since last season, and in particular, this year, Napoli's forward line have received a tremendous amount of attention - primarily because they are causing waves across Europe for their illustrious, expansive style of football.
Goals galore
Last season, Insigne, Mertens and Callejon scored a combined 71 goals of Napoli's 115 goals in all competitions. Forwards are expected to score goals, but the rate at which these three were going about it, no wonder they received a vast amount of media attention and a love-in from football fans.
The trio are absolutely pivotal to Napoli's success and ability to challenge for the Scudetto this season. Juventus' reign is starting to slip, with the Neapolitan club leading the way and are being crowned already as the Champions-elect. If Napoli are to win Serie A this season, it will be the first time in 28 years that the club will have won the prestigious competition - the last time being Diego Maradona's final title win.
If this is the case, all three players will be written into Napoli's history books, as players who were decisive in allowing Napoli to win their first title of the century. It will be a monumental achievement and one that should not be downplayed in the slightest.
There have been many eyes on all three players from 'bigger' clubs in Europe, but the trio have stuck with the club that has given them the license to play with such freedom.
Loyalty
When Mertens arrived from PSV Eindhoven in 2013, he was 26 years old. That is quite a fair age to be finally moving from the Eredivisie onto a more successful league. It is evident that Mertens has been a flickering candle in his early years, but is now a full-on flame that will not be blown out.
The Belgian arrived as a winger, but after Arkadiusz Milik's long-term injury, Maurizio Sarri decided to play Mertens through the middle. In a similar fashion, Louis van Gaal played Arjen Robben as a centre-forward against Spain, and everyone saw the effects it had on an ageing defence.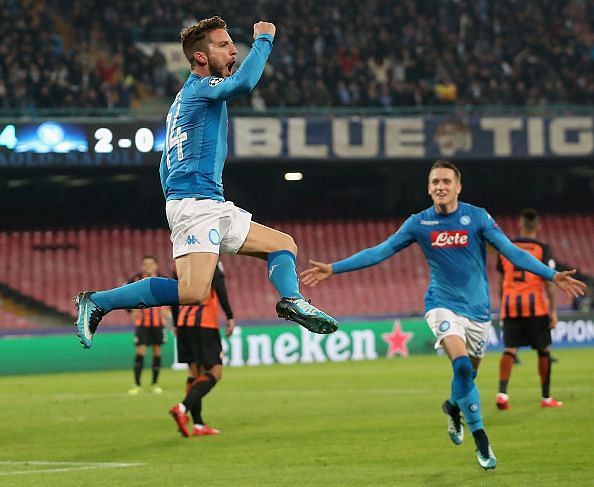 Mertens then went from a player who was on the fringes, and mostly used out-wide, to a player that demands respect from every defence he plays against, for they know he only needs one chance to put the ball in the back of the net.
It has been a meteoric rise for the Belgian, and one he is very thankful for, hence showing his gratitude in staying with Napoli when, arguably, bigger clubs have come in for him.
Callejon found himself in a similar position when arriving in Naples during the same summer. After being bought by Real Madrid from Espanyol, he was casted to one side when he could not fulfil his potential and, eventually, sold onto Napoli.
However, with hard work and great determination, Callejon has rediscovered his early career form and is firing on all cylinders. His link-up play with his teammates is delicious - as is his spatial awareness and ability to cross the ball. He provides great width to Napoli's play, which gives Mertens and Insigne options to create space inside the box.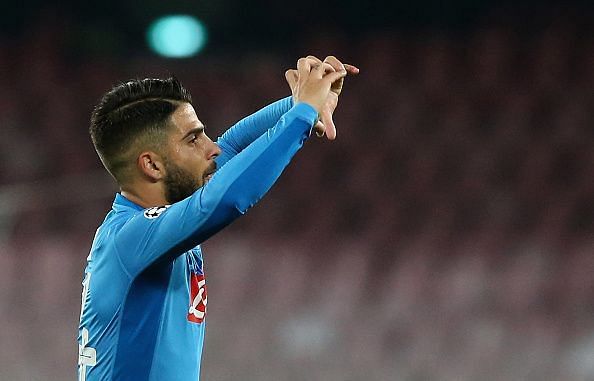 Insigne is from Frattamaggiore, a town 20 minutes away from the beating heart of Naples. There is no wonder that he is loved by the hardcore ultras of Napoli, for he grew up loving the club and having dreams of playing for the club he supported.
The Italian's speciality is to cut inside on his favoured right foot and caress the ball into the back of the net. Against Shakhtar Donetsk in the Champions League, Insigne did just that as he sealed a 3-0 win over the Ukrainians. It was a gorgeous strike, and one that Italy needed against Sweden, which made it all the more baffling as to why Gian Piero Ventura left him on the bench.
Comparison
There are other triumvirates forming out there in world football, while some, who were at the top of their game, such as Real Madrid's, have fallen apart through injuries to Bale.
The BBC were hugely influential a few years ago, but now, as they get older, they are more susceptible to injuries and huge drops in form. Both Bale and Ronaldo have had various times on the sidelines, while Benzema's form has gone out the window. The Frenchman has done an incredible amount of selfless work for Real Madrid, and especially Ronaldo, but his time is most certainly coming to an end as Los Blancos will look to bring in, perhaps, Harry Kane.
There is arguably another world-class trio in Europe, who have only recently formed a partnership together. They are Paris Saint-Germain's Neymar Jr, Edinson Cavani and Kylian Mbappé.
While the French team's attacking three have scored 13 more goals in all competitions, it has to be said that Ligue 1 is a much lesser competition, especially when these players are playing at the team which has, once again, monopolised the league.
Napoli are in a heated and hotly-contested Scudetto race, which is made up of five teams. Small margins matter and errors are counted against them. There is a huge amount of pressure to deliver their first title in 28 years and yet, Insigne, Mertens and Callejon are still performing at an unbelievable level in terms of their statistics.
Deep understanding
A trio should not only be judged on their stats, but also their link-up play. When watching Napoli, you can see there is quite clearly a deeper understanding of these three players than other trios in Europe.
When Mertens, who is an unorthodox centre-forward, runs in-behind and stretches the opposition's defence, it allows Insigne to move inside and take up more of a number 10 role. Rarely does the Italian hug the touchline and hold width. That aspect is down to Callejon, who will stay out on the right-hand side to pin his opposite man and deliver crosses into the main areas.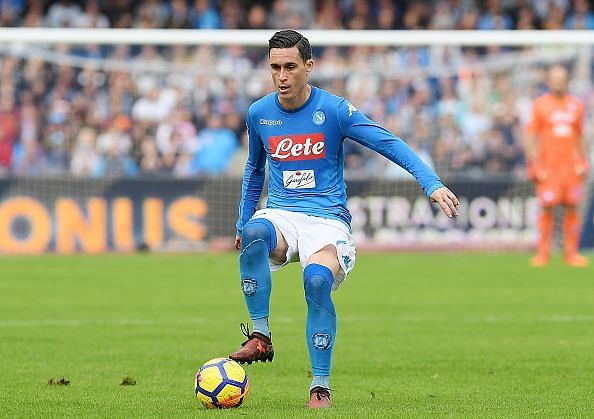 Napoli's attackers play like they have grown up since birth playing football together. Relationships are built over time, but in the last year since Mertens' move to centre-forward, things have just clicked into place wonderfully well.
This famous trio have fired Napoli to the top of the table, but it is now about sustaining their efforts and continuing the momentum all the way through until May. There is still so much of the season to be played, but Napoli have the best chance of winning the Scudetto since Maradona's days.
With Insigne, Mertens and Callejon all fit and firing, Napoli's fans can be confident that the Neapolitan club are about to embark on their first league title in 28 years.