Arsenal 2-1 Newcastle: Deserved, last-gasp and very pleasant
1.68K //
13 Mar 2012, 12:28 IST
When the final whistle blew at the Emirates on Monday night, Arsenal wrote themselves a small but significant part in Premier League history. A Thomas Vermaelen goal in the very last minute of the game meant that the Gunners became the first side to come back from a deficit and win four matches in a row. It was no less than they deserved, with Newcastle's opening goal by Ben Arfa turning out to be their attacking zenith, and the game being an exhibition of relentless Arsenal pressing thereafter. Pressing that got its reward in stoppage time, like it has in so many matches for them recently.
Team news
Arsenal made one change from the team that won but lost against Milan last Tuesday. Mikel Arteta returned in midfield, with Alex Oxlade-Chamberlain moving to the left flank in place of Gervinho. The rest of the team was normal service (which ironically hasn't been that normal for Arsenal this season), with a back four of Koscielny, Vermaelen, Sagna and Gibbs protecting Szczesny in goal, Song and Rosicky providing bite and drive in midfield respectively, and van Persie being flanked by Walcott on the right.
Newcastle abandoned their staple 4-4-2 and went for a slightly more cautious approach, with Hatim Ben Arfa playing in the hole behind the imposing Demba Ba. A midfield quartet of Cabaye, Tiote, Jonas and Obertan were tasked with stopping Arsenal pinging the ball about, and a defence of Williamson, Simpson, Coloccini, Santon and Krul had to be at their best to stop the goals flowing.
The first half
This period can best be described as twenty minutes of dynamite action followed by twenty-five minutes of push-and-pull. Arsenal's first sight of goal came in the second minute, and it was a very clear sight. Walcott got the ball on the right after a good climbing header by Sagna, and his fizzing cross just evaded van Persie's outstretched left leg. This didn't quite set the tone for the game though, with chances turning out to be the exception rather than the norm.
Newcastle grew into the game, disciplined in defence and moving the ball forward quickly when they had it. In the 13th minute, a poor Vermaelen clearance came out to Tiote, who had Ba running into space. A quick exchange of passes between Ba, Obertain and Ben Arfa saw the Frenchman running at Gibbs in the box. The Arsenal defender failed to stop him coming on to his left foot, and the venomous shot beat Szczesny at his near post to creep in. Newcastle had come to contain, but they had a shock lead.
A shock lead that would last for all of 55 seconds, as it turned out.
Arsenal puttered down the other end immediately, with Walcott, Song and Rosicky exchanging passes to release Arsenal's speed demon down the right. The cross was decent, the first touch from van Persie was a lot more than decent, and the finish was sweeping and nonchalant in its obviousness. Arsenal were level in the proverbial blink of an eye.
The rest of the half passed by without any notable chances. Half-cleared corners, potshots from inside the box, the odd strike going wide – there was nothing clear-cut. A tetchy undercurrent to the game was provided by van Persie and Krul, who had an altercation midway through the first half arising out of van Persie taking offence to Krul's time-wasting tactics. It was something that would boil over at the end of the match.
The second half
This time Arsenal started with a lot more urgency and verve, with Czech midfielder Tomas Rosicky once again being at the centre of all things good the home side conjured up. Rosicky has been having a brilliant purple patch of late, and the thirty-one year old rolled back the years again to produce a commendable performance. As early as the 48th minute, he was on the end of a Walcott cross, with the diving header being smartly palmed away by Krul.
In the 66th minute, Rosicky almost capped his fine outing and celebrated his new contract with a goal. Typical industrious play from him set Walcott free (who also had a excellent game), and the Englishman cut back expertly before feeding Rosicky in the six yard box. At a time when hitting the target seemed easier than not, the shot was scuffed piteously wide, going out for a throw-in with disappointment writ large on Rosicky's face.
As the half wore on, Arsenal started stepping it up further. They pressed the Newcastle defenders diligently, one instance almost bearing the ultimate fruit as Gibbs nicked the ball from Ben Arfa and played it to van Persie who shot wide. Some minutes late, an Arsenal free-kick somehow evaded everybody and came to Gervinho, who was perhaps surprised that it did come to him, and blew his shot as a result.
Full-time was imminent, but the home side weren't giving up. Slick interplay between Song, Ramsey and Gibbs on the right flank almost culminated in a successful headed goal for Vermaelen, but for the fingertips of Tim Krul. Another header was cleared off the line. Walcott's shot was fortuitously blocked by Coloccini. This didn't look like Arsenal's day, before it did.
In the fourth and last minute of injury time, Arsenal stormed forward, kitchen-sink in hand. Song played it out to Walcott, and he delivered another telling cross into the box; a cross which ricocheted off a Newcastle head and fell to Vermaelen, who had made a gut-busting run from the halfway line. The ball was swept home, pandemonium reigned at the Emirates, and Arsenal had another three points.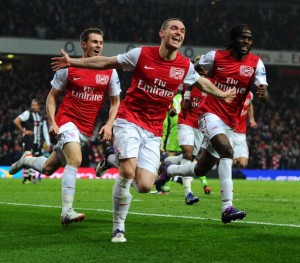 The game ended on a sour note, as van Persie and Krul went at it again, with Arsenal's captain reportedly goading him for time-wasting and challenging him to do so then, when Newcastle were behind. Both parties received a yellow as Howard Webb blew the final whistle. A bit of unpleasantness to cap things off, but Arsenal fans will look at the scoreline, and they won't care one jot.