Arsenal 7 Newcastle United 3 – Magpies Blown Away!
698 //
30 Dec 2012, 15:34 IST
Arsenal 7 (Walcott 20, Chamberlain 50, Podolski 64, Walcott 73, Giroud 84,87, Walcott 92) – Newcastle 3 (Ba 43, Marveaux 60, Ba 68)
Man of the Match - Santi Cazorla (Arsenal)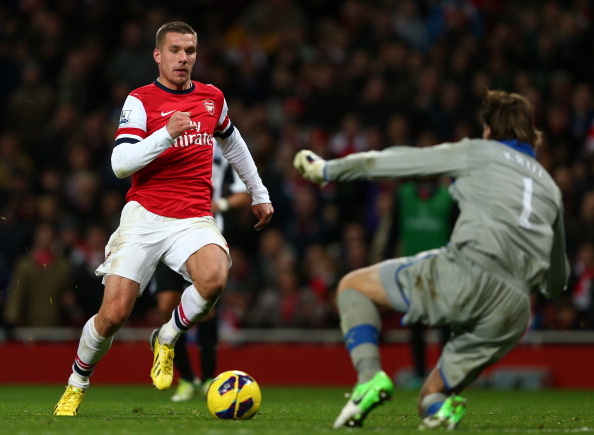 It was quick. It was incisive. It was devastating. And, in the middle of all the carnage, was Theo Walcott.
Arsenal produced a scintillating display, and along with Newcastle United, put on a brilliant show of football for the neutrals. The second half produced 8 goals, which is roughly a goal every 5 minutes, and Arsenal pulled away to create a massive gap between the two sides, when it threatened to continue to yo-yo.
Arsenal made only one change from the side that narrowly beat Wigan, with Per Mertesacker calling ill before the game. Laurent Koscielny came in, and you would be forgiven to think that we were in for a rough ride. The manager kept his faith in Walcott starting though the middle, as Olivier Giroud watched from the bench.
I had, just yesterday, spoken about how Arsenal would do better with Theo Walcott on the wings, instead of the centre, as he may not have enough quality against solid defenders. I preferred Giroud through the middle because of his physicality and directness.
Newcastle, going through a period of injuries, suspensions and tough games, named a very raw midfield, containing Sylvain Marveax, Gael Bigirimana, the returning Cheik Tiote and Gabriel Obertan, supporting Demba Ba and Papis Cisse up front.
Arsenal started the brighter, understandably, having had a good week's rest, while Newcastle looked to be on the backfoot, having lost by the odd goal, in a 7 goal thriller at Old Trafford, just days earlier. Jack Wilshere spotted Alex Oxlade-Chamberlain, but his shot was wide. The Toon had their chances as well, when Ba outjumped Vermaelen, Koscielny and even Papis Cisse, to head over the bar.
Arsenal were creating chances, but not finding any space. That was until the 20th minute, when Lukas Podolski retrieved the ball close to the half way mark, and released Walcott on the flank. Walcott used his pace, and cut in, and while everyone was expecting him to set up Cazorla, who was free, with only Santon for marking, Walcott curled in the opening goal, a la Henry.
The master, Thierry Henry, himself applauded from the stands, as Walcott celebrated. It was a top quality finish. From there, however, the Gunners failed to kick on. Newcastle set a tempo, dominating possession in midfield, with Tiote, Marveaux and Bigirimana working in tandem. Arsenal were chasing shadows for a long time.
Arsenal had another chance to score, when Podolski set up Walcott but the Englishman's left footed effort was smothered by Krul. Tiote found acres of space outside the penalty area, and his shot stung the palm of Szczesny.
Newcastle got the goal they were looking for, minutes later. Gabriel Obertan was impeded by Sagna just outside the box. Demba Ba's resultant free kick went in off Jack Wilshere's head, past a confused Szczesny. It was probably deserved for the enterprise the Magpies had shown.
Arsenal came stronger in the second half. First, Podolski spotted the run of Kieran Gibbs over his shoulder, but the left-back's attempt was saved by Krul. Minutes later, Podolski and Cazorla set up Chamberlain, whose shot from outside the box found the far corner of the net. It was the winger's first goal in the league since the 7-1 demolition of Blackburn, way back in February.
Arsenal again lost the lead they had, when Obertan beat Sagna, and his cross the entire Arsenal defence, as Marveux tapped home the equalizing goal. Arsenal had to do all the work again, and 4 minutes later, were in the lead, as Jack Wilshere made a darting run, and crossed just before he ran out of ground. The ball was precariously floating over the bar when Collocini thought he had cleared the danger.
But, the ball struck the top of the post, and straight back into the path of Podolski who bundled the ball home. 3-2 Arsenal. Newcastle, who led thrice at Old Trafford, found tremendous will power and energy to equalize again.
Marveux's cross from the left was tapped home by an unmarked Demba Ba, who, if he was auditioning for a possible move to the Gunners, was impressing thus far. It was poor from Arsenal's defenders however, who failed to spot the danger, especially Kieran Gibbs, who was caught ball watching.
The score didn't stay the same for long though. Arsenal kicked on from there onwards. Gibbs found Walcott bang in the centre of the penalty box. Walcott turned and shot into an empty corner of the Newcastle goal, despite the swarm of players around.
He was involved again, as his delicious cross was headed in by a diving Olivier Giroud, as he beat the attentions of Newcastle's defenders. And, Arsenal were looking to finish with a flurry of goals. Giroud scored his second, three minutes later, as he collected the ball from just outside the area, and released a rasping drive past Krul.
Whoever said he is not good with his feet! Arsenal, however were not done yet. Giroud was needlessly fouled by Davide Santon near the corner flag. Wilshere and Walcott stood over, but it was the latter who made the difference.
He made a darting run at Newcastle's defence, and was bought down, for what seemed a sure shot penalty. But, he stood up, and chipped the ball past Krul, to complete a sublime hat-trick. Arsenal probably could have had the 8th goal, and Giroud his hat-trick, but his close range effort rattled the post.
Plenty of positives and negatives to take from an exhilarating evening of football. Let's start with the positives. Walcott seems to be defying his critics, including me, over his suitability to playing as a centre-forward. He controlled the game well, creating space for others, and also scored 3 wonderful goals.
Lukas Podolski worked immensely, and as I said, did what he does best, drift inwards, and link with Gibbs and Wilshere to good effect. Cazorla was a bit restricted, but Wilshere compensated for that. Olivier Giroud bought in freshness as he came on, and put a tiring defence to sword.
Defensively, we are still lacking some steel. No disrespect to Newcastle, but again all the goals we conceded were avoidable. Obertan had Sagna in wraps, on more than one ocassion. Koscielny may be our best defender, but twice I spotted him making a forward run, that could have proved fatal, with only Vermaelen back for cover.
There were too many gaps in our midfield, and we really need some presence in midfield. Arteta at times seemed out of ideas, as he was overrun, by a young and energetic Newcastle midfield trio. We struggled to cope with the delicate movements and touches of Ba and Cisse, which again is worrying.
Against more fitter, and stronger sides, we could struggle to contain the opposition. There seemed to be just too much space afforded in midfield.
But let's not take away anything from a marvelous attacking performance, and a good note to end the year. Hopefully we will be treated to more goal fests like these in the coming year. And Theo Walcott, sign da ting son.
Till next year!
Jai Arsenal