Arsenal can overhaul Spurs - Squeaky Bum time for AVB, Deja Vu for Gooners
1.26K //
19 Mar 2013, 11:40 IST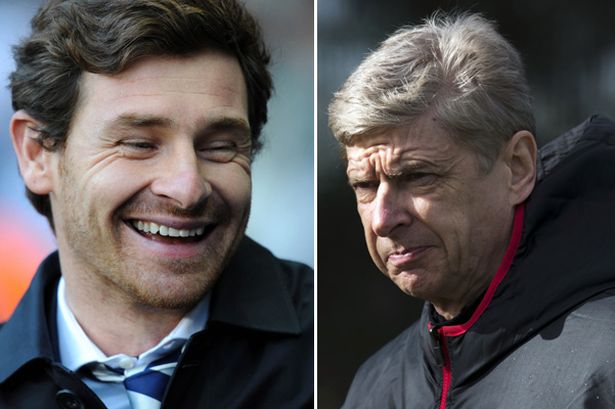 I am not going to pretend I feel all is rosy in the Arsenal garden but I do believe now that we will overhaul Spurs and attain Champions League qualification. No, this is not a trophy for me and yes I would still, unlike the majority, it appears, have rather won the FA Cup and finished 5th. However, I am confident of Arsenal now stringing together a sequence of results that will carry us where we need to go.
Is this because I feel Spurs will implode? No, not particularly, although they are doing a passable impression of the team that might. Is it because we appear to have an easier run in than our North London neighbours? No, not that either, although again on paper it might appear to be the case. Is it because, sadly, we have only the league and they have the Europa League as well? No, not especially, although fresh legs can, of course, be a bonus. Is it because I don't believe Gareth Bale is quite as good as the sycophantic journos and pundits tell us he is? No, but while I am at it, he isn't.
No, my feeling is based more on historical precedent and team selection. I will elaborate, but first, to get you in the mood, please enjoy the following, all written after we have been defeated at White Hart Lane on the 3rd of March. And according to most observers, the North London power shift was on!
'As Welsh goal-scoring wizard Gareth Bale continues his streak of good form, and first-year manager Andre Villas-Boas continues to pump his fists in triumph along the sidelines, Tottenham look almost certain to top Arsenal this time. The Gunners, meanwhile, appear doomed to finish outside the top four for the first time in Wenger's era.' (Bleacher Report)
But they won the North London derby, strengthened their position and separated themselves further from their rival, big-picture-wise. Indeed, Tottenham is in a position to show why they're different from Arsenal, the moment when they can show they are a club of ambition and upward trajectory. That moment will come if and when they qualify for Europe and therefore have the best leverage to hold on to their best player, Bale, and show that they are not a selling club. (ESPN)
The Gunners are fifth in the table, five points shy of Chelsea in fourth place, never mind Spurs in third, and with just ten games left they look set to miss out on a top-four finish for the first time under Wenger's management. (BWIN)
Tottenham v Arsenal: North London is bright, North London is Lilywhite (Metro Blogs)
 Final word on the scene setting I give to Harry Rednapp, this written on the day of the NLD in the Sun.
"Tottenham are about to end 18 YEARS of hurt and finish above local rivals Arsenal in the Premier League. It came within a whisker of happening last season, with just a point between them. Arsene Wenger's Gunners have 15 or 16 good players and a few individuals who would get into the Spurs team." (Oh please Twitchy!!)
Okay, so let's refresh our memories as to what happened in 2011/12 and then look at how and why this is so significant in my mind for 2012/13.
February 26th 2012. The North London Derby at the Emirates
Arsenal, after and awful run in January, which saw them take exactly ZERO points from 3 league games, find themselves way off the Champions League pace and 10 points behind their bitter rivals, who similar to this year, are claiming the infamous power shift. Arsenal are 2 nil down inside the first 20 or so minutes and face the real possibility of being 13 points behind their bitter rivals, with only 12 games remaining.
Of course, with Sagna's header the turning point, Arsenal secure the first of 2 famous 5-2 victories and the momentum was to swing back in our favour. But why was this?
Well, something significant happened on the 26th February that, for me at least, was the true reason behind what happened next.
| | | |
| --- | --- | --- |
| Date | Match | Score |
| 03/03/12 | Liverpool (A) | 2-1 Win |
| 06/03/12 | Milan (H) | 3-0 Win |
| 12/03/12 | Newcastle (H) | 2-1 Win |
| 21/03/12 | Everton (A) | 1-0 Win |
| 24/03/12 | Aston Villa (H) | 3-0 Win |
| 31/03/12 | QPR (A) | 2-1 Loss |
| 08/04/12 | Man City (H) | 1-0 Win |
| 11/04/12 | Wolves (A) | 3-0 Win |
| 16/04/12 | Wigan (H) | 2-1 Loss |
| 21/04/12 | Chelsea (H) | 0-0 Draw |
 So, after the NLD victory, what could have been a 13 point gap on the 3rd of March when Arsenal played next was a 7 point deficit. On the 3rd of March 2013, after the defeat at Spurs, the gap, curiously, was the same.
So, in 2012, the emphatic win and come back led to a sequence of super results. The win over Spurs and the following 6 games, 5 in the league, showed above all had a common thread. So, what was the common thread that was so significant in late February and March of 2012 that had not been there in January and early February?
Some of you might be there already but if not, I will put you out of your misery. For Spurs on the 26thFebruary and for every match in a busy March, Arsenal fielded the exact same back 4. Indeed, with the exception of a reversal at Loftus Road against a QPR side inspired and fighting for survival, Arsenal with the same settled back line of Sagna, Koscielny, Vermaelen and Gibbs won 7 out of 8 in all competitions, conceding only 6. They won 6 out of 7 in the league, securing 21 points from a possible 24 and climbed over Newcastle, Chelsea and Spurs ultimately into 3rd place.
Interestingly, the line up changed against Wolves with Djourou and Santos coming in for Koscielny and Gibbs. Wolves were doomed and had given up, so the disruption had no impact. Very interesting, however, that the next game that could ultimately have cost us a place in the Champions League, at home to Wigan, saw the same changed back 4. Six weeks of a settled defence until injuries forced changes and the back four is carved open twice with ease by an ambitious, enterprising Wigan in the sort of attacking form that took them to survival.  Koscielny and Gibbs returned against Chelsea and a clean sheet resulted.
The lesson for 2013
To give Wenger credit, he has made some tough decisions for the past 2 games and the result has been 2 clean sheets in 2 very tricky away games. I am not going to dwell on whether he could have made some decisions earlier or even in the past (Mark Schwarzer!!) but he has made them and the impact is positive. One change has been enforced at right back due to the Sagna's injury, but for those concerned that Carl Jenkinson would not be up to the cauldron at the Lane or in the Allianz need not have worried.  Jenko has a phenomenal engine and is able to get up and support Walcott in attack as well as get back and defend with precision and maturity. This, but, has a huge future at Arsenal and I am delighted he has stepped up so well, as I had my doubts last year.
The other 2 changes, dropping the skipper and the keeper, must have been difficult decisions and you have to admire that. Fabianski and Koscielny certainly appear to have improved the communication and the balance in our back line. There is little doubt in my mind that Koz understands the limitations of Mertesacker, mobility and pace wise and positions himself accordingly.  This pairing does seem to suit us better and you could see the improvement in Arteta's game against Swansea with the renewed confidence the pairing behind him brought. There are rumours that Vermaelen is carrying an ankle injury, but I am not so sure. Certainly the captain's notes in the programme v Reading will be an interesting read, particularly if he plays for his country between now and then.
The decision to make the changes was a critical one and the general shift away from playing the high line has been noticeable. The main point now if we look at the same period last year and draw from the obvious parallels is for Wenger to have the courage of his recent conviction. History and indeed common sense suggest that a settled back 4, indeed 5, breeds confidence and understanding. I see absolutely no reason to change a winning system now until he has to. So, for me, this means Jenkinson stays even when Bac is fit and the central pairing of Mertesacker and Koscielny is allowed to flourish despite it meaning our skipper and highest profile defender sits it out.
The only question that remains therefore is which of the 2 superb left backs Wenger will opt to give the nod to against Reading. Assuming Monreal is on the road with Spain and Gibbs is at Colney building up his strength and fitness, Wenger may opt for Kieran. Given that they are both so strong and reliable, I actually do not have a preference but I just hope that once he decides he sticks to his guns between now and May.
Finally, to reinforce my point, you might be interested to see the following:
3/3 Spurs beat Arsenal 2-1. Back five –  Lloris, Walker, Dawson, Vertonghen, Assou-Ekotto
10/03 Spurs lose to Liverpool 3-2. Back five – Lloris, Walker, Dawson, Vertonghen, Assou-Ekotto
14/03 Spurs lose to Inter 4-1. Back five  - Friedel, Walker, Gallas, Vertonghen, Naughton (3 Changes)
17/03 Spurs lose to Fulham 1-0. Back five – LLoris, Naughton, Dawson, Caulker, Vertonghen (3 Changes)
Our neighbour's most recent result, courtesy of a rearranged defence and Berbatov, now sees the gap close to 4 points and we have a home game in hand. At this stage of the season, when every point counts for so much, consistency is everything. Consistency of selection leads to consistency of performance, leads to consistency of results. I seriously hope that Wenger looks back at last season and remembers how that run of games from the end of February, despite a few wobbles in May, took us from 6th to 3rd. A run, in no small part, being made possible because he was able to select the same defenders week in week out. If he looks further back to January last year, when we lost all 3 games in the EPL and scraped past Leeds and Villa in the FA Cup, and on each occasion we had a different set of defenders.
Food for thought and I hope you will agree a degree of logic involved, but the parallels with 2012 are uncanny. The gap on the 3rd March both in 2012 and 2013 was 7 points and with a settled defence, I feel history may be just about to repeat itself.
Who from my regulars envisaged me writing a blog suggesting it would be our defence that would show us the way?
If you answered YES to the above I don't believe you!