Arsenal FC: Crisis management at the Emirates
834 //
13 Mar 2013, 12:32 IST
Disclaimer: The views expressed in the article are those of the author and do not necessarily reflect that of Sportskeeda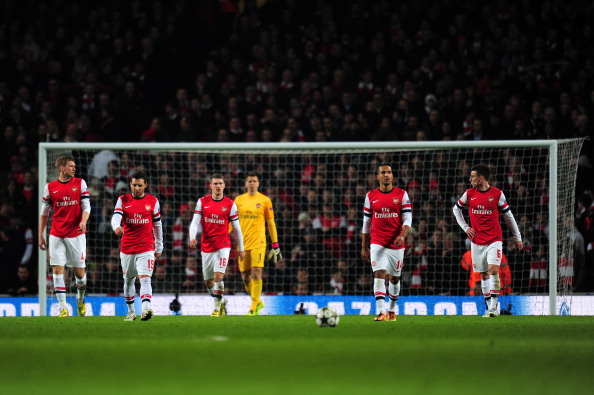 Arsenal, one of the best teams in one of the best leagues in the world, are facing something more than just a crisis at the moment. They sold their so-called hero, Robin van Persie, to Manchester United in the summer of 2012, following their "Sell the stars" policy. They bought some of the best players in Cazorla, Giroud, Podolski and Monreal. They have increased their goals but not useful ones. Cazorla, who played a central role at Malaga, was put on the left side and a natural winger in Theo Wallcott was put in the middle against Bayern Munich. The question all the gooners are asking right now is, "Is Wenger still capable of the job?" I think he is capable. He is one of the most experienced managers in world football right now, and letting him quit will only worsen the situation.
Their main problem lies in their fragile defense, which is too weak to stop the likes of Gareth Bale and Van Persie. They are a side that has reached the Champions League for 15 consecutive seasons, which is very likely to get broken next season. Their defense has been reliable in past years, but this season, it's not even manageable. At an average, they have conceded at least a single goal in every single of their Premier League matches, which is too large if compared to the likes of Manchester City, who have the best defense in the league this season. The so called "Verminator" is not at all playing like he used to before. The big German, Per Mertesacker, has got a good defensive quality, but he is finding a problem in partnering either with Vermaelen or Koscielny. He is scoring goals, but is unable to do his priority job, defending. The likes of Raphael Varane or Marcos Aoas Correa would just be perfect. But it is highly unlikely that they go to Arsenal, so Mamadou Sakho or Simon Kjaer are good enough to solve the problems in defense for Arsenal. The addition of Nacho Monreal from Malaga in January has helped in balancing the team. Kieran Gibbs and Carl Jenkinson are two of the best young wing-backs in the world, and should be used as successors of  Bacary Sagna on the right and Gael Clichy on the left.
The midfield, earlier a place where the likes of Patrick Viera and Cesc Fabregas ruled, now does not have a perfect defensive midfielder. They have Mikel Arteta and Abou Diaby, who can stop the opposition as well as help in the Arsenal attack, but both of them have not been as effective as the fans would have liked. Theo Wallcott has been at his best so far this season and is their top scorer. Lukas Podolski has been added to the squad, as a result of which the likes of Alex-Oxlade Chamberlian and Gervinho have lost their place in the team. He has been good this season, but has played relatively lesser games than Wallcott and Giroud, and has not been able to contribute much. Jack Wilshere, who has been one of their brightest spots, has been ruled for 3 weeks and is likely to miss the Bayern game in Munich. Lars Bender and Ignacio Camacho are some that would be able to play the Viera role in Arsenal's game, if they come to the club.
Thierry Henry was one of the best strikers of Arsenal, whose place was taken by Eduardo, Vela and finally by Van Persie. But now, they do not have a game changing striker whom they can rely on. Olivier Giroud is a good striker but he has been unable to be "THE game changer " that he was expected to be. Theo Walcott has sometimes been used in this position, and he has stood up for that. He can inherit the striker position from Van Persie. Someone who has been forgotten in this position is the "Russian Magician", Andrei Arshavin. He lost his form, and in the presence of Van Persie, he was relegated to the bench and finally loaned out to Zenit in Russia. He is someone who is able to take the game in his hands and turn the scoreboard in their favor. Someone should be bought even if they have many strikers in the squad, because no one has been able to be the game changer. Luc Castaignos and Jozy Altidore are some recommendations whom Arsenal should consider, even if they don't buy.
Arsenal, the best in the business in 2005, have been showing signs of decline in the last few seasons, but they – if managed wisely – can be one of the most feared teams in the world. Arsenal do not have a problem with Arsene Wenger, but the team is not well balanced and they should buy some young, energetic and talented players who can help them be "The Invincibles" once again in the coming years.
Disclaimer: The views expressed in the article are those of the author and do not necessarily reflect that of Sportskeeda