Report: Arsenal set to release injury-prone Abou Diaby at the end of the season
3.18K //
08 Mar 2015, 09:59 IST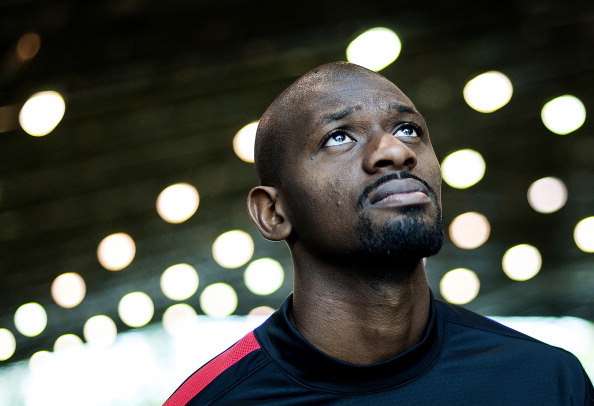 According to a report in Daily Mail, Arsenal are all set to release Abou Diaby at the end of the season when his contract expires. The French midfielder has been at the club since 2006 but has only played 180 games in nine years in North London – an average of less than 19 games a season.
In the past two seasons alone, he has managed just two appearances – one in each season. A victim of a number of injuries which have plagued him ever since 2006 has left the club no choice but to finally release the 28-year-old.
A tall midfielder with both power and dribbling skills, he was initially compared to Patrick Vieira but in a more attacking sense. But it all started to go downhill when Diaby was the victim of a horror tackle from Sunderland's Dan Smith on 1 May 2006.
Wenger wanted to keep Diaby if his fitness improved
Having suffered a number of injuries during his Arsenal career ranging from ankle, calf and hamstring injuries, Diaby never got a good run of games under his belt. Arsene Wenger always believed in him and even offered to give him a new contract if his fitness levels improved.
"If he comes back, I will keep him. I always believed in him. In football, the most important thing is health." – Wenger in November 2014
Even Patrick Vieira had revealed that Diaby had the potential to be a better player than him if he was 100% fit.
"If he could have improved constantly, he would have reached an exceptional level. About his potential, he is better than me, better on a technical level, better dribbler, and better scorer too." – Patrick Vieira in 2012
List of injuries Diaby has suffered at Arsenal
According to the data, Diaby has been out injured for a total of 1554 days. That is the length of almost half his career at Arsenal (46.5%).
Diaby's injuries at Arsenal – Data from Physio Room
#
INJURY
DATE
2006
1
Ankle/Foot Injury
May 1st
2007
2
Knee Injury
February 2nd
3
Sprained Ankle
February 25th
4
Concussion
April 20th
5
Sprained Ankle
August 14th
6
Back Injury
November 22nd
2008
7
Calf Muscle Strain
February 8th
8
Calf Muscle Strain
March 7th
9
Thigh Muscle Strain
April 25th
10
Thigh Muscle Strain
August 3rd
11
Abdominal Strain
November 22nd
2009
12
Thigh Muscle Strain
January 31st
13
Calf Muscle Strain
February 24th
14
Thigh Muscle Strain
April 1st
15
Knee Injury
July 27th
16
Groin Strain
August 12th
17
Ankle/Foot Injury
October 10th
18
Calf Muscle Strain
November 7th
2010
19
Calf Muscle Strain
January 20th
20
MCL Knee Ligament Injury
February 17th
21
Calf Muscle Strain
March 27th
22
Calf Muscle Strain
August 11th
23
Ankle/Foot Injury
September 13th
24
Ankle/Foot Injury
October 4th
25
Ankle/Foot Injury
October 19th
26
Calf Muscle Strain
December 30th
2011
27
Calf Muscle Strain
January 2nd
28
Ankle/Foot Injury
July 22nd
29
Hamstring Injury
November 26th
2012
30
Hamstring Injury
March 3rd
31
Hamstring Injury
March 29th
32
Illness
April 23rd
33
Calf Muscle Strain
April 28th
34
Muscle Injury
September 7th
35
Thigh Muscle Strain
September 29th
2013
36
Illness
January 22nd
37
Calf/Shin Injury
February 23rd
38
ACL Knee Injury
March 27th
2014
39
Groin/Pelvis Injury
April 22nd
40
Hip/Thigh Injury
July 26th
41
Calf/Shin Injury
October 14th
42
Calf Muscle Strain
November 24th