Arsenal: Targets for the 2013 season
1.21K //
31 Dec 2012, 14:17 IST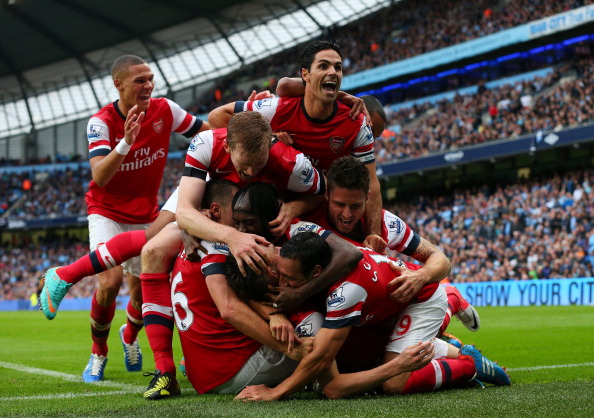 2012 was a strange year for Arsenal. It wasn't the year anyone would have expected. Robin Van Persie led Arsenal's charge for third place, reversing a 13-point deficit on Tottenham before leaving for Manchester United. The 5-2 victory against Spurs would stand out as the best moment of the year, despite the Reading madness and the Newcastle goal blitz. Alex Song also departed for Barcelona soon after Van Persie, but Arsene Wenger had done his homework by bringing in Lukas Podolski, Olivier Giroud and Santi Cazorla. Coupled with the return of Jack Wilshere and the retaining of Theo Walcott despite his unwillingness to sign the contract, people thought Arsenal had enough to retain their place in the Champions League.
But inconsistent displays from Arsenal, along with the emergence of Tottenham, Everton and West Bromwich Albion, have put pressure on Wenger to make additions to the squad in January, as well as the signing of Theo Walcott. Walcott has stalled contract talks because of his desire to take on the striker's role despite Olivier Giroud's presence. And he hasn't failed. In the four games since he started in the center-forward position, he has scored as many goals, including a hat-trick against Newcastle. Arsenal have been inconsistent, from scoring goals in sixes and sevens to showing a lack of cutting edge against Swansea. Keeping in mind, these are realistic targets for Arsenal for the coming year.
1. Sign Theo Walcott onto a new contract
Theo Walcott has done more than enough to prove his worth. Now, with half an year to go for Walcott's contract to expire, Arsene must do what is needed. He needs to make a statement to the rest of the league that he won't bog down to player pressure, and that he can sign stars to contracts.
2. Improve the overall quality of the squad
A title-challenging squad has good players everywhere, even on the bench. Wenger must get rid of all deadwood that cannot help Arsenal's cause such as Squillaci, Chamakh and Arshavin, and replace them with good players that can win trophies for Arsenal. Enough with the rumors, sign the stars already!
3. Aim for fourth place
With both Manchesters set to fight it out for the title, with Chelsea in the mix, all Arsenal can hope is that they can stave off competition from the likes of Tottenham and Everton for that elusive Champions League spot. This will set-up Arsenal well for the next two seasons, which will determine whether the Gunners will remain a force to be reckoned with.
4. Beat Bayern Munich
The first knock-out round of the Champions League sees the Gunners face off against arguably one of the dark horses for the tournament. Bayern may be invincible in Germany, but their European journey hasn't been too perfect. With superstars like Frank Ribery and Mario Gomez, Arsenal will have an uphill task ahead, and face the prospect of being knocked out from the Champions League in the first knock-out round for the third year running. If Arsenal win at home in the first leg, and try and hold on to the lead in Germany, they can go on for a long run in the Champions League, and if everything goes well, Arsenal can reach the semi finals.
 5. Target the FA Cup
Arsenal face a road trip to Swansea for their third round FA Cup tie. The old cup has seen many twists and turns during its long history. All the Gunners need to do is go for a streak of wins, and suddenly they are in the semi-final. If the draw is favourable to Arsenal, they can reach the finals, where at the end of the day, they must keep their nerves, whether its Manchester United or Birmingham City.
6. Keep a fit squad through out the season
The last thing you need is your star to be ruled out for the rest of the season. Well, not at this time, where squad rotations and a string of wins are needed. Jack Wilshere, Santi Cazorla, Podolski and Abou Diaby are ones to watch out for as far as the medical staff are concerned.
7. Go after the title in 2013/14
The next season could be potentially Arsene Wenger's last season at Arsenal. Remember, his contract expires in 2014, and after 16 years of service, Arsenal will need to find a suitable manager. No one will be able to match what he has done for Arsenal, and to honour that, Arsenal players must go all out in the next season and fight it out for all 4 trophies. And I wish all fans show the same respect towards Arsene Wenger as he's done things Arsenal wouldn't have thought of.
So these are the realistic targets for the New Year. Let's hope Arsenal can accomplish all these targets and this will determine Arsenal's future at the top. Cheers!