Arsenal v Newcastle Preview : Arsenal aim to move further up
992 //
12 Mar 2012, 21:17 IST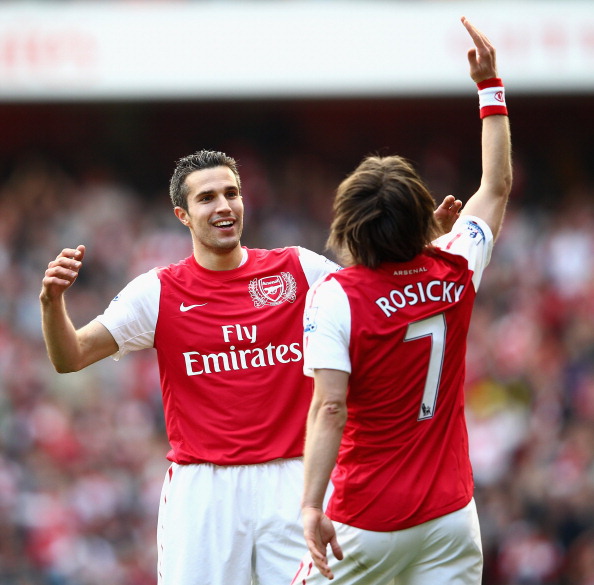 A win tonight will take us to within a point of the third position and it won't be a gap then. It would just be an ant hill or maybe 2 pile of rubbish. Well within our (Arsenal's) civic duty to clear out the trash in between and not forgetting the trash that are currently sitting at third.
My travel in England took me to quiet and serene surroundings of Sheffield in these last 2 days. And just like Arsenal, I feel refreshed and raring to go. I've always wanted to say – "let's go to the stadium tonight and cheer the boys on. It's a shared responsibility. If we expect them to do the job, we have to do ours first. Let's put a giant cacophony over the Toon army"
We should be raring to go. This match starts what is our first in the series of one game every 7 days. A blogger's horror, but should be a delight for the team doctors. There should be no hiding or any thoughts about keeping players fresh for whatever reason. It must be the best eleven for every single match now and most of all the efforts of every single player should be at the maximum end of the barometer.
Almost all season long we've been talking about the fourth spot and now third is in the offing and it would be such a shame if we don't capitalize on it. Judging by yesterday's result, who's to say that Manchester City can't do an Arsenal and just collapse in the run in. We might even sneak into second, which doesn't mean we're better than last season but does make us feel happier, no?
We all remember the emotions approaching the first meeting with Newcastle and the excitement of starting a new season. Or if you prefer, a disappointing start that we've let 2 of our more creative options go. Both clubs have gone about their way of being in contention for Champions League spot in contrasting fashion.
Newcastle and Alan Pardew have gone from strength to strength since that draw with us. They have maintained their consistency, helped by a solid midfield pairing of Chek Tiote and Yohan Cabaye together with the impressive goal scoring form of Demba. Pardew has added more firepower in the January window with the purchase of Papiss Cisse and that should make them an altogether tougher opposition than they were back in January.
That said, I'm not sure if Pardew will go with 2 strikers tonight and that is totally out of respect for the form that we're in at the moment. The exit from Champions League not withstanding, we're on fire based on the results alone. While they have undoubtedly improved over the course of the season, so have we. We're not that meek side that drew with them at St James Park.
There's been a few stories on how we've started recruitment for the summer. But even if those are true, we can't use any of them for tonight. We've got to depend on the ones that we already have within the squad. It does look like an increasingly healthier squad than a few weeks back. Andre Santos looks to be back but I'd rather we don't unnecessarily risked him tonight. The ex Southampton boys in Theo Walcott and Alex Oxlade-Chamberlain were taken off in that Milan game but should be ready for this one.
Szczesny
Sagna—Koscielny—Vermaelen—Gibbs
Arteta—Song—Rosicky
Walcott–Van Persie—Gervinho
There's more good news with the return to fitness of Mikel Arteta and Aaron Ramsey. One of them should be in the starting 11 while the other should be on the bench. Such is the form of Tomas Rosicky at the moment that you would not tempt fate by taking him off the side. It would not help the confidence and he is the man on fire. Whoever is on the bench, it means that we have more options than we had during the Milan game. Someone with a little bit of creativity could come on to change the game if needed.
The emphasis is on Gervinho to start being the player that we hoped he could be. So far, he has failed to perform as per expectations. I'm not sure the whether he is affected by the penalty failure at the African Cup of Nations, which is valid reason enough to be down on confidence. Hopefully he'll be able to brush it aside and kick on again. More direct running and being more decisive should be his target from now on.
This will be the 4th consecutive game that we'll be able to field the starting defensive unit in. It showed during the Milan game that we can be resolute and stout when called upon. That helps greatly when you have a stable backline protecting the fort. The understanding being worked on continuously on the training ground and the lessons being picked up during games will ensure that the improvement continues. Whether this is our best defensive unit is a separate argument as Per Mertesacker and Santos might want to get in. But it is surely good that we have a consistent back four and keeper in the side.
No two ways about it. We have to win tonight. Even if it's a scrappy 1-0 win, I'll take it. Let's back the boys all the way.
Up The Arsenal!!!