Arsenal vs Reading: 3 reasons why you should watch this contest
1.05K //
30 Mar 2013, 17:15 IST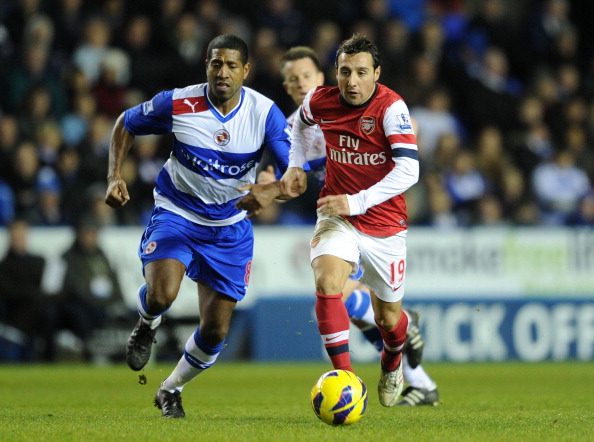 Reading travel to Arsenal for today's fixture and it promises to be a blistering encounter. Arsenal are currently in 5th, while Reading are 19th, which means both teams have their own agenda with the three points. The last time around, Arsenal took all the points with a comfortable 5-2, but that was before they faced Reading in the League cup, which ended in a thrilling 7-5 after the Gunners battled from 4 goals down.
Nigel Adkins will be in charge for the first time after his appointment was confirmed just 4 days back, in a three year deal. Adkins' hiring at Reading did seem surprising, after he left Southampton, who were then battling relegation. Now they are at 31 points, 8 points clear of the Royals. Given another shot at the Premier League, Adkins will be itching to keep this particular ship afloat. Here are three reasons why this encounter makes for good TV!
1. Battle for the coveted Champions League slot
Arsene Wenger knows better than to simply keep aiming for fourth, year after year. On the other hand, he would prefer fourth than fifth, as would any sane manager that side of the pond. This year too, Arsenal find themselves in jeopardy, hanging by a thread but they are clutching on to every straw that comes their way. Arsenal have played 29 games, one less than Tottenham, and have managed a total of 50 points, four behind Spurs. Spurs are just one short of Chelsea, but have again played a game more.
All in all, Spurs are most likely to lose out if simple arithmetic and biased opinions are to be incorporated in the equation. But bias aside, Tottenham know Arsenal are nipping at their heels, and with a pathetic display over the last few games, the morale has taken a beating too. Arsenal have been up and about though, making the most of their away Champions League game at the Allianz Arena and then keeping Swansea at bay. If momentum was everything, Arsenal should have this one in the bag already. This marks the start of the business end of the league, and Arsenal will need to deliver in every game if they have to earn their chance at keeping their first team together.
2. Battle for safety
Nothing makes your heart beat faster than a sinking ship. But this sinking ship has a snowflake's chance in hell to stay afloat, and Adkins has been brought in to protect and promote that idea. Reading are in the penultimate spot, with only Queens Park Rangers under them. Both of them are on 23 points from 30 games with a goal difference of -22. Reading are higher up courtesy the higher number of goals scored. Wigan Athletic are in 18th, still adrift of safety by 3 points, with Aston Villa at 30 points. So altogether, Reading need at least another 7 points to pull themselves up and out of the relegation zone. That is easier said than done, given they have lost all 5 of their last five encounters. So technically, today will be the kitchen sink.
3. Goal-fest
This game promises to bring goals, if the last encounter in the League Cup is anything to go by. Arsenal's defense is slow at best, and Reading open up too quickly in the middle. With Mikel Arteta and Santi Cazorla holding the center, The Royals will be scampering too soon and too earnestly. If they do push up, Arsenal will eventually find a counter. Not surprisingly, Arsenal have scored six goals on the counter-attack this season, more than any other club in the Premier League (Opta).
Reading is leaking heavily, and have let 57 goals find their net, putting them on top of that infamous list. Also, Arsenal are behind only league leaders Manchester United in terms of form over the last 8 games in the Premier League. Need we say more? Watch for free flowing football and the expected barrage of goals. Maybe Wenger will top it all off with a smile.