Arsenal vs Tottenham Hotspur: Match Preview
884 //
16 Nov 2012, 20:41 IST
Stadium: Emirates Stadium
Referee: Howard Webb
Kick-off: 6:15 PM IST, Saturday, 17th of November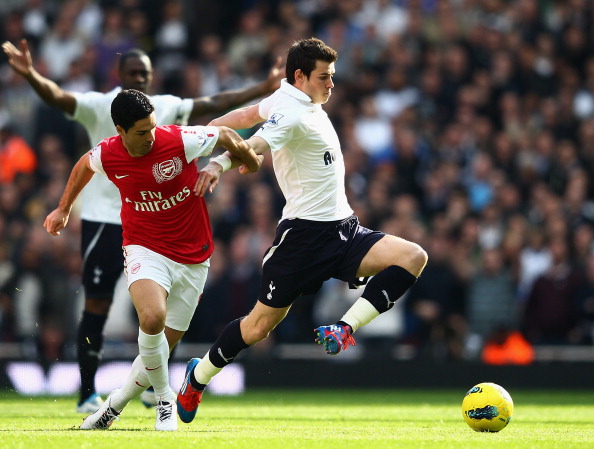 One of the fiercest rivalries in all of English football, north London rivals Arsenal and Tottenham Hotspur are all set to face off yet again, for bragging rights and more. Both teams have seen solid starts to the season give way to a flailing campaign, and will be keen to stop the rot right away; and where better to start than against a club your fans detest. Arsenal have the additional burden of mediocrity in the Champions League in the back of their heads, while Tottenham's performances in the Europa League have brought them little solace, in spite of both teams sitting 2nd in their respective groups.
With just a point separating them in the Premier League table, however, one can rest assured that both teams will come out all guns blazing to secure the victory. A result which each club has only managed only once in each of their previous four league games.
Arsenal: W W L D D
Last week, Arsenal threw away a two goal lead twice, succumbing to drawn games with both Schalke and Fulham. With the latter, they also threw away the tag of having the best defence in the Premier League, something that one would barely have associated with the Gunners any way. Yet, with a misfiring attack, defence was all the Gunners had going for them, before, of course, Giroud and Podolski showed their class last weekend.
Now, with 12 goals conceded in their last 4 competitive fixtures, and 13 scored, the roles have been seemingly reversed, with the focus being on scoring more than what they are likely to concede. This would most definitely be in keeping with what fans expect to see against the Spurs, with Arsenal having scored 16 goals in their last five home fixtures against the Cockerels. With Arsenal's gradual descent to mid-table obscurity in the title race, and Arteta's failure to convert the penalty last weekend, the home fans could sure do with a morale boosting victory.
Tottenham Hotspur: W L L W L 
For Tottenham, however, it's been a whole different story, with the games being much closer, and the goal difference being greater than 1 goal on just two occasions in the league thus far. They will be hoping that is the case again, as opposed to last season's 5 – 2 thrashing in this fixture, in spite of them having taken a two-goal lead.
As already stated, Tottenham's recent league form has been sketchy at best, with two losses over the past two weekends. The late goal from Edin Dzeko last weekend sunk Spurs' hopes, and denied them an arguably deserved point, only adding to the grief of the previous weekend's loss to Wigan Athletic. With AVB's tendency to be a radical manager, morale seems like a necessary commodity at Tottenham, and a win or loss against the Gunners could boost or crush the team spirit.
Injuries, Concerns & Suspensions
Arsenal: Tomas Rosicky, Abou Diaby, Lukasz Fabianski, Gervinho, Wojciech Szczesny, Kieran Gibbs, Bacary Sagna, Mikel Arteta, Theo Walcott.
Tottenham Hotspur: Mousa Dembele, Benoit Assou Ekotto, Younes Kaboul, Scott Parker, Aaron Lennon, Kyle Walker, Jermain Defoe.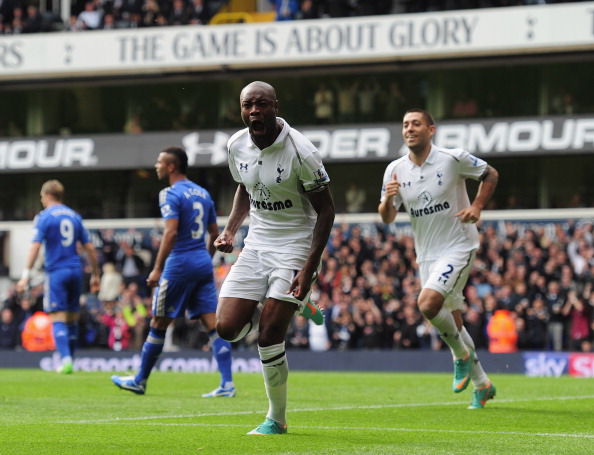 In the absence of Younes Kaboul, the Tottenham back-four are exceptionally weak going into aerial clashes, and that will be a major concern for AVB heading into this game. Both Gallas and Caulker will need to be at their best in the air if Tottenham are to keep from conceding tomorrow afternoon, especially with the Frenchman Giroud lurking around the corner. After a slow start to life at Arsenal, Giroud seems to have found some sort of form, with three goals in two fixtures last week. Both his goals against Fulham, who have considerably better aerial challengers in central defence, came from headers, and he might very well put paid to Tottenham's hopes if left unchecked.
Emmanuel Adebayor vs Laurent Koscielny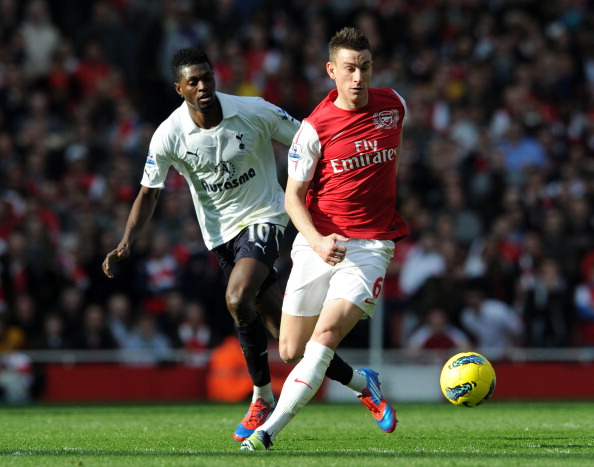 Adebayor, who last weekend started a match for the first time in the league this season has a tendency to be very influential in north London derbies. All the extravagant celebrations aside, Adebayor has played a total of 11 such fixtures, scored a total of 9 goals, and created 4 more. While his form hasn't been exceptional lately, there is something about the Emirates that seems to propel him to achieve more, and with AVB to please, he will only have added incentive to perform well. Koscielny, on the other hand, has gone missing in big games on a couple of occasions already this season, and will need to be on his toes to prevent the Togolese striker from hurting his former employers yet again.
A more tactical game than has been witnessed in this fixture, at the Emirates, over the past few seasons. It is a well known fact that this fixture has brought with it plenty of goals in the past, with 26 goals in the last five meetings between these two clubs at the Emirates Stadium. However, under AVB, Tottenham have been deploying two holding midfielders due to various reasons, including the departure of Modric, VdV, and the injury to Scott Parker. This will mean that Sandro and Huddlestone will probably start the game in midfield, allowing Tottenham to soak up pressure better than they have in the past, thereby reducing the chances of a goal fest that is usually the norm when these two meet. Emotions do, however, run high in derby matches, and with the Arsenal strike force slowly finding their feet, a goal fest is certainly not off the table.