Arsenal's 2012-13 mid-season review
1.03K //
27 Dec 2012, 20:44 IST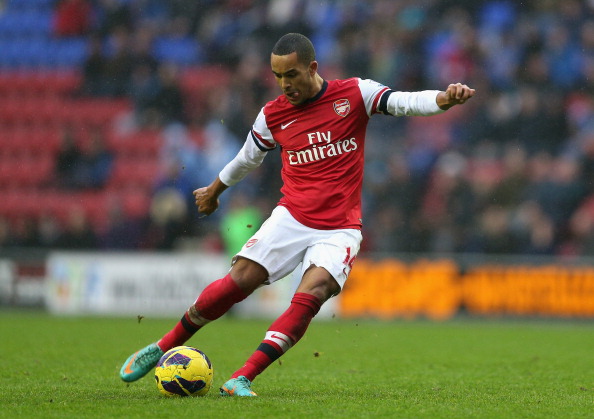 Some days from today, the January transfer window will be open and Arsenal are likely to get the likes of Thierry Henry (on loan) and Newcastle striker Demba Ba.
We are almost in the middle of the 2012-13 season. Arsenal successfully went through to the final 16 of the UEFA Champions League, and will face Bayern Munich. The biggest disappointment for Arsenal so far is getting knocked out from the Capital One Cup after losing against League Two club Bradford City, and falling 13 points behind league toppers Manchester United.
Barclays Premier League
It was a good start for the Gunners in the league, claiming 2 draws, getting their first win at Anfield and scoring goals galore against Southampton. Their start however dipped when they lost to Chelsea at home, Manchester United at Old Trafford, Norwich at Carrow Road, and drew with Fulham 3-3 at the Emirates. Arsenal's loss to Swansea only indicated that challenging for the title was very unlikely for them.
Capital One Cup
The Gunners started their campaign in League Cup with a remarkable 5-7 comeback against Reading. Being down 4 goals in the half, they made a comeback with Walcott scoring the equalizer in the dying minute of injury time. Things didn't go well for them against Bradford however, losing to penalties to a 3rd division side.
UEFA Champions League
With a win against Montpellier and Olympiacos, Arsenal looked favourites to top their group until Schalke defeated them 2-0 at the Emirates. Moreover, when Arsenal played Schalke away in group match, they blew their 2 goal lead and end up drawing the match 2-2.
Player Ratings
Vito Mannone – 5/10
Had a good start and got chances as first choice keeper while Szczesny was injured. He made some good saves against Manchester United and Schalke, but also made blunders which cost Arsenal goals against Norwich, among other games.
W. Szczesny – 8/10
Made his return after getting injured in the North London derby. A very confident goalkeeper, although he needs to improve certain aspects of his keeping.
Kieran Gibbs – 8/10
Improvement! Last season he had around 30 touches per matches, but this season he has had more than 50 touches per match.
He has linked with Podolski very well, and moreover his performance on the flanks were quite decent.
Thomas Vermaelen 7.5/10
Ignoring the blunder he made against United, he has been performing quite well. He helps the midfield by going forward. The CB pairing of Mertesacker and Vermaelen has been doing quite well till now.
Per Mertesacker – 8/10
Another Arsenal defender who has shown some great improvement. He has the ability to read the game very well. Like Vermaelen, supports the midfield by going forward sometimes.
Bacary Sagna – 8.5/10
One the best right backs in the BPL . He was ruled out at the start of the season and was replaced by last year's signing Carl Jenkinson. But from the time he has come back, he has made a huge impact in the first team. His work rate on flanks is very good.
Andre Santos – 3/10
Likely to be sold by the club in the January transfer window. He is more of a winger. He never man-marks anyone, and moreover he likes moving forward.
Abou Diaby – 8/10
He has only played a few but has had a good impact in those. He gave his best performance for Arsenal against Liverpool. After he got injured, Arsenal lost the plot and had to wait for Jack Wilshere to return.
Mikel Arteta – 9/10
The midfield general for Arsenal. He has the most passes in Europe's top league, and is the backbone of Arsenal in almost every game.
Jack Wilshere 7.5/10
Ruled out for one whole season, but came back after injury and regained his touch. But he needs to work on some aspects now, like his tackling technique, which were really good before he got injured, but now seem to have gone blunt.
Santi Cazorla 9.5/10
Bargain buy for Wenger, he is the gem of Arsenal's midfield, creating chances and scoring goals. He is what Arsenal needed!
Tomas Rosicky – 6/10
He has just came back from injury and played few matches, and will be rotated with Santi Cazorla once he gets to full fitness.
Aaron Ramsey – 5.5/10
He is a natural CAM deployed as either a CM or a RWM. He loses the plot sometimes, and his link up play with the striker (Walcott/Giroud) is very poor.
Theo Walcott – 8.5/10
Another Arsenal player who has shown enormous improvements. He has had contributions in almost every goal for Arsenal.
He must sign the contract, as he is one of the biggest future prospects for Arsenal.
Lukas Podolski 7/10
He has to work on many aspects. He needs to attack more than come back to help the defence.
Olivier Giroud 7.5/10
It's his first season in the BPL, one of the toughest leagues in world. He has big boots to fill,  and he will considerably improve for sure.