Arsenal's Latest Acquisition Gervinho: All You Need To Know About The Ivorian (Statistical)
1.10K //
18 Jul 2011, 21:36 IST
The news that Arsenal have 'finally' completed the signing of Lille and Ivory Coast forward, Gervinho, brings a whole lot of emotions for an Arsenal fan. There is joy and relief at finally securing a new player and there being some positive news at the club after weeks of negative media reports which state that Fabregas, Nasri, Van Persie, Arshavin, Theo Walcott will all follow Clichy out of the club, while others like Rosicky, Almunia, Squillaci, Denilson and Bendtner are wanted out by the fans.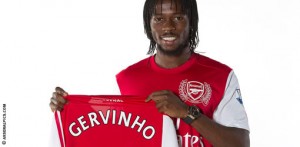 This is what Arsene Wenger had to say about the latest signing,
"Gervinho is a player that can play in a number of positions up front.  He can play on the right, on the left and through the middle.  He has qualities that I find very important, like his movement off the ball.  He has the qualities we like technically.  He is good one against one, he is strong and was the best provider in the French league with assists and he scored 15 goals. I think he is a very good addition to the squad."
While the man of the moment had this to say:
"It's a great feeling to be an Arsenal player. I'm very happy. I've always dreamed to play for this Club. I've achieved this dream now and I am so happy. It's one of the most beautiful days of my life.

"I'm very happy to have the chance to work with Arsène Wenger.  I came here because I believe that he can improve my game and help me reach another level, but the most important thing for me is that I bring a lot to the team for whom I'm playing."
But it also brings a sense of doubt, as not many know if this is the kind of signing that will add quality to the team and the opinion about Gervinho is split among supporters, with many not knowing anything at all/very little about the latest Gunner.
Such was his contribution to double winning Lille term last season that World Cup winner, Christophe Dugarry, was scandalized that Gervinho was not named France's Player of the Year, and his coach Rudi Garcia called him "the most influential player in one-on-ones in France."
The easiest place to start off with would be his statistics from last season, so i will do just that.
Gervinho in Ligue 1
| | |
| --- | --- |
| Gervinho – Lille | 2010-11 |
| Appearances | 35 |
| Minutes On Pitch | 2849 |
| Goals | 15 |
| Mins per goal | 190 |
| Shots | 78 |
| Shots On Target | 42 |
| Shooting Accuracy | 54% |
| Chance Conversion | 19% |
| Touches per game | 40 |
| Goal Assists | 10 |
| Key Passes | 36 |
| Total Passes | 786 |
| Pass Completion % | 79% |
| Dribbles & Runs | 199 |
| Dribble Completion % | 37% |
The stats show that the player is durable and doesn't break down easily, but more importantly show that the player is a creative force both in setting up his team mates and in finishing chances. He will probably slot in a wide attacking position, (though he has played as the central striker in a 433 system last season too, covering for Sow) and his 'dribbles and runs' stat shows that he love to take on defender and is tricky. Since his arrival in Ligue 1 in 2007/08, Gervinho has made more successful dribbles than any other player in the French top flight.
To understand these numbers in the right context, we have to compare them to how Gervinho's new team mates fared last season.
The stats show Nasri's tendency to drop back and link play, with an average of 49 Passes per game far superior to the likes of Walcott (16) and Arshavin (27). In comparison, Gervinho had an average of 22 Passes per game for Lille last season but in a more attack minded team, that number should go up.
Moving onto 'key passes' Gervinho had a very respectable 1.31 Key Passes but it was the quality more than the quantity that stands out hereas shown by the 10 Assists. In comparison Arshavin had 11 Assists while Walcott added 7, and Nasri, astonishingly, picked up a just 1 Assist all season, despite making a total of 58 Key Passes over the season (1.93 Key Passes/game over 30 games) which was matching the 1  assist picked up by Rosicky in his 21 appearances.
When it comes to Successful Dribbles, only one Arsenal wide man made more than one per game, as Nasri managed 2. The only other regular first teamer who could match that was Jack Wilshere. Gervinho's per game suggests he'll add some much-needed trickery to the starting XI.
Most dribbles completed in Ligue 1 since 2007/08
| | |
| --- | --- |
| Player | Dribbles Completed |
| Gervinho (Lille/Le Mans) | 231 |
| Stéphane Dalmat (Sochaux/Rennes) | 227 |
| Hatem Ben Arfa (Lyon/Marseille) | 226 |
| Stéphane Sessegnon (PSG/Le Mans) | 211 |
| Nicolas Maurice-Belay (Sochaux) | 202 |
Add to that his 'key passes' and pass completion stat and it shows that not only can he adapt and fit in very well to the Arsenal passing game, but he is more than capable of providing the final killer ball.
His 15 goals may not look like he set the goal scoring charts on fire, but as a wide player, it gives enough of a threat where defenders will have to keep him in check, meaning more space opening up for the likes of Nasri, Arshavin, Theo, Van Persie etc.
The most interesting fact of all is that Gervinho was the only player to reach double figures in both goals scored (15, his highest season tally in professional football) and assists made (10) in Ligue 1, joining a group of only seven other players who managed this feat amongst the top-5 European Leagues.
The list is shown below, and being the 3rd name after those top 2 is no shame at all.
Goals and Assists – top-5 European leagues (2010-11)
| | | | | |
| --- | --- | --- | --- | --- |
| Player | Team | Goals | Assists | Total |
| Ronaldo | Real Madrid | 40 | 11 | 51 |
| Messi | | 31 | 18 | 49 |
| Gervinho | Lille | 15 | 10 | 25 |
| Ibrahimovic | Milan | 14 | 11 | 25 |
| Müller | FC Bayern München | 12 | 11 | 23 |
| Drogba | | 11 | 13 | 24 |
| Rooney | | 11 | 11 | 22 |
| Vidal | Bayer 04 Leverkusen | 10 | 11 | 21 |

Going forward, specifically in the second half of the season, Arsenal's main problem was too much of a reliance on Robin Van Persie on finding the net. Upon fully recovering from injury, the Dutchman was a sensation up front for the Gunners, scoring 18 goals in his last 17 games but he had little assistance from those around him as the club fell out of the tile race and finished fourth. Fellow forward Marouanne Chamakh failed to find the net in the league after the end of November, and captain Fabregas scored 3 Goals during the entire season, with just 1 from November onwards. Arshavin played in all but one of Arsenal's games last season, more than any other player but scored only 6 Goals. Despite a good start to the season, Nasri like his team mates,faded in the second half of the season, scoring just 2 goals in his last 17 appearances from mid-December onwards. Walcott's season was no different, he found the net just 3 times in his last 14 games.
While Gervinho had more Shots per game than any of the Arsenal four, it's perhaps fairer to measure how accurate and clinical his shooting turned out. With 2.2 Shots per game over 35 games, his 15 goals equate to 1 Goal per 5.1 Shots. This was on a level similar to Nasri, while Walcott's 1 goal per 6.2 Shots was a bit further back while Arshavin's 1 goal every 9.2 Shots is the worst of the wide men and shows wastefulness in front of goal. Rosicky was the poorest of the lot, failing to score at all from his 21 Shots all season.
His haul of 15 goals and 10 assists saw Gervinho better the tally of Lille's other wide man Eden Hazard, who managed 7 goals and 8 assists, suggesting that while Hazard picked up much of the headlines for his trickery, there is more of an end product to Gervinho's game, and this could be key to his acquisition.
Gervinho has improved every season since taking the well-worn route from Abidjan club ASEC Mimosas to Belgian side Beveren, where his teammates included Yaya Toure, Emmanuel Eboue, Arthur Boka, and Ndri Romaric. In 2007, he signed for Le Mans, but his arrival caused tension: then-coach Frederic Hantz knew nothing about the player who interrupted training one morning and introduced himself to his new teammates. Sports director Daniel Jeandupeux had signed him, and Hantz left that summer. Garcia replaced him, and set about improving Gervinho's consistency and efficiency in front of goal.
"When he was playing for Le Mans, he was very young and still had inconsistencies, but since he's been at Lille he's shown he is capable of playing at the top level regularly," Le Mans technical director Alain Pascalou told France Football. "I think Arsenal corresponds to his youth and his mentality and on top of that, you have Arsene Wenger there, who would be like a guide to him, just as Rudi Garcia was at Lille."
It was Pascalou who helped a young Drogba emerge at Le Mans, and just like the Chelsea forward, Gervinho's upper-body strength has improved considerably in France. He looks slight, but defenders looking to shoulder-barge tend to bounce off him.
The last question is if he can fit into the 433 system that Arsenal have been using for the last couple of years. The answer is an emphatic yes, as his entire life, he has played in nothing but a 433 system and excelled, he would find it odd to play outside that system and would have to adjust his game but in that system, used on the wide right, he would be right at home and where he does the most damage.
Looking at at all, it looks like Arsene Wenger may have done it again, by picking out a player that is perfectly suited for his team, and who is exactly what Arsenal need, without spending mega millions on a so called big name.
All signs of this new player look very positive and Wenger and every Arsenal fan will be hoping he can live upto his potential, as Arsenal could have a very special player on their hands.
And hopefully, Gervinho will the first of a few solid and required new signings to walk thru the famed doors of the Emirates Stadium and don the famous Red and White.
I will sign off by giving my fellow Arsenal fans a small glimpse into the player we have signed.