Arsene's new shoes, Koz must play and Spurs lose!
710 //
20 Mar 2013, 16:13 IST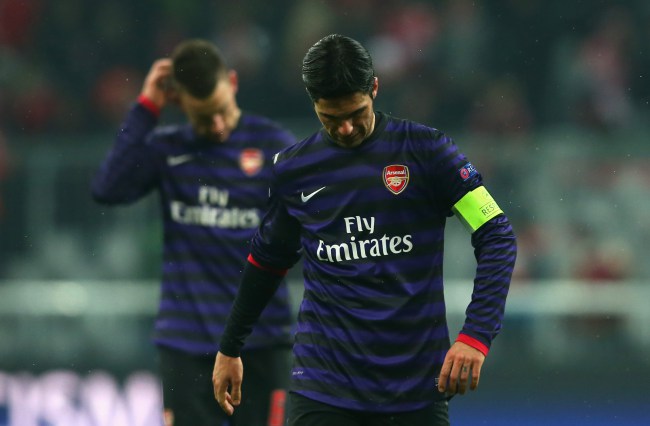 Despite the disappointment of exiting the Champions League at the Allianz Arena on Wednesday of last week, the 0-2 win actually had more of an effect on the Arsenal team for the remaining games of the season than perhaps supporters realise or are prepared to accept. Let's not underestimate that Bayern are supposedly the 'best' team in Europe at present with a huge 20 point lead at the top of the Bundesligia. They had the stuffing knocked out of them in their own back yard! Personally, I still feel Barcelona are at the forefront despite their own wavering and are a team you cannot right off at any cost, perhaps along with Real Madrid. Bayern best team in Europe – maybe in time, when Pep Guardiola takes over the helm.
Arsenal went into the game with Bayern Munich, low on confidence having lost their previous game to arch rivals Tottenham, and as well as being annihilated at the Emirates by Bayern in the home leg of the Champions League tie. I was there, and like most, if not every Arsenal supporter, witnessed a very poor night for our team! So, with a victory that should not be underestimated, Arsenal had their pride restored – sort of!
With an enforced break upon us due to World Cup qualifiers, it was essential that the trip last Saturday to Swansea was a must win game. You don't need to be a rocket scientist to work that one out!
Kick up the Arse!
As I continually say, no matter whether you are an "In Arsène we trust" or a "Wenger Out" supporter, it would a very foolish person to either underestimate or write Wenger off completely! No matter what supporters think or want, he is not going anywhere pre-summer, so we just have to get behind him!
Dramatic changes were made for the Bayern game, dropping both Szczesny and Vermaelen. Monreal was missing due to being cup-tied, Gibbs was back in the team after a prolonged injury (again), with rumours of both Walcott and Cazorla being rested, all on top of Jack Wilshere missing due to an ankle injury, albeit his left ankle this time. No Podolski or Sagna either. Flappyhandski installed between the posts sent shivers through many, but he didn't disappoint.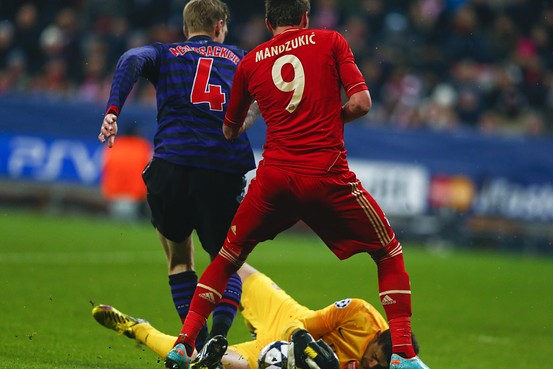 There have been reports that the defence all sat down together following their woeful defending against the Spuds and decided to sort it out – ABOUT BLOODY TIME! I also suspect the mild mannered "I don't shout" Wenger tore each and every Arsenal player a new rear end and kicked many of them very hard up the arse with his new shoes – LONG OVERDUE! These are very highly paid athletes, and most earn more in a week than the average man (or woman) earn in a year. All they are asked to do is turn up each week and show they really want it – not a hard ask is it? Tony Adams always used to say (as I suspect did Ian Wright, Viera, Henry and the great Bergkamp) that it is an honour to wear the Arsenal shirt. This lot, despite their massive wages (and egos), need to realise that – NOW!
Nothing to play for?
So Saturday arrived and a visit to a very wet Liberty Stadium would surely be an indication of how much Arsenal really wanted to get their s**t together. Swansea are on a high at present and Michael Laudrup has been a revelation for them and their style of play.
Once again, there was no Szczesny, Wilshere, Vermaelen, Sagna or Gibbs (although he was on the bench). Rosicky was on the bench, as was Ramsey (I am most certainly not the greatest Ramsey lover I have to say. He is, in my opinion, a squad player now at best) with Diaby, Cazorla, Arteta and the Ox being preferred. Walcott was up top with Giroud. Gervinho on the bench too. I personally think that is where he should stay. He is also only average at best. Sorry, he is!
It is always difficult following an away leg European game, and in years gone by, Arsenal may have seemed to be one of the fittest teams, but most, if not all Premier League teams are now a lot fitter than they used to be and seem to be on par with their fitness levels. They can no longer rely on inner fitness to carry them through, like days gone by. Arsenal needed to find those extra reserves of strength to last the full 90 minutes, and they did!
In the first half, Arsenal pressed and they pressed. The Ox hit the bar twice, Cazorla was playing (again) like a man possessed, the defence was marshalled once more by the mighty Kos and kept things tight(ish) at the back and the Gunners should have been at least one or two up at the break. Interestingly enough, Arsenal have a win percentage in the Premier League of some 58% when the Kos plays as opposed to only 38% when he doesn't! At present, it seems to be a no brainer in that department.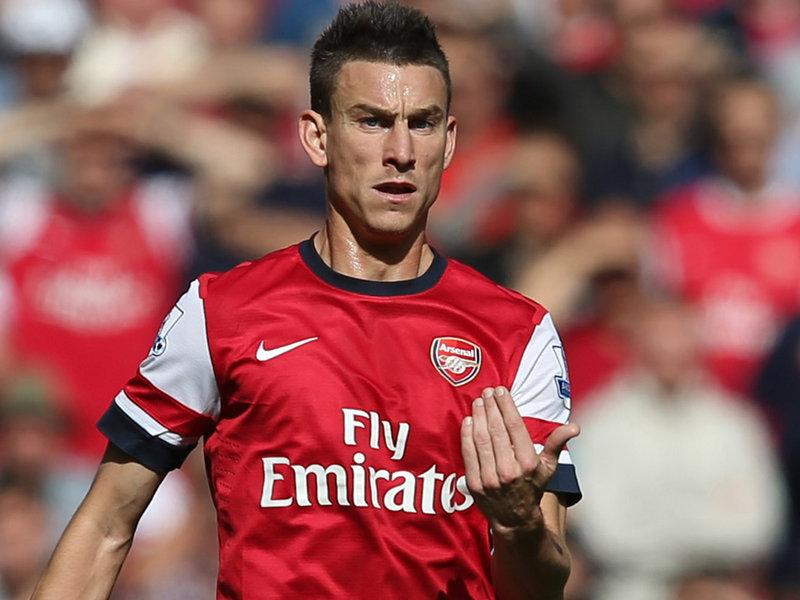 The second half arrived, and yet again, Arsenal continued to press. It wasn't the most impressive display, but Arsenal just kept going. Giroud was left wanting yet again, but Wenger decided to leave him on. As I am constantly reminded, it only takes one chance! Instead of looking pretty, he needs to get stuck in more. He decided to take off both The Ox and Diaby. The latter was knackered, but did put in a good shift. On came Ramsey and Gervinho in the 71st minute. Within another three minutes, the ball fell to Monreal who had his first 'on target' shot at goal since arriving in the Premier League, and he scored! The ball did bobble, but Vorm, in the Swansea goal, should have stopped it, although let's take nothing away from the lad. At least, Monreal had the guts to have a go!
Swansea heads dropped and it looked like Arsenal would hold out till the end. Walcott was substituted by Gibbs in the 85th minute, and Arsenal were looking not to concede. In Injury time, the ball was played up field to Ramsey on the right. For once, he managed to square it correctly and the on-coming Gervinho for once refused to fluff his lines and place it in the back of the net. 0-2 Arsenal (I would settle for our new preferred score every game!)
All in all, a good day at the office for all concerned. Wenger heaped praise upon his 'new team' and it can only install a missing belief thus far to elude a team who deserve to be competing at the top – CONSTANTLY! Nothing to play for? Are you having a laugh? There is everything to play for, more so now than probably at any other time in Wenger's reign over the last 16 years, despite it not necessary to be like this!
Last Word on the Spuds
Although as Wenger always says (and in fairness, as do most other manager's), you can't rely on other teams dropping points, you simply have to keep going and get as many points as possible. It does, however, always make the weekend sweeter when rivals near or around you in the table drop points. It is particularly even sweeter when the Spuds lose! We now also have a game in hand over them too!
I did (against my better judgement) watch how Inter tore the Spuds apart in Europe last Thursday. Despite my natural despise for Tottenham, I am big enough to appreciate that Gareth Bale is a decent player. Ronaldo he is not, but he certainly has something. However, without him, Spuds were not only embarrassing, but it simply shows despite everyone saying otherwise, how much reliant upon him they have become, and dare I say, they are a one man team! Many a Spuds supporter are away with the fairies when they mention how Adebeyor scored a great goal. Great goal? You can't be serious? He only had to tap it in the net. My 95 year old Grandmother could have scored that, and she passed away some 23 years ago!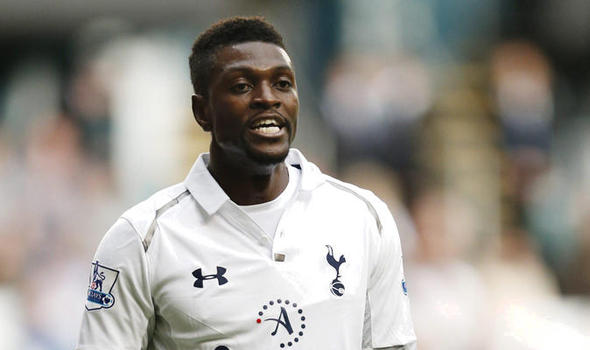 Chelsea, as expected, won against West Ham, and overtook that third spot, a point above Spuds, and five points above us. Everton beat Man City to keep up the pressure for fifth place, but Liverpool seem to be out of it with any chance of a top four place having been mullered by Southampton, and also playing a game more than us.
So, with nine games to go, there is everything to play for. 27 points are available to us, and bar any foolish performance, I believe 21 points are not only achievable, but essential for Arsenal. The potential banana skins are Everton and Man Utd, both at the Emirates. Man Utd would have won the title by the time they come to us, so who knows what team Fergie will play that day.
21 points gives us 71 points. Not even worrying about what others may or may not do, will it be enough for a Champions League place? I believe so. You never know, with both Spuds and Chelsea still in Europa League competition, they WILL drop points. As I eluded a couple of weeks ago, despite @goonerdave66saying I am the 'optimist', I think third is definitely achievable. Despite Man City dropping points again against Everton, I think they are too far ahead to be caught in second place. However, today, I would settle for fourth. That is not defeatist, just realistic!
Come on you Gooners!