Athletic Bilbao show the depth of La Liga
1.46K //
16 Mar 2012, 09:01 IST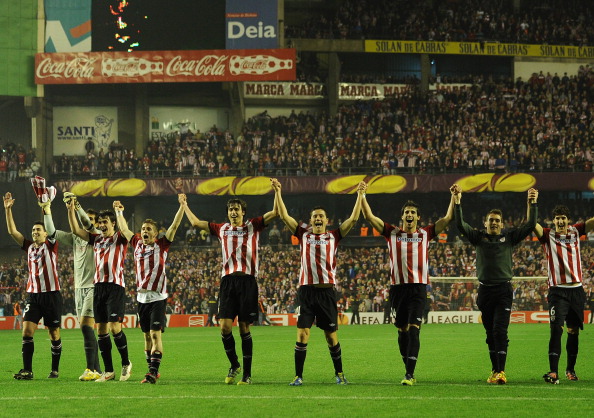 For a long time I have thought of La Liga as a 2 team league. The dominance of Real Madrid and Barcelona, both domestically and on the continent, have led me to believe there is very little quality elsewhere in Spain. How very naive of me. Of course, there is Valencia, who have consistently competed in the Champions League. There is also Villarreal, who have done likewise. Atletico Madrid won the Europa League in 2010, beating an English team, Fulham, in the final. Even Malaga, a lowly team who have had a massive Qatar-based cash injection, have started to compete at the top of La Liga.
However, the team that has made me realise the depth in the Spanish game is none of these. It is Athletic Bilbao. They have not won a trophy since 1984. I cannot believe that this won't change soon, potentially this season, as they are competing in the Copa del Rey Final and look good in the Europa League (I'll come onto that more shortly).
I am writing this article as Bilbao are finishing off the humiliation of the English Champions, Manchester United. I use the word humiliation as there is no other word which adequately fits what United just went through. They were thoroughly outclassed. The only other time I have seen United ran quite so ragged was against, yep you guessed it, Barcelona. Now that is quite some comparison. However, it is a comparison Bilbao completely and utterly deserve.
They are a team you cannot help but love. Over the course of the last hour and a half, they have completely won my heart. Now, let me tell you why. They are no Barcelona-lite. Oh my, no. They are very similar, in that they both play a very high pressing game and value possession. The difference, is the intensity at which Bilbao play the game. They are good when they are on the ball, there's no doubt about that. But their real quality is when they are trying to win it back. United never had more than a couple of seconds on the ball before they were being closed down, hassled or slid in on. Bilbao's desire to win the ball back as quickly as possible manifested itself in so many slide tackles and interceptions I could not possibly count them.
It is this desire which makes Bilbao so lovable, not to mention effective. As soon as they win the ball back, they counter, quickly. In the second half, as United were pressing for an equaliser, Bilbao overran the United defence time and time again. If Fernando Llorente had not been forced off in the first half through injury, it would have been a bloodbath.
The revolution at Bilbao has come under the stewardship of the brilliant, but unusual, Marcelo Bielsa. He was the man who led Chile so impressively at the 2010 World Cup. He is known for employing unconventional tactics. This has certainly been the case at Bilbao, most noticeably his decision to employ Javi Martinez, normally a central midfielder at centre back. This decision certainly paid dividends tonight. Martinez was thoroughly brilliant all night. He cut out United attacks with alarming regularity, then instigated attacks with the range of passing which made him such a highly rated midfielder.
Unfortunately, Bilbao do face problems, both in the short and long term. In the short term, because of the immense effort that every Bilbao player puts in, naturally, they will take quite a long time to recover. This proved to be so last weekend when they lost to Osasuna after beating United 3-2 at Old Trafford. Apparently, Bilbao covered more ground than any other team at Old Trafford in the last 10 years. It is an amazing statistic. So, whilst Bilbao's fitness levels are very, very good. They will struggle to consistently win two games a week, which is obviously what you need to do to be successful in both domestic and European competition.
The problem they face in the long term is, annoyingly, the thing that I respect the most about them. If you did not know, Bilbao are based in the Basque region of Northern Spain. The Basque country have been fighting for independence for a long time and as such are very proud people (much like the Catalans). Bilbao are almost unique in that they only field Basque-born players. Recently, they have extended this policy to accommodate those players who have been brought up in and around the Basque region, but it is still a very restricting policy.
It is remarkably admirable. However, they will struggle to achieve the success they deserve without loosening their stance. The board will have to remain firm in the next few years as it is inevitable that big teams will come in for some of their starlets. Llorente, Martinez and Muniain have all been linked with big money moves and it is probably only a matter of time before the team is broken up.
I sincerely hope Bilbao can build on this remarkable victory and win the Europa League. I will certainly be following them with interest and suggest you do the same. They have been a credit to Spain, the Basque country and football itself. I dare you not to love them. Unless you're a United fan, that is.