Bacary Sagna should stay: Could he play at centre back next season?
694 //
06 Mar 2013, 00:40 IST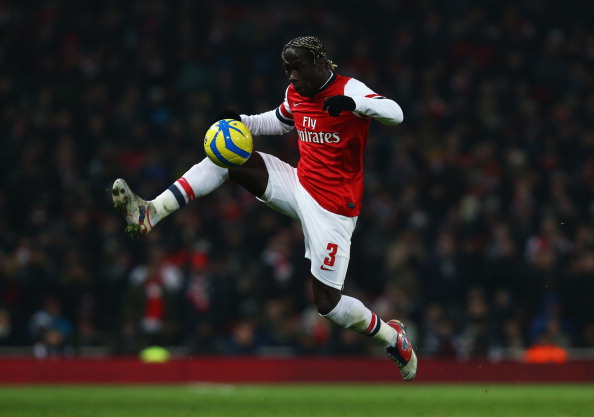 It's hard not to get lost in negativity and wallow in self pity as an Arsenal fan this week. The last 2 weeks have been as bad as they could have been and the worst part is that if we are all honest, none of us are at all surprised. Pointless then for me to cover the ground some many other observers have smothered since 'The Mighty Arsenal'  managed a grand total of NO shots on target in about 98 minutes of football at White Hart Lane.
I will say just this on the subject before I move on to my chosen subject of the day: FACT: Tottenham with one of two exceptions do not have better players than Arsenal. FACT: Tottenham are however a better TEAM than Arsenal. Read in to that what you choose but there is so much to read into. I would choose just to dwell on the positives and suggest that if we have better players we SHOULD with the correct coaching and motivation be able to produce a better TEAM.
What is glaringly obvious is that we have major issues in the centre of our defence. If I was kind, I could point to lack of communication but the reality is that for Arsenal to challenge again, we need better defenders. We can suggest that Wenger does not coach the defence, or discuss the fact that Bould is or is not allowed quality time with the central pairings. We can fall back on the argument that the management have had to shuffle the pairings due to injuries and that Vermaelen is struggling with the responsibility of the captaincy. All of the above may be partially or even totally true but none of them hide the actual real truth which is that the players simply are not quite good enough to take us where we want to go. They are all bloody nice chaps and individually good defenders and all have had great days. But they are not great players and the great days are not on a consistent basis. Yes, before you come back with the Wenger line, we may not have conceded many more than other teams but it is the way we concede them that grates.
There I have said it and I feel better for it. Thankfully whilst I have affection, often misplaced of late, for all Arsenal players, none of the 3 hapless souls leaving would tug too long on my sensitive heart strings. If however I was pushed and asked which one would I like stay and be given the opportunity to redeem himself, it is most certainly Laurent Koscielny, who I do have a soft spot for. He is the youngest of the 3 and the one who most readily fits into what I suspect is the vision of most Gooners. So what is the vision of which I speak? Well it is to see a pairing of similar make up or DNA to that which dominated opposing attacks in 2003/4. What Arsenal need for me is a big strong Sol Campbell type to head the ball away all day long together with a superb ball playing defender, our modern day Kolo Toure.
Oh, just to ensure it fails entirely, the one who reads the game very well does not have any pace to cut out the danger he has anticipated and the other is quick but too stupid to read the danger in  order to use his pace to snuff it out. HAPPY DAYS!
I see Koscielny as not quite a strong defender as Vermaelen and not quite as good a reader of the game as Mertesacker but he has more than enough of all the attributes to be the best combination in my opinion and is younger with time to mature.
I am sure not many would argue with the contention that Sunderland was our best defensive performance of the season. With 10 men after Jenko's second yellow, it was backs to the wall to protect a slender lead and keep a clean sheet. Pivotal to that defensive display was Bacary Sagna who played centrally with Mertesacker that day. He read the game, made interceptions, won tackles, headers and generally threw his body in the way of anything and everything. In short, he was imperious and brought the body on the line displays of Martin Keown to mind. Quite simply, Sagna showed the big German up that day and the stats back this statement up clearly.  He made a third of Arsenal's clearances out of defence that afternoon, knocking the ball away from danger 15 times. He won 6 out of 10 aerial duels even against Elliott, while our giant German competed for just one. So could Bac be the Kolo to play with a new dominant centre back coming in? I guess there are two questions we need to consider. Firstly, will Sagna be an Arsenal player in 2013/14 and if so could he become one of our central defenders?
In brief I will give my own view on the first part of the question and subsequently the second:
Sagna, by his own high standards that saw him voted twice best right back in the league, has not has a great season but there are mitigating circumstances. It is his first season back after not one but 2 broken legs and he has made uncharacteristic mistakes. The Sagna that we used to love, bombing on and overlapping, is no more. However, that Sagna played in a 442 and was protected by a right midfielder. Walcott affords him little protection to say the least.
I hope that Sagna is offered atleast a year's extension for the wealth of knowledge and experience he brings to the pitch, to the dressing room and to Colney. The question is would he want more and the answer may well be yes. Wenger has already made the mistake of breaking up the Invincibles by selling players too early and not offering them proper deals into their thirties. I hope lessons have been learned and it appears from Arteta and Rosicky this may be so. However, even if Sagna opts not to sign whatever the club put in  front of him, he should be retained to see out his final year. This is not an RVP situation where we stand to turn down £25 million.  it is a Clichy situation where we may miss out on a £7/8 million fee. For what Bac offers, I would pass up on the cash offers. Despite the reported Sagna gripes and demands, Bac is not a trouble maker and he loves the club. We owe him the chance to play out his final season and to have one last big move. He is unlikely to break back into the French side now so we have an international player not playing internationals and this can only be good for Arsenal and I feel beneficial for Laurent Koscielny and Carl Jenkinson.
Secondly, it is well worth considering if Bacary could indeed provide some experience and know-how to our central defensive pairing for next season. You may consider me mad as I have seen him play at centre back in one game. One game where we had to do more defending than in many games this season I might add.
So can he play centre back week in week out or when required? I say yes and I hope to give some credence as to why I believe it so.
Initially, one has to recognise the experience that comes from playing in the Premiership for so long and the air of calmness under pressure that exudes from Sagna, to be fair even when off form. With this come the discipline and concentration required and this of course means fewer errors in the main. He wins more headers per game than any player in the Arsenal team and averages 3.4 aerial wins per game, which is no mean feat for his height.
However, my real conviction comes from recent and relevant precedents that just prove that players who are first and foremost quality defenders can adapt to any role across the back four. In the same way an intelligent mature midfielder like Arteta can adapt to the DM role, similarly it should be quite possible for an intelligent experienced full back to become a centre back . Someone correctly pointed out Sergio Ramos has moved with some aplomb from full back to centre back under Mourinho at Madrid. However the 2 excellent and relevant precedents I have in mind are more pertinent still as they are from France and both peers and mentors to Bac. Both also are not just average players, both have been among the world's top defenders in recent times in both positions.
Lilian Thuram
Quite simply, one of the best exponents of defensive play I have ever seen. 18 years as a top flight footballer in France, Italy and Spain, for Monaco, Parma, Juve and Barcelona. 14 years as an International with an astonishing 142 caps, making him his country's most capped player.
Man of the Match in 2 World Cup Semi finals in 98 and 2008, a record holder with 16 appearances in European Championship Finals. A World Cup Winner, a World Cup Runner Up and a Euros winner and I could go on.
Thuram was a Cup Winner with Monaco in France and Parma in Italy, multi Scudetto Winner with Juventus and twice a Cup winner with them also.
Big deal you say, but what is the point? Well the point is he won the World Cup, Euro's, Cups with Monaco and Parma and his first titles with Juventus as a right back.  Capello then decided to pair him with Fabio Cannarvaro and he won 2 titles (subsequently removed due to betting scandal) as a centre back. Curiously, Thuram was successfully converted from a full time RB to a fulltime CB in his 31st year and did not look back. He then was persuaded by French coach Domenech to come out of international retirement to partner Gallas, captain his country and he led them to the World Cup Final in 2006.
Eric Abidal
For the bulk of his career in France with Lyon where he won 3 consecutive Ligue 1 titles  05 to 07 , he was playing a s a left back. He then moved to Barcelona where he had a year off winning the league before resuming with another 3 consecutively in Spain.
Despite his well publicised health battles, Abidal has starred for Barca both as a left back, one of 3 centre backs and as one of a pair of central defenders. He is a complete defender and fills any position on the left of the defence with ease.
For France, he began as a regular left back in 2004 and in the 2006 World Cup played alongside Thuram still on the left but by the 2008 Euros he was regularly the left centre back in the finals. This continued on to the finals held in S Africa in 2010.
So another French footballer able to hold down a place in his national side, at centre back or left back, because he is just a quality defender who reads the game. In fact in August 2007 , when Sagan made his debut for France coming on at right back, Eric Abidal was playing at centre back, despite regularly still playing left back for his club.
 So…
So in conclusion do I think Sagna could or will be one of our first choice centre backs next season? Probably not. Do I think he is capable of playing there for Arsenal and be called upon on an ad hoc basis or with regularity? Yes I do. Would I like to see Bacary Sagna in our 1st team squad in August, new contract or not? Yes I would.
I would like to see a brand new strong centre back in the mould of Adams, Keown or Campbell bought in June/July and able to have a full pre-season with Laurent Koscielny but I see Sagna as an alternative or understudy to Kozza.
It may never happen but many of the best centre backs in the game have their finest years in their early 30s and there is absolutely no reason why Sagna could not make that conversion with consummate ease. Certainly our current manager believes so and told Arsenal Player after the game at the City of Lights:
Wenger was impressed by the defender's display, and is happy to have inherited another option at the back.
"I always thought he could play there one day," he told Arsenal Player.
"We pushed him in this position in training. What he showed in training was encouraging. He had no preparation. He was told 10 minutes before the start of the game and he dealt very well with that situation, so that's very positive."
One final point is this. I have been worried about Carl Jenkinson but he was easily our best player against the old enemy on Sunday and given his is a Gooner, I would no longer feel that if we keep Bac this is an arena we need to spend money.