Back with a bang
785 //
18 Nov 2012, 18:09 IST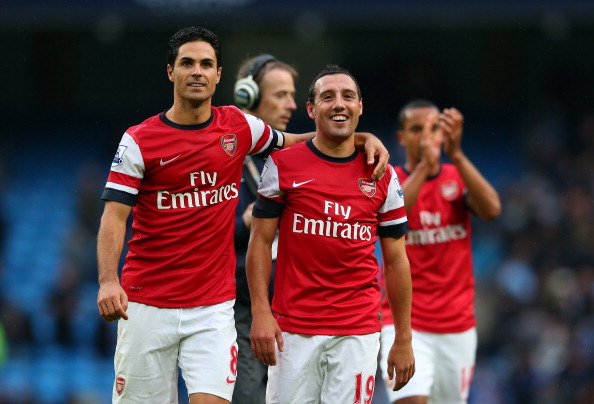 North London derbies these days are crazy. They have no rhyme or reason, they do not listen to logic. The only thing you can be sure of is that there will be goals, lots of them.
There have been plenty of hero to villain stories. Beckham against Argentina in 1998, Rooney only last year against Montenegro.
Well, Adebayor might just have a claim to top any other. Having put Spurs ahead in the 10th minute, and it must be added that during the first 15 minutes they were in complete control. Then in the 18th minute, Adebayor single-handedly cost Spurs the game.
You just can't go in studs up anymore, especially 2 feet in the air. Well, that's what he did and boy did it cost them. Now, going down to 10 men is difficult against any side. Going a man down facing a midfield of Arteta, Wilshere and the magnificent Santi Cazorla is a rather more daunting task.
Spurs fans will moan that they would have won if Adebayor hadn't been so foolish. Well, yes they might have, but he was. They decided to play him and as such, they had to pay for his typically idiotic actions.
Still, you often see teams with 10 men defend staunchly. Spurs still had their 2 banks of four, it was only in attack that they were lacking. Obviously, Arsenal would now enjoy more possession, but that did not excuse Spurs' defensive implosion.
After a lean few weeks in the final third, Arsenal finally seem to have got their attacking swagger back. This seems to have coincided with Walcott's return to the team, it is obvious that his pace and directness benefits Arsenal.
Giroud clearly enjoys the now excellent service Walcott provides and it also seems to give Cazorla an extra edge in midfield. After a couple of weeks looking rather fatigued, Santi was back to his imperious best on Saturday. Clearly, midweek jaunts to Panama to sit on a bench do wonders for a players form. Who knew, eh?
Whilst there will be cries of joy from the Emirates, as there always will be after a North London derby win, Arsenal are far from the finished article.
There were still all the same defensive frailties and whilst Arsenal played with all the familiar attacking verve we have become used to, it was of course only after Spurs had been reduced to 10 men. I really don't mean to be such a grumpy sod, but the result must be seen in perspective.
Wenger has said the only thing the team are lacking is a bit of confidence, so if this result serves to address that then brilliant, all is well with the world once again.
Last year after Arsenal 5-2 win against Spurs, they went on a brilliant run of 9 wins in 10 games. If they can do the same again, Arsenal's season will be right back on track.