Barcelona: just another club?
1.70K //
23 Nov 2012, 16:14 IST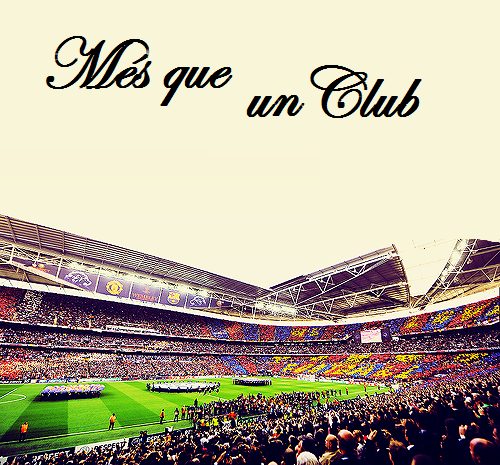 Their influence and ability leaves you with a wide smile on your face, bewildering all of us with their tactical intelligence and sublime passing. The slogan 'més que un club' ('more than a club') actually meant something for the club and the fans. For the Catalan population, Barcelona is an epitome of Catalan national pride. It is a symbol of the movement contrary to the exploits they had experienced during the Civil War. The club's president Josep Suñol being murdered by Franco's soldiers was one of many lows in the history of the traditional club, but the club never looked back.
In football, they stood as world beaters. The four seasons under former coach Josep Guardiola is perhaps the most successful period in the club's history.
The era heavily relied on home-grown talent, oddly buying players like David Villa and Zlatan Ibrahimovic. They were no Manchester City or Paris-Saint Germain, or unlike the Laporta era where the club would sign superstars for sumptuous price tags. Their partnership with UNICEF redefined football. They would be wearing the logo of UNICEF on their shirt and that too free of cost. It was a kind and noble gesture, as the club had no intention of making profits. Players like Ronaldinho, Lionel Messi were seen caring for children traumatized by earthquakes, tsunamis, disease or poverty.
But money changes people, changes what they stand for.
Following the long association with UNICEF, the club had decide to change their route. They would be wearing the shirts with a logo of Qatar Foundation thus receiving a mega-money package of around £170m spread over six years. It would been pretty reasonable had it been any other team, but it questions the very roots of Barcelona. They did retain UNICEF logo on their shirt, but it is hardly visible. The cause was lost, and the fans didn't like it either.
"It has been decided that the Qatar Foundation logo will go on the front of the shirt, on the breast," Barca vice president Javier Faus had his say as well. "In the end, there will be only two words 'Qatar Foundation' in yellow. UNICEF will go on the back underneath the player's name."
The stadium wasn't spared too. Standing 48 meters high, 250 meters long and 220 meters wide, the Camp Nou has been much more than a stadium. It has been an important part of the Catalan identity. Although the construction of the new stadium was overshadowed by the club's financial troubles, there were plans of rebuilding the stadium to fit more spectators and somewhat improve fan experience.
Amidst all these chaos, the one philosophy that was intact was the preference of choosing academy players over foreign arrivals.
Or was it? Alex Song was bought to play as a center-back, even though the team had players like Fontas and Batra waiting in the queue.
Always having been linked with Brazilian prodigy Neymar, the transfer would be blocking the progress of certain academy players. The likes of Cuenca and Gerard Deulofeu would have to change their ways and making it to the first team would be tougher than ever.
Bringing back Cesc Fabregas might seem fair, but the transfer wasn't free of controversies.
In a response to Joan Laporta, the then-President claiming he wanted to enter talks with Arsenal over Fabregas, Arsenal chairman Peter Hill-Wood responded in an interview with the Daily Star, saying: "I am really pi***d off with Barcelona and all that nonsense. It is not the first time they have done this and it is a most disrespectful and tiresome thing to do. You would think there would be some action you could take against them, but I suppose you cannot stop the man shooting his mouth off."
Things got more serious when club players Gerard Piqué and Carles Puyol jokingly tried to pull a Barcelona shirt over Cesc Fabregas's head during Spain's celebrations after winning the World Cup.
Spanish Papers claimed that Barcelona had clearly broken FIFA tapping up rules by agreeing to a five-year deal with Cesc Fabregas without written consent from Arsenal, and before agreeing to a transfer fee with the north London club.
Eventually, Cesc did sign a five-year contract with Barcelona, installing a €200m buy-out clause for the player Sandro Russel had claimed to be not worth more than €40m. Barcelona had shown the world how by constant persistence, it is possible to buy players for lesser amounts of money.
Barcelona might be brilliant with their football, but are they losing the core values of what they stood for?
Jealousy might be a reason, but often claiming to be something more than a club, Barcelona might actually be just another club.