Barcelona vs AC Milan: Tactical Analysis
3.24K //
14 Mar 2013, 00:33 IST
A wonderful spectacle of football at the Nou Camp yesterday night saw Barcelona romp  through to the quarterfinals of the UEFA Champions League with a 4-0 thrashing of AC Milan. After holding a 2-0 lead from the first leg, one thought Milan would be able to contain the Blaugrana somehow, but Jordi Roura (mostly with some help from Tito Vilanova) came up with a tactical masterclass to outwit and ultimately outplay Milan.
Barcelona's formation: Playing a main striker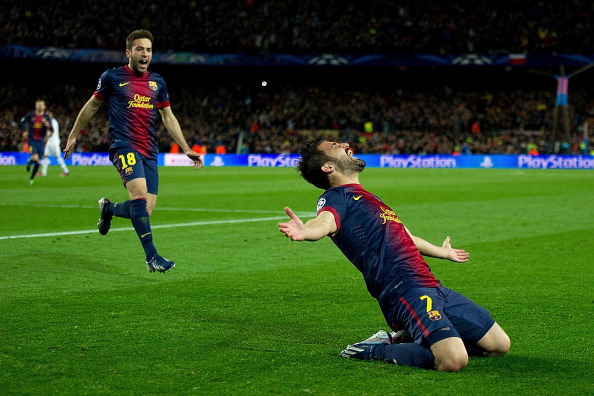 In the first leg, Barcelona were predictable and boring, to say the least. With almost no penetration into the Milan defence, Allegri seemed to have found out a way to stop Barca's short tiki-taka game from functioning. So Roura had to change that in order to shock Milan, and didn't he do that well!
It was suggested that Barca may well employ a 3-4-3 formation and throw Milan's tactics haywire. Although they didn't do exactly that, it wasn't too far away either. David Villa, considered by many experts to be on the wane after his injury and on the lookout for another employer, was the main man yesterday. After employing a false 9 in the first leg, Barca deployed Villa as the central striker.
It attracted the attention of the centrebacks away from Messi and gave the little man space and fewer defenders to beat. Even if Villa wasn't getting too  many touches of the ball, his presence was enough to give Milan a headache and prevent them from focusing on the main man. Messi continued to drift into the space between the lines as Villa kept moving to the left, allowing the Argentine to weave his magic at the Nou Camp.
 Barcelona defended much better in this leg than in the first where they conceded two goals in the second period. Again it was down to formation and a different defensive strategy than you would normally see them employ. It was essentially a three-man defense whenever they had the ball, with Jordi Alba staying back as a wide-ish left centreback with Mascherano and Pique as the main centrebacks. A 2v2 against Milan's pacy forwards would have been risky and Alba's pace immensely helped negotiate the Italian club's front men whenever they went out wide on the right.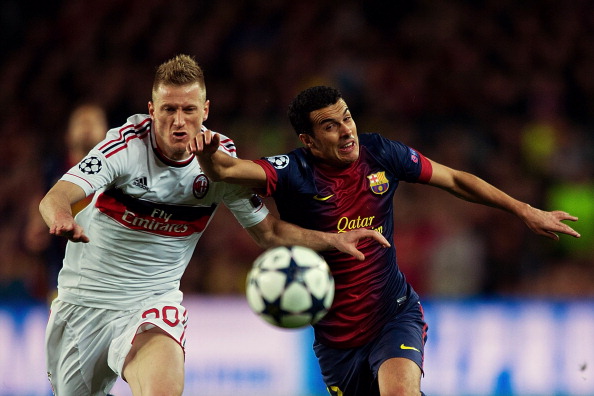 Barcelona haven't been known to use the wide men too much, even during the times of Pep Guardiola; instead relying on short and quick exchange of passes between Xavi, Iniesta and Messi with Pedro and Busquets as the supporting acts. It was crucial for Barcelona to succeed at home to make full use of the extra width that the Nou Camp offers.
Roura employed Pedro on the left side of midfield and allowed Dani Alves to exploit the width on the right side. This allowed Iniesta and Xavi to remain central, passing the ball between them. Time and again Iniesta and Messi popped up on either flank, drawing their markers wide and allowing that extra space in the middle for Villa to use and Xavi to find with his passes. Busquets was a vital cog too, who alongwith Xavi almost totally negated Ambrosini's ability in midfield and tore him apart.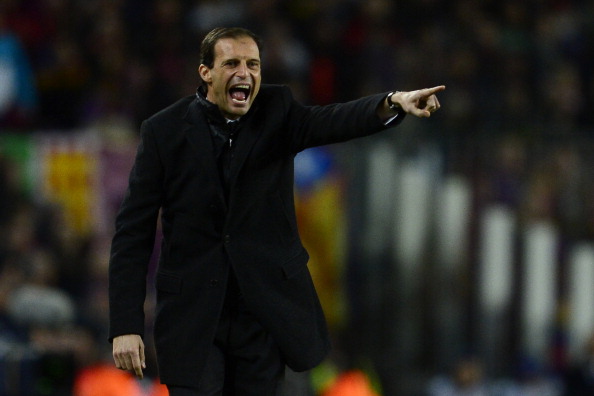 Massimo Allegri was trying to repeat his tactics and strategy from back home at the Nou Camp in order to stifle Barcelona's gameplay and it totally backfired on him. Their midfield pushed up too much, allowing Messi, in tandem with Villa, the time to rip through their defense. At the San Siro it worked as Barca played Messi in a false 9, here it was never going to work. Niang in a central role was not upto the mark and could not hold up the ball as well as Pazzini could have. That he also missed a one on one chance to kill the tie further added to his poor night. After going 3-0 down, Milan just threw players forward, brought on Robinho (who was woeful), Bojan and almost switched to a 4-2-4. It was of no use as Barca finished off the tie with a super late goal by Jordi Alba.
So Barcelona finally do have another way of playing. They "CAN" play with a central striker. It was sublime and even if essentially their pattern of play and tiki-taka remains the same, teams who thought they had found the key to their game will now be forced to rethink their strategy. Use of width and a 'false back 3′, if one could call it, were vital to their success yesterday night. Roura has done it! It can only get better for the Blaugrana once Vilanova returns. Oppositions BEWARE!