Battle of the best: Bundesliga XI vs Premier League XI
2.65K //
15 Dec 2012, 13:18 IST
La Liga vs EPL, the age-old never-ending battle between the two leagues, has been a hot topic for discussion in every forum, blogging sites and Facebook wall possible. But aren't we all forgetting that there are other Leagues in football as well?
What if the the German Bundesliga was to be compared with the all-time popular English Premier League? What if the finest of the German League had a head-to-head clash with  EPL's best ?
It would be a spectacular clash that the world has yet to see.
Bundesliga XI
I have used a typical 3-5-2 formation for the Germans.
Manager : Jürgen "Kloppo" Klopp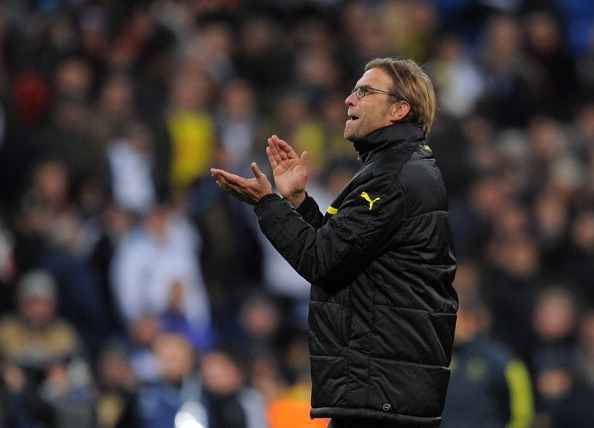 He is a former German player and current manager of defending champion Borussia Dortmund. He joined as manager for Borussia Dortmund on May 2008, and he certainly has proven himself to be a worthy rival for fellow manager Josef "Jupp" Heynckes of Bayern Munich. He guided his side to win DFL-Supercup in 2008 by beating German giants Bayern Munich; won two successive league titles in 10/11 and 2011/2012. He also won the DFB Pokal in 11/12 and has been one of the best managers for Borussia Dortmund yet.
Klopp built a whole team of young talents which showed the world what the youth is capable of. Credited for his insight and intelligence, he deserves to be the manager of Bundesliga XI.
Goalkeeper: Manuel Neuer
Undoubtedly the best goalkeeper in Bundesliga, he made his debut for Bayern Munich in 2011. After getting transferred from Schalke 04 for a fee of 22 million euros, he officially became  the second most expensive goalkeeper of all time, behind Gianluigi Buffon. Known for his reflexes, shot stopping abilities and ball distribution, there are still a few forwards hoping to net a goal against this soon-to-be a legend.
Center Backs: Holger Badstuber, Dante, Mats Hummels
Dante Bonfim Costa Santos, better known as Dante, is a Brazilian center back who joined Bayern Munich in the 2012-13 season. He made quite an impact for Bayern Munich with his afro hairstyle and strong defensive insight. Dante is 6 feet 2 inches tall, and he is the best at what he does.
Holger Badstuber is a German defender and center back for Bayern Munich. A polished product of the Munich youth academy, this 6 feet 2 inch defender can make most forwards look like amatuers. Former Bayern coach Louis van Gaal had once stated, "Holger is the best left footed defender in Germany."
Hummels is a German center back and currently playing for defending champion Borussia Dortmund. He is often credited to be one of the youngest and finest defenders of the world. With excellent dribbling and clearance skills, Hummels is flawless at his job. He clearly outmatches every other defender in this category.
 Central Midfielder: Bastian Schweinsteiger
Experience leads to perfection in football and it is rightfully demonstrated by German player Bastian Schweinsteiger. He is 28 years of age but has the work rate of a horse. This German maestro is right footed and plays wide balls to create unique oppurtunities. Coordination among the team has always been this player's responsibility, and indeed he is Bayern Munich's vice-captain for no ordinary reason.
Attacking midfielders: Mario Gotze, Thomas Muller, Marco Reus
Mario Gotze is considered to be the up-and-coming star of Borussia. He is a potential world-class footballer with high speed and excellent insight, technical and dribbling skills. Spellbinding creativity at the age of 20 is indeed impressive.
A team without Muller is cream without ice. This 23 year old German attacking midfielder is a product of Bayern's youth system. Pace, creativity, composure and consistency in scoring and creating oppurtunities are a regular feature of this German star's performances. Thomas Muller is one of the finest midfielders of Bundesliga.
Marco Reus, one of the most versatile and speedy attacking midfielders of Bundesliga, currently plays for Borussia Dortmund. This 23 year old is almost 6 feet tall and utilises his height to its full extent. Be it aerial duels or dribbling past the opposition, Reus always has something up his sleeve and no one would make the mistake of doubting his position in Bundesliga's finest.
Wingers: Arjen Robben, Franck Ribery
Franck Ribery may be 29 but he is still on top of his game. Pace, energy, skill and precise passing are the attributes of the two times French player of the year. He joined Bayern Munich in 2007 for a club-record fee of 25 million euros. He has been one of the most valuable assets of his side. French legend Zinadine Zidane once stated Ribery as "Jewel of French football".
Dutch footballer and Munich's winger Arjen Robben is often considered to be selfish after his dissapointing performance at Euro 2012. But this hasn't stopped Netherlands' youngest Player of the year and ex-Madrista from displaying world-class footballing skills. Often described as a player with dribbling and crossing abilities, he is one of the best wingers the world has ever seen.
These players are rightfully  the golden duo of  German Football.
Striker: Mario Gomez
6 foot 2 inches tall, this German footballer is a maestro when it comes to scoring a goal through a header. Transferred from Stuttgart to Bayern Munich in 2009, he is one of the most lethal weapons of Bayern Munich. Balanced body, ability to shoot with both his legs and superior aerial skills are the attributes of Gomez. Legendary manager Arsene Wenger once stated that Gomez was a great finisher who is often in the right place to finish off moves.
Bench: Philipp Lahm, Javi Martinez, Ibrahim Afellay, Tony Kroos, Klaas Jan Huntelaar.
I have used a typical 3-5-2 formation but this one is a bit more refined version, consisting of 3-5-1-1.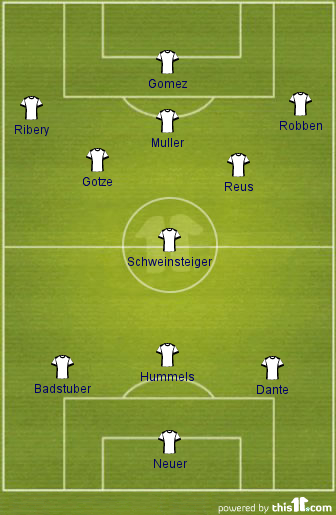 English Premier league XI
Manager: Sir Alex Ferguson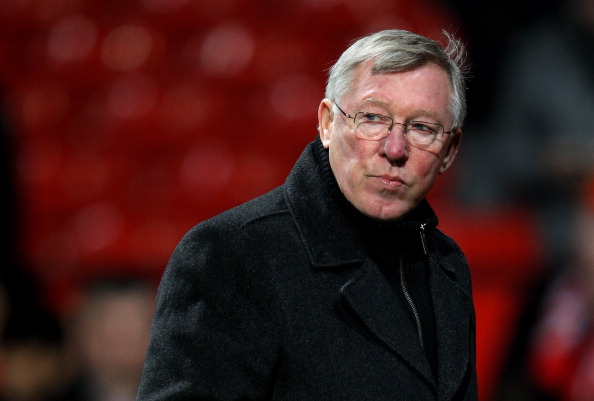 One of the  most respected and admired managers of all time, Sir Alex Ferguson has been the manager of Manchester United since 1986. In a tenure of 25 years, he has won 12 Premier League titles, 2 Champions League titles, five FA cup trophies, 10 community shields, and one FIFA Club World cup. Handling the  youngsters and utilizing his veterans intelligently are some of the attributes of this legendary manager.
Goalkeeper:  Petr Cech
Goalkeeper for Czech Republic and Chelsea, Petr Cech is one of the best goalkeepers in the Premier League at the moment. Held the record for most time without conceding a goal until it was beaten by Edwin van der Sar. His place in the EPL XI is no doubt as this 6 foot 5 inch keeper can prevent a goal in all circumstances.
Central defenders: Vincent Kompany, John Terry, Nemanja Vidi?
Kompany is a  Belgian central back playing for English team Manchester City and captains the Belgian national team. Capable of playing both center back and defensive midfield, he was awarded the captaincy in the 2011-12 season for Manchester City. He has blossomed into one of the best tactical defenders of the Premier League.
Chelsea club legend and English center back John Terry may be one of the most controversial footballers of this era but he is always there when his team needs him the most. Most successful captain of Chelsea so far, John Terry has won 3 premier league titles, four FA cups, two league cups, and the most prestigious Champions league trophy once. Known for his work-rate and strong defensive insight, he deserves his spot more than anyone in EPL XI.
Serbian legend and a part of the Red Devils, Nemanja Vidic has is one of the most successful veteran defenders of this era. Precise tackling and no-nonsense defending are some of his prime attributes. Joining the Red Devils in 2006 for 7 million euros, he has collected 3 consecutive Premier league Titles, one FIFA Club World Cup, and the UEFA Champions League trophy.
Needless to say, he is the most deserving captain of EPL XI.
Central Midfielders: Yaya Toure, Marouane Fellaini
6 feet 4 inches tall, Yaya Toure is an Ivorian footballer currently playing for Manchester City. Playing primarily as a midfielder, he is known for his quick change defensive to offensive play and vice versa. Quick footwork, pace and accurate passing skills makes him a deserving candidate for EPL XI.
Belgian footballer and currently playing for Everton, Fellaini is in amazing form in the EPL at the moment. Transferred from Standard Liege to Everton for a fee of 15 million euros, he is the best choice for central midfield. 6 feet 5 inches tall, he has extreme passing skills and quick footwork which enables him to get past any defensive opposition with ease. May lack experience but there is nothing better than young talent like Fellaini. Top guns like Real Madrid, Bayern Munich and Red Devils showed interest in this CM, which proves this player's abilities.
Wingers: Eden Hazard, Juan Mata
Belgian footballer and Chelsea winger Eden hazard made the most impact as a youngster in the Premier League. Possessing quick footwork, pace and precise crossing abilities, he has already proven why Chelsea paid 32 million euros for him. May not be a "big game player", but no one can ignore his goal scoring talent against other teams, which is equally crucial for making it to the top of the table.
Spanish winger Juan Mata has already registered a EURO 2012 goal for himself within a playing time of 3 minutes. Dribbling, passing and crossing abilities are his natural talents and Chelsea has managed to make the most of it. I doubt anyone can replace him for this role in EPL XI.
Forwards: David Silva,Robin van Persie, Luis Suarez
Uruguayan forward Luis Suarez is having a golden time in the Premier league this season. After scoring 13 goals this season, he has made a huge reputation for himself. Transferred from Ajax for 22.8 million euros, Liverpool is grateful for his goal scoring talent. No manager would make a mistake of excluding this goal machine from his side.
Dutch striker Robin van Persie may be hated by Arsenal fans, but there is nothing to stop him from bagging a goal for his team. Strong left foot and power shots are his specialties, and with his pace, he is one of the deadliest forwards in the world at the moment. Defenders always feel a chill in their spine when this Dutchman has the ball.
David Silva is probably the best central attacking midfielder and second striker in the EPL right now. A Spanish left footer, Silva joined Mancini's side in the summer of 2010. With brilliant play making, dribbling, and passing abilities, he is THE attacking midfielder you would want to have in your side. Along with Spanish national team mates and  club legends Xavi Hernandez and Andres Iniesta, he has already sealed a spot for himself in the best midfield of the century.
Bench: Gareth Bale, Steven Gerrard, Wayne Rooney, Michu, Demba Ba.
I have chosen a 3-2-3-2 formation for EPL XI.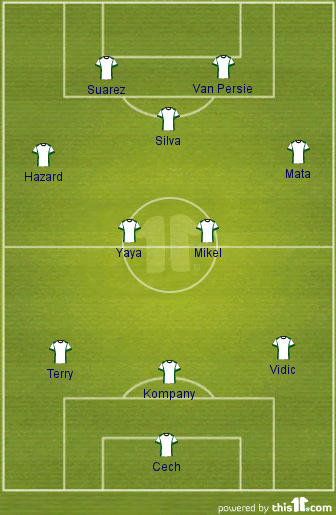 Now considering these two league's finest XI, I can infer that while Bundesliga focuses on young guns, EPL makes the best use of veterans. Defending is top class in EPL but how can we forget the pace of attacks of Bundesliga? Van Persie and Suarez may have a great impact on Bundesliga, but surely Hummels and Neuer can make sure that the score card remains a clean sheet.
Midfield will be of vital importance in deciding the result of this match and while EPL has players with imposing frame in its midfield, the Bundesliga can make use of its pace with players like Gotze and Schweinsteiger.
Considering all the possibilities, I think Bundesliga will emerge victorious after a nail-biting showdown.
Prediction : 2-1 in the favor of Bundesliga.
Who do you think would win? Please leave your opinion in the comments!