Beckham would perfectly fit AS Monaco
658 //
30 Nov 2012, 15:42 IST
Monaco, Nov 30 (IANS/RIA Novosti):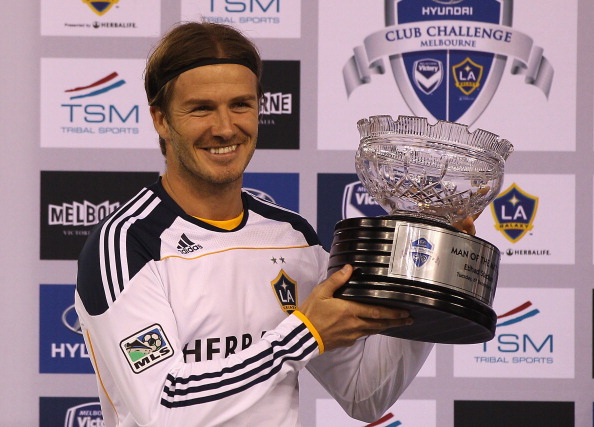 David Beckham would make a perfect addition to AS Monaco, the director general of the French side said.
Beckham, 37, put clubs all over the world on transfer alert when he said that the MLS Cup final Dec 1 would be his last game for LA Galaxy, adding he sought one final challenge in his player career.
The former England international has reportedly had offers pour-in from other MLS clubs as well as the English Premier League, the middle east, Australia and Russia.
But the glamour lifestyle on offer in the principality could prompt Beckham to turn a blind eye to the fact that Monaco ply their trade in the French second tier and the club, owned by Russian billionaire Dmitry Rybolovlev, may just have the resources to lure him away.
"We are always looking to add quality and experience to our squad. And Beckham, among other names we're looking at, would fit this profile," club CEO Tor-Kristian Karlsen said Thursday.
"We have a very young team who could only benefit from a player of Beckham's calibre, experience and personality."
French Ligue 1 side Paris Saint-Germain and London team Queen's Park Rangers are reportedly two of the interested parties and Monaco, managed by former Chelsea and Inter Milan coach Claudio Ranieri, are all too aware they'll have to fight hard for his coveted signature.
"There's obviously a lot of interest from clubs world wide in a world renowned profile like Beckham and we're flattered to be mentioned among those clubs. We're an ambitious club and when a top name becomes available it's natural that we are alert to the situation."
Rybolovlev, who made his fortune in potash, acquired a two-thirds stake in the club in December.
The takeover deal committed the 45-year-old to invest at least 100 million euros in the club over the next four years.
Ranieri signed with Monaco a two-year deal with an option on a 12-month extension in May. His last job was at Inter Milan, where he was fired him in March after just four months in charge.
Monaco, the 2004 Champions League runners-up, are one of France's most successful sides, with seven league titles and five cups but recent poor form and financial difficulties culminated in the team's relegation from Ligue 1 last year for the first time in three decades.
They currently sit top of the second division after 15 games of the championship played.