Best EPL XI from the mid and lower table teams
1.74K //
18 Mar 2012, 10:42 IST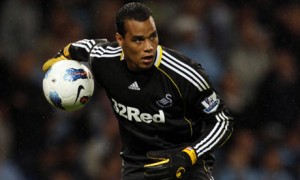 While browsing through some of the Sportskeeda articles I ended up having a look at one making a Best EPL  XI from top 6 teams on the table. Now its time to construct a playing XI from the rest of the lot. So here is my presentation of the same.
These are some players who really have performed well and are also having statistically nice figures. But it absolutely doesn't mean no one better can be placed where they are. In this favorite 4-1-3-2 line up. It is this writer's personal and unbiased feel that they will fit in well.
Bench: Tim Howard, Leighton Baines, Matthew Ettherington, Pavel Pogrebnyak
Goalkeeper:
Michel Vorm: Well the choice clarifies all doubts. The "Penalty Killer" has actually established his reign between the posts and is the perfect shot-stopper in the league. His form was the key to Manchester City's defeat vs Swansea lately and is probably the most economic buy this season.
Defenders:
Jose Enrique:  The perfect LB in the league. This attacking left back is the key to the third-man runs of Liverpool and his crosses are deadly. Can shield the ball well and gives the wingers the headache to get one into the box.
Ryan Shawcross: This tall and physical center back is the one really difficult to get past. Has a reputation for getting forward. He gets his tackles timed right and uses pure strength to get strikers off balance. You get on his nerves and he will make you pay for sure.
Ashley Williams: Swansea's strong and tactical center back actually makes a fitting addition to this squad. He has been getting all the applauds from the football pundits recently and he has hardly been the flop of the match this season.
Glen Johnson: Attacking full back through and through he is the perfect guy for top notch crosses. More of an attacker than a defender his ball control and skills are too good. He is the supply line to the forwards as well as the wide man choker.
Defensive Midfielder:
Danny Murphy: The pivot around which Fulham is piling on its top 10 finish hopes. One of the finest defensive midfielders in the league and instumental in all of Fulham's matches where they created giant killings. The perfect midfield destroyer.
Midfielders:
Bryan Ruiz: This lad from Costa Rica is one of the most athletic wingers and a perfect second striker in the squad. Ever since his deadline transfer from Twente To Fulham he has been piling up his assists for the team. Whats more is that he also lends his hand in goal scoring.
Stephane Sessegnon: The versatile and an experienced player in the list. He can perform in any position, on the left, right or center and breeze past defenders. He also has box-to-box mid-fielding capabilities besides taking great penalty kicks and hence is a must in this squad.
Lee Chung Young: Pacy, highly agile and tireless, the qualities we actually need in a winger. he takes good corners too and has  great sense of ball making.
Attackers:
Clint Dempsey: The American has got guns in his boots. One his day he can actually be instrumental in bombarding the net. Can also fit into attacking midfielder or center forward role well too. Get him the ball into 30 yards and he will do his job.
Yakubu Aiyegbeni: The Nigerian has a real eye for goals and can use his herculean physique to great effect. This assassin can really work the ball well and with his great penalty taking skills he completes this squad.
You are free to make your own additions here.