BPL preview: Chelsea vs Manchester United
1.82K //
01 Mar 2011, 03:30 IST
League leaders Manchester United face defending champions Chelsea in their toughest away match of this season yet on Tuesday. United sit atop the Barclays Premier League four points ahead of the Gunners and fifteen ahead of Chelsea albeit with a game and hand. In what has been one of the most unpredictable seasons in the history of Premier League, United have just managed a paltry 4 wins away from home. That coupled with the fact that they haven't won at Stamford Bridge since April, 2002 stack the odds in favor of Chelsea.  The Blues themselves are coming off a loss against Liverpool and a goalless draw against neighbors Fulham though it may be worthwhile reminding Chelsea had taken a mere 6 points of out of 7 games coming in to the original fixture in Decmeber( which was postponed due to heavy snowfall).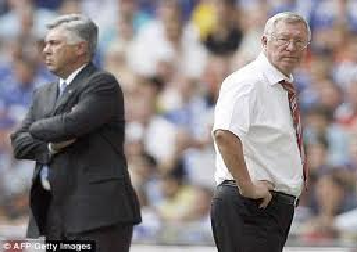 The gaffers: Key decisions pending
Team news:
Chelsea: Chelsea don't have major injury worries ahead of this mercurial clash however the question on everybody's mind is would Ancelotti play Drogba and Torres together. Amidst  speculation about the African's future at the club Ancelotti did commit they he would play some part in the match without revealing much else. Chelsea have confirmed that they would not be imposing any ban on Ashley Cole  who last Sunday wounded 21-year-old Tom Cowan with a .22 air rifle at the club's Cobham training ground.
United:
Rio Ferdinand is set to miss out along with Park, Anderson and almost fit again Antonio Valencia. Ryan Giggs is set to return to bolster the left wing though Hernandez might have to be content with a place in the bench despite his brace against Wigan on Saturday. It would be interesting to see if Sir Alex starts with both Rooney(not charged by FA for his elbowing of James Morrison of Wigan) and Berbatov and if he does would he play them both up forward as he generally prefers to go with a solitary strikers in big matches specially in away fixtures.
Key battles:
Torres versus Vidic:
No doubt Chris Smalling has earned rave reviews and deservedly so but the heartbeat of United's defense is skipper Nemanja Vidic and he has been nothing short of sensational this season. However if there is one player who has been consistently successful in terrorizing him is Fernando Torres. One might recall Vidic had to see red in three consecutive United-Liverpool fixtures not long back. While El Nino is still very much fitting into the Chelsea system his scoring record against United is menacing. The winner of this key battle would in probability this the fate of the match.
Essein versus Fletcher:
When teams with immense mutual respect for each other do battle it often boils down to who controls the midfield better or at times who isn't allowed to do so. In Essein Chelsea have a box-to box midfielder who can hound the opponent's playmaker in front of his own box and in a blink of an eye be seen trying a 30 yard screamer. United have in their artillery Darren Fletcher, often considered the first name on United's team sheet in big matches. They will have a major role to play come Tuesday and would be key to either team setting the tempo of the match.
What to expect?
Both managers have key decisions to make ahead of the clash, but despite the edge this game brings with it, it is highly unlikely to be an end to end open contest at least not initially. An early goal however could change all that. Given how the season's unfolded so far, it would be wise to expect the unexpected.