Brendan Rodgers hints on strained relationship with Jose Mourinho
2.74K //
21 Jan 2015, 16:53 IST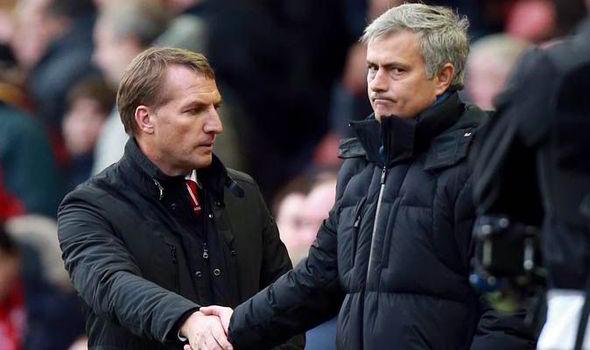 Liverpool boss Brendan Rodgers came out with his desire for Liverpool to finally win a trophy. He also hinted that their progress in Capital One Cup would sour his relationship with Chelsea boss Jose Mourinho. The Irish manager is yet to record a win against Chelsea since he was appointed at Anfield in 2012. He justified the situation by saying that it would have been easier if he had the privilege to walk into a dressing room full of experienced players that have won consistently.
Back in 2005, Mourinho had appointed Rodgers as Chelsea's youth team coach. Their friendship went downhill after Mourinho returned to manage Chelsea in 2013. Upon being asked about their relationship, Rodgers said, as quoted by the Guardian, "We probably don't have as much contact now, but the respect has not left.
"The opportunity to work with him in that period of three-and-a-bit years was invaluable to me and hopefully in some ways I helped him because we had a lot of communication. But, of course, when you're fighting for the same competition, the friendship…"
He further added, "I have a huge respect for him, he's a wonderful man and coach but you are so engrossed in your own work that you don't communicate as much, you don't have the conversations you had before and ultimately you become a rival. But certainly the respect hasn't dropped or been lost. He is a good man."
Our objective this season is to win a trophy: Brendan Rodgers
Liverpool's last triumph was in 2012 when they won the League Cup under then boss Kenny Dalglish. Brendan Rodgers accepts that he will receive immense competition from Chelsea as they have enough motivation in the title race. Rodgers said, "I know José well and I know this is the first trophy you can win so they will be very keen to put a trophy in the cabinet especially having won nothing last year,
"Maybe if it was another team or another club it might be different but, knowing José and some of the other players and the mentality there, they will want to win the trophy."
Rodgers led Liverpool's strongest title challenge in 24 years last season, during his second campaign as the Reds manager. He admitted to the fact that the club needs to start winning trophies and qualify for Champions League.
The ambitious manager said, "Winning a trophy would help our future in terms of what we are trying to build here. I remember when I joined Chelsea in 2004 and they were at a point where they were looking to win titles and trophies. This was the first trophy they won and they showed that once you win the first one, you want to go on and sustain it.
"I think that taste of success would hopefully push this [Liverpool] group on. We have worked really hard in the majority of the two and a half years but we are here to win and as I said we are a club that is synonymous with winning trophies. We want to get that back again and hopefully we can do that this season."
Brendan Rodgers has not beaten Chelsea in five matches as the Liverpool Manager and lost the last three at the helm. He admits that beating Chelsea would require a peak performance by the Reds. "We don't like to lose against anyone but I think in particular against Chelsea we haven't played as well as we would have liked."