Can Arsenal knockout Milan? Players speak
839 //
06 Mar 2012, 23:23 IST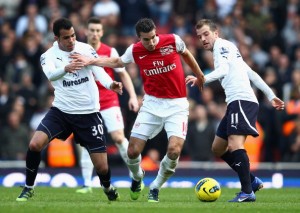 In what seems to be an impossible task of turning around a 4 goal deficit Arsenal carry from the first leg, we take a look at what the players from both sides have to say about the return fixture :
Kieran Gibbs (Arsenal) : The whole team was quite hurt by the first leg.It was a disappointing performance. The pitch was not great, but they had to play on it as well and you have to accept that on the night.
You just have to turn up, if you don't on the night with not the best performance and also no luck, then you have no chance. If you have those two combined, you have no chance of winning. We experienced both of those together and as a result we suffered.
But we have shown fantastic mentality to come back in the last couple of games and have created a momentum now and would like to continue that. We have to believe otherwise there is no point in being here. If they can beat us 4-0 then why can't we do the same?
In our last home game, we scored five goals. We have to create a faultless performance and get a good balance between attacking and defending. You don't accept getting beaten 4-0 in the Champions League and we are looking to restore that pride.
Carl Jenkinson (Arsenal) : I don't think goalscoring is a problem of ours, so if we can find the net early then I'm sure we can make a real go of it. Getting that early goal would be so vital – we scored five in our last home game and there's no reason why we can't do the same again tonight.
Attacking-wise we've got some of the best players in the world, Robin's on fire at the moment and we've got goals in us all over the pitch.
The way it panned out [in Milan] was tough.An honest assessment would be that it was a poor performance from us, and it just wasn't a good night all round for Arsenal.
But one thing about this club is that we never say never. As a team we've got the ability to turn anything around, so we've got to have the mentality to go out there tonight and do exactly that.
Alex Song (Arsenal) : Of course we can do it. In the last couple of games we've showed very good things and we'll take encouragement.
We didn't play well in the first leg against Milan, we know that, so now we need to show another face. We're at home with our fans behind us and we'll try to put on a big game.
I can promise that we're ready to fight – we have the quality, we have the opportunity and we'll do what we can. Milan is a big team but we'll battle hard and see where that takes us.
Bacary Sagna (Arsenal) : Of course it is possible, we just need to score goals and defend better than we did against Liverpool.
We have to be sharp everywhere on the pitch and I am sure we will score many goals. We will have great support from the fans and I know we can achieve a lot.
Robinho (AC Milan) : Arsenal have improved since we beat them but it's almost impossible for them to turn this tie around.We were superior in the San Siro — 4-0 was a poor return. Robin van Persie is a great forward but he couldn't influence things. I don't think he'll play as well against us as he has in his last few league games.
Gervinho (Arsenal) : If we pull it off, it will be a bit of a miracle.But the beauty of football is that anything is possible and if it happens, it will stay in my career forever.
Especially in the Champions League, turning around a four-goal deficit by scoring five or six goals would be hard to top.
The first leg wasn't easy, it was a difficult game and of course it's going to be tricky. We'll do everything in our power to turn it around against the odds.We've got to try to put on a good display to win the game, for everyone in the stadium. We'll fight until the end.
There's no pressure, we're four goals down. Lots of people think it is a mission impossible, but in football anything can happen.
Even if we don't score four or five goals, let's try to get some goals and win the game. Let's show our mettle.An early goal will do everyone good and we've got to put on a good display and if the early goal comes, we've got to keep focused, keep going and motivated until the very end.
Of course we all want the early goal. We've scored early goals in other games but the most important thing is scoring.
Massimiliano Allegri: "Ibrahimovic (who scored a hat-trick at the weekend) is doing great things. He's in a rich vein of form. The three-match ban did him good. For me it's impossible to win the title or Champions League without signing big players. You will never do it without big players. That goes for Arsenal, Milan or any big club. You must buy big. In Milan our technical leader is Zlatan Ibrahimovic. In terms of character, until last year, it was Rino Gattuso. Now Mark Van Bommel or Thiago Silva."
[on Arsenal's play]
When we play in the last 16 of the Champions League against Arsenal in London, despite the fact we won 4-0 in the first leg, I would never expect my team to feel more relaxed tomorrow.
In football, anything can happen. I think we need to step out on the pitch fired up for the 90 minutes without thinking about the first leg.
It [failure] must not happen, for us it is an important match. It is such an important target for us to get through to the next round so that we can take a step further towards the championship.
I think it is obvious [that Arsenal will attack].But the result is still an important one for us.
We know what English football is like and how English teams play so it is going to be important to have the right approach to the game.
It is going to be a great pace but I know they will try and raise it tomorrow as they try to find a goal. I think the first 60 minutes are going to be crucial.
Arsene Wenger (Arsenal): I would like them(the fans) to get behind the team and not think about the first leg.Getting behind the team will give us a chance.
[In reference to Arsenal winning six out of last 19 European home games by four-goal margins]
I love these statistics! We can score, we can have a good edge in our game, so let's just go for it. We have it all to win because the result is written before we turn up, but we can change it. I don't live in a dream world, I know it is not an easy situation. But when you are a top-level competitor, even if statistically we have maybe a five per cent chance, what is important is that we believe. Let's make sure we do not miss our chance because we do not believe – that is what is at stake tomorrow.
[On the Deportivo comeback after being 4-1 down winning 5-4 on aggregate against Milan]
I remember that game.I watched the whole game on the night.
Sometimes when you made a big score [in the first leg], the difficulty is always psychological problems. When you have made a big difference you think you just need to turn up and make sure you defend well. And the other team has nothing to lose so they just go for it.
[on the critics]
I can see on your [reporters'] faces a lot of skepticism, so it is important we do not share that.
It is important we have a strong belief and that we show we have enough belief to make what looks impossible, possible.We do not have to speculate on any weakness of Milan because they are a good side.
But we know that only one thing gives us a chance, and that is to play a top-class performance for 90 minutes. That is what we will try to put in.
The task is a very high one, the level of the performance that is demanded is very high as well, but we want to be top-level performers and that is what the target is tomorrow."
[on the winning run]
We can score goals, in the last two home games we scored 12. So we know we can score goals. That is the target tomorrow. The target is also to find a good balance between attacking and defending because our double target is not to concede as well.
But I know my players well, I know they have been hurt by the first result and I know they have their pride. They will come out tomorrow and give a performance.
There is a real possibility that we can go through, of course. Football is football, you know? We lost 4-0 at Milan but they had five shots on target and we had 55 [per cent of the] possession when we did not play well at all.
Two things that can change: if they can score four then we can as well, why not? We will try.
We know we can put a better performance in and you can tell Milan that tomorrow we will play on a football pitch, a real football pitch.