Champions League: Borussia Dortmund is the team to look out for this season
823 //
21 Nov 2012, 22:20 IST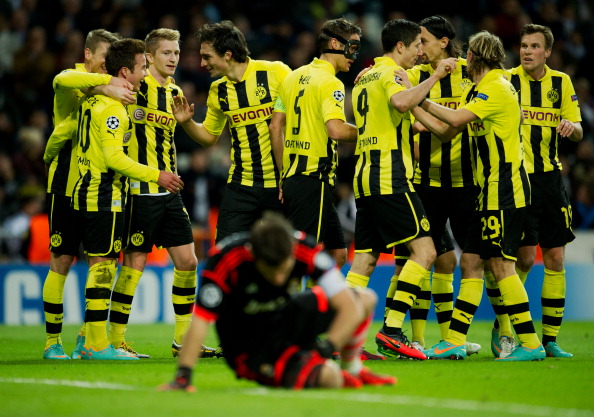 Back in the days, Dortmund was the team who feared no one. They were a complete powerhouse. Something similar to Barcelona nowadays. With the likes of Stéphane Chapuisat, Andreas Möller and Michael Zorc, the current sporting director of BVB, the team used to tear any defense apart with no hesitation.
For some reasons, Dortmund started to lose its form game by game, month by month, and unfortunately season by season. This went far more than what the fans ever thought their team would reach; missing out on the Champions League for 9 years in a row.
Nevertheless, all this has changed. Dortmund has been crowned the Bundesliga Champions for 2 years in a row now. Not only this, but demolishing a strong Bayern Munich side  5-2 in the final of the DFB Pokal in Berlin was everything they could ask for.
Dortmund developed into a team which plays brilliantly attacking and defensive wise. This all started as Jurgen Klopp took charge of the team. Taking the club to a 6th place finish in his first season, 5th place finish in his second and crowned as Champions in his 3rd and 4th says it all.
Dortmund didn't need to invest a lot in the summer market 2 years ago. Instead, depending on talents rising from their incredible youth system, and smart transfers by the coach, they were able to go all the way from zeroes to heroes. With an average of 22 years old team- apart from the goalkeeper Roman Weidenfeller- they proved that they have superb ability and talent to unleash to the world in the near future.
Having been drawn in an average group last year, everybody thought that they can easily qualify over the likes of Olympiakos and an out-of-form Marseille. However, this was opposed by an extremely out-of-form BVB side who were suffering badly from the absence of Nuri Sahin. It took Dortmund around 3 months to reach their peak form once again.
Unfortunately; this was a bit late as they were ranked 4th in their group, not even participating in the Europa League.
In the following season Dortmund took a huge blow as their star player in the former season, Shinji Kagawa, had to agree on a move to Manchester United. The exquisite player Marco Reus was the solution to this problem. The best player in the Bundesliga 2011-2012; "Rolls Reus" is the complete package. He can dribble, shoot from distance, play through balls, and track back into defense. Therefore, his move to the German champions was timed perfectly to fill the gap left by the Japanese playmaker.
I would like to shed light on a few of their key players before discussing their Champions League campaign this year.
Goetze, 20 years old, is one of the world's best talents. Goetze is a right footed player, but he somehow manages to play with both feet. He has the ability to dribble past players easily, as his trickery and pace makes it hard for any defender to defend against him. Not to mention that he is blessed with a good eye for goal.
One of the best defenders nowadays is Mats Hummels. Barca is targeting him and ready to pay up to 30 million Euros in order to snatch him to the Camp Nou. He's a regular starter in the German National Team as well. He has the abilities to take penalty kicks; and doesn't hesitate to score a goal every now and then from open play.
The clinical and lethal striker, Robert Lewandowski; the Polish striker is not only prolific in front of goal, his amazing control on the ball accompanied by  some lovely technique helps him a lot in counter attacks or while facing teams which park the bus.
If I want to describe all the players, this would need an article by itself, so I'll only be stating the names of the remaining key players; Weidenfeller, Schmelzer, Subotic, Piszeck, Gundogan, Bender, and Kuba.
One of the main reasons that pushes me to describe this team, and especially their performance on European level, is that people and media never give them the credit they deserve. Dortmund were drawn into the group of death along with 3 champions of 3 other leagues; Real Madrid, Man City and Ajax. Almost everyone thought Real Madrid will easily top the group and City will follow, leaving BVB and Ajax behind.
Dortmund started their campaign this year with a narrow late win over Ajax in Signal Iduna Park, thanks to Robert Lewandowski's goal in the 87th minute. Dortmund didn't put on one of their best performances in this game, missing many chances to open the scoring early on and allowing the Dutch to get through and make a few dangerous attacks. Roman Weidenfeller had to pull a few super saves in order to keep a clean sheet. However, the 3 points were everything the players needed in order to boost their confidence.
Their second game was against the English champions, "The Citizens". In the Etihad Stadium, things looked different – Dortmund were the much, much better side. It was Joe Hart who had to put on a 'one man team' show to help the host keep the goal deficit as minimum as possible. If it wasn't for Joe Hart's saves and Dortmund's lack of potency in attack, City would have easily been trailing by 3 or 4 goals before halftime. However, Reus was able to break the deadlock on the 61?.
While everyone thought the game is about to finish with a win for the BVB side, a penalty was awarded to the English side in the 89th minute. A controversial call over a handball by Nevan Subotic, which wouldn't have been given by many referees, was rewarded a penalty to City which was translated into a goal by Mario Balotelli. A draw was not deserved for the Citizens as described by their Coach Mancini; it was sort of a fluke.
Gathering 4 points from the first 2 games in the UCL is such an amazing thing. Now, Dortmund had to host Real Madrid. This was the hardest test so far. Klopp was confident and so was his players. They went into the game with a mentality to win and nothing else; playing attacking football from the beginning forcing Mourinho and his boys to play on the counter.
Lewandowski was able to score the opener, but it was just a minute until Mesut Ozil was able to cut through the defense with a precise long ball which put Ronaldo alone with the goalie to score the equalizer. The Germans kept attacking, pressing, and doing all their best to get out of the game as winners. Finally, Schmelzer had scored a volley which sealed the game and gave the hosts a 2-1 win over 9 time champions, Real Madrid.
Top of the group with 7 points, Borussia Dortmund had to face Madrid in Santiago Bernabeu in a thrilling clash to decide who is the best team in this group? Madrid or BVB. BVB, armored with youth players, had to play a full 90 minutes in a stadium which not many could handle. Having to play while there are around 80 thousand fans cheering for and supporting the Spanish side is a lot to ask from a young group of players like Klopp's side. Unsurprisingly, BVB entered the game as if they were the host team. Playing wonderful football and entertaining the spectators as if they were in Signal Iduna Park.
Taking the lead twice, yet losing it on both occasion. Credit goes to Mesut Ozil who was able to fire a well taken free kick from a tight angle into the net past Weidenfeller in the dying minutes. 2-2 was the full time score, giving the Borussians a 1 point lead over Los Blancos.
These 4 games have proven that Dortmund is not only a beast on the domestic level, but also on the international level, making them on par with Barcelona, Real Madrid, and Bayern Munich.
All the best to the Black Yellows in their European Champions League campaign.