Tactical analysis of Chelsea's narrow win over Liverpool in the Capital One Cup second leg
3.03K //
28 Jan 2015, 22:13 IST
Chelsea's midfield duo of Cesc Fabregas and Nemanja Matic will definitely feature in most of the EPL XIs till now this season, but Brendan Rodger's setup at Stamford Bridge not only turned up but also triumphed over the highly efficient Chelsea midfield.
Rodgers retained his central midfield duo of Jordan Henderson and Lucas Leiva, flanked by Lazar Markovic and Alberto Moreno. Steven Gerrard and Philippe Coutinho were played in attacking midfield, with Raheem Sterling starting the game as a proper No. 9. Coutinho has often underperformed while playing as an orthodox No. 10 as compared to a deeper playmaker position; but Gerrard's added presence in the attacking midfield zone allowed Coutinho to work through the ample space with more freedom.
Coutinho and Sterling mark Fabregas zonally, Gerrard closes down Matic
With Liverpool playing 2 attacking midfielders, Mourinho was forced to play Fabregas and Matic deep in midfield. Matic covered the left half of defensive midfield and often pulled away to the left flank to avoid Gerrard's enthusiastic pressing. This left Fabregas in the centre of midfield right in front of Chelsea's CBs. Though Coutinho was given the responsibility to mark Fabregas, the Brazilian often kept his distance from the Chelsea man, particularly when Fabregas fell deep into his defence to get space.
Instead of completely pressing Fabregas, both Coutinho and Sterling were more interested in covering the zone Fabregas likes to spray long balls from. This was often seen when Matic had the ball in midfield and Gerrard rushed to close him down; both Coutinho and Sterling now covered Matic's usual pass to Fabregas or the centre backs. This either forced Matic to himself dribble out wide on the left flank, or on most occasions forced Fabregas to fall back into the defence to receive such balls.
Finally, Chelsea did regain control of this area – central midfield – later in the first half, when Oscar started falling back into midfield. This trio of Oscar, Fabregas and Matic outnumbered Liverpool at the halfway line, but this allowed Liverpool's DMs, Henderson and Lucas, to deal with Chelsea's attacking threat much more easily.
While Chelsea's defensive midfield zone was witnessing an even battle, a matchup between a 4-2-3-1 and a 3-4-3 was always going to be decided on the flanks. The first leg at Anfield had seen both Moreno and Markovic get past Chelsea's full-backs on multiple occasions, but the pass out to them was lacking on the night. Here again the battle on the flanks proved hazardous for Chelsea, especially on the right flank defended by Branislav Ivanovic
Coutinho and Moreno highlight weakling Ivanovic; Fabregas doesn't track runners from midfield.
With Willian playing on the flank ahead of Ivanovic, the Serbian was in direct battle against Moreno at LWB for Liverpool. Willian continued in his much more central role, and rarely ran down the right flank for Chelsea. This allowed Ivanovic all the freedom to move ahead, but also forced Fabregas to guard this flank in defence. Though Ivanovic did lose out in a few flat races against Moreno on the right flank, most of the criticism going the Serb's way would be due his positioning and pressing.
On paper, Coutinho was the player playing directly against Ivanovic in Liverpool's attacking half. So whenever Liverpool had position in Chelsea's half, Ivanovic was seen shifting much narrower in order to cover Coutinho's threat. Here Sterling's role needs to highlighted as the youngster kept taking up positions in the right channel between John Terry and Felipe Luis at left back.
So when Coutinho had the ball right in front of Chelsea's defence and then got past Fabregas, the entire Chelsea back 4 shifted towards Sterling in the inside right channel. This left Ivanovic as the lone defender against Coutinho, and this not only allowed Coutinho to cut past the Serb and shoot, but also opened up huge amounts of space for Alberto Moreno to run into from LWB. The threat due to Moreno's runs went unnoticed mainly due to no presence in the box for Liverpool, and also on multiple occasions due to Willian's immense work ethic to track back with Moreno.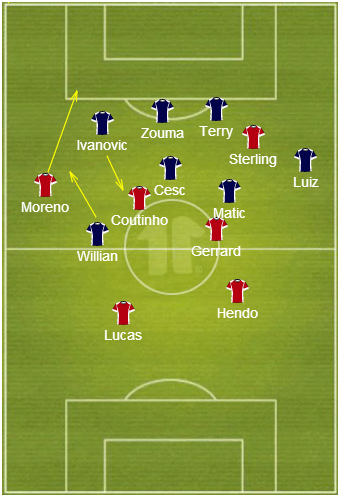 Chelsea has been praised immensely for their pressing off the ball this season, and the Blues continued to do so here, despite being outnumbered on the flank. So any ball moving towards Liverpool's left flank would see Willian closing down Mamadou Sakho first, then Ivanovic closing down the next ball to Moreno; which is all good, except that now Fabregas allowed Coutinho to run off him in midfield and occupy the space behind Ivanovic who had advanced to press Moreno. But again Liverpool weren't able to take advantage of this superiority on their left as Sterling wasn't able to get past the duo of Terry and Kurt Zouma.
Henderson tracks Hazard across the field; Chelsea missing Oscar and Fabregas' runs into the box
While Ivanovic has been a problem for Chelsea over the past 2 seasons, Eden Hazard has been the best player in the league for this season. Hazard was seen drifting central throughout the first leg, with Diego Costa instead running the left channels. With Liverpool's RWB Markovic now directly facing Luis, the responsibility to track Hazard was now given to Henderson in defensive midfield. So Jordan Henderson tracked all of Hazard's central runs throughout the night, and hence allowed the defensive trio of Emre Can, Martin Skrtel and Sakho to handle Diego Costa.
But with Henderson tracking Hazard across the pitch, and Gerrard and Coutinho playing higher in attacking midfield, Lucas was the only Liverpool player left in midfield to handle Chelsea's Oscar and the drifting in Willian. But fortunately for Brendan Rodgers, Gerrard and Coutinho were doing good jobs in central midfield, which forced Oscar to fall back to help out. So Lucas had to handle only Willian when Henderson was getting pulled out of position by Hazard. Lucas did a decent job of covering Willian in attacking positions, but left it to Sterling or Coutinho to track the Brazilian when he ventured near the halfway line.
Despite having dominated the half completely, Liverpool were clearly lacking a finisher. Contrastingly, Chelsea had all the guile in attack but were surprisingly missing the runs from midfield by the likes of Oscar and Fabregas. Liverpool's trio of Coutinho, Gerrard and Moreno need to be given credit for this.
Jose attacks Liverpool's wide CBs; Rodgers changes tactics for Balotelli's arrival
Though there weren't any changes made by either manager at halftime, Mourinho's second half tactics clearly saw him pushing Liverpool back into their own half. Within the first five minutes of the 2nd half, both Hazard and Willian were seen now dribbling down the flanks and taking on the Liverpool wide centre halves Can and Sakho, instead of their normal central drifts. With Sakho and Can getting stretched, it was now left to Lucas to fall back into defence to occupy the space next to Skrtel.
This meant that Liverpool now had 2 unreliable passers of the ball in the centre of defence, and Mourinho was quick to take advantage of this by pushing Oscar ahead from midfield. This saw Oscar directly facing and getting fouled by Skrtel on multiple occasions, and also a couple of loose passes from Sakho/Skrtel towards Lucas who was now playing very deep in defence. Liverpool were now down to their last man Mignolet single handedly blocking Chelsea.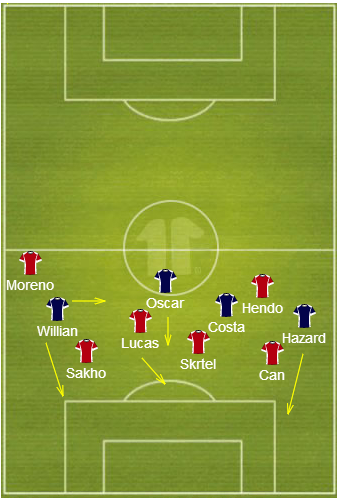 Injuries to Fabregas, Luis and Sakho saw both managers forced into changes, and the only tactical change in normal time saw Mario Balotelli come on for Markovic. This shifted Henderson to RWB and Gerrard back into defensive midfield as a reliable passer next to Skrtel. So Rodgers now shifted to a 3-4-1-2 with Coutinho playing behind Sterling and Balotelli.
This coupled with Ramires' arrival in place of Cesc created multiple problems for Liverpool. With Henderson shifted to RWB, it was now down to Gerrard and Lucas to cover Oscar, Willian and Hazard. This battle was obviously very one-sided as Hazard and Willian got past the Liverpool duo with ease. And with Ramires sitting deeper in midfield, Willian now concentrated much more in attack.
While most of Liverpool's play went through Coutinho in the first half, with Gerrard sitting deeper in the 2nd half, Liverpool looked to play many more long balls into Balotelli and Sterling. This played right into Chelsea's hands as the Blues had no problems in defending deep and narrow.
Though Ivanovic's goal came deep into extra time, Chelsea had long since started dominating the game from around the hour mark. Interestingly Balotelli's arrival and Gerrard's shifting to a DM role coincides with Chelsea gaining the upper hand.
Though Chelsea were always expected to win the League Cup from here, this was Gerrard's last chance at the Capital One Cup as a Liverpool player. This 120-minute game will surely affect Chelsea's weekend clash with Manchester City, especially if Mourinho were to lose Fabregas. Liverpool, on the other hand, would be waiting anxiously for Daniel Sturridge to return, and somewhat ironically hoping Henderson be chosen over their departing captain in central midfield.