Chelsea: a managers graveyard?
1.01K //
23 Nov 2012, 15:50 IST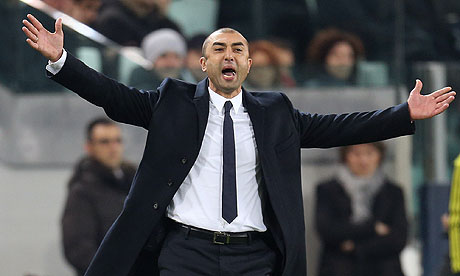 Following the 3-0 thrashing by Juventus in Turin, which has left current European champions (yes you read that right!) Chelsea on the verge of an embarrassing group stage exit, Italian Roberto Di Matteo has become the latest manager to get the sack in the Roman Abramovich era.
Di Matteo, who had famously coached the 'Blues' to their maiden European title the previous season, has turned from hero to zero, following defeat in Italy.
Matteo's exit brings to mind other famous casualties  which include Jose Mourinho and Carlo Ancelotti. Now, the current champs definitely need a miracle to advance to the knockout phases.
And even if they do (providing Shakthar Donetsk do them a favour by beating Juventus), reaching the final once again looks like a bleak prospect.
Though a Europa League spot is scant consolation, considering their famous win over Bayern Munich in last year's final, the fact remains that Abramovich and the club management are in need of a reality check, as di Matteo becomes the eighth manager to be seen off in nine years of the Russian tycoon's ownership.
If Mourinho and Ancelotti got the boot for failure on their part to help the club taste European glory (despite helping the club win the Premier League title), di Matteo's sacking has come as a shock for both players and fans alike.
The only blunder di Matteo made in Turin was probably playing Eden Hazard as a 'false forward', a tactic which backfired miserably, for scoring past Juve keeper Gianluigi Buffon is not something which happens everyday.
Hazard, a natural winger, found the going too tough against physically dominant defenders like Giorgio Chiellini and Andrea Barzagli, and was easily shut out by the Italian defence for the rest of the game.
Former Liverpool coach Rafael Benitez will now replace di Matteo as coach, and it remains to be seen whether the Spaniard can survive the Chelsea hotseat, which has become the equivalent of a time bomb ticking away in recent years.
Now irrespective of whether Chelsea win the Premier League or even the Europa League (which they look to be resigned to compete in barring a miracle in the Champions league) this season, the once coveted job in world football has turned into a managing graveyard of sorts during Abrahimovich's reign at the London club.
And the writer strongly feels that if money can help a club acquire star players and even managers, it definitely cannot buy you everlasting success in football.
Good luck Mr.Benitez!