Chelsea: A poisoned chalice
1.22K //
07 Mar 2012, 10:40 IST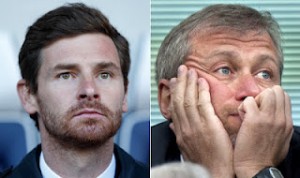 8 months and 10 days. This is the length of time Andre Villas Boas was given to prove himself as Chelsea manager. This is a man who became the youngest man ever to manage a club to a European title. The same man who had one season at FC Porto and managed to finish the league campaign unbeaten and lead the team to 4 trophies.
This is the man Chelsea paid almost €15million to Porto in compensation to secure his services. He's the personal choice of Roman Abramovich back in June of last year. Success has followed AVB everywhere he has been; from his days as part of Jose Mourinho's backroom staff where he filled the role of opposition scout, fighting off the treat of relegation at Academica in his first managerial post to all that silverware at FC Porto.
His reign as manager of the "Blues" lasted 8 months and 10 days, which is disgraceful. Roman Abramovich has proven, yet again, that he is not fit to run a football club. Chelsea are now looking for their 8th manager in the 9 seasons Abramovich has been there. This is an insult to Villas Boas and yet another victory for player power.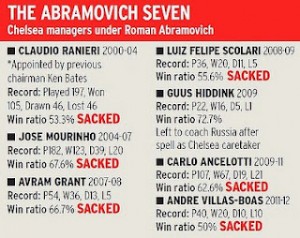 The seven brave souls who managed under Abramovich
There is a poison running through Chelsea Football Club which Abramovich has only encouraged by continually taking the side of the players. Frank Lampard knew exactly what he was doing went announcing his relationship with Boas wasn't ideal. Lampard is an extremely influential player at Stamford Bridge and the fact that Villas Boas was under so much pressure, made his comments even more despicable.
Villas Boas needed Lampard and the other senior players to rally behind him in these tough times, but instead he was well and truly hung out to dry. But this kind of behaviour is common practice at Chelsea and instead of Abramovich stamping his authority and showing this kind of spineless act will not be tolerated, he continuously sides with the players and sacks the people he chose to manage the team in the first place. It seems like he is more interested in being friends with the players than running a football club.
Lampard needs to realise that at his age, he can't play 50+ games a season. He needs to be managed carefully to get the best out of him and the fact that he is Chelsea's leading goal scorer with 10 league goals so far this season suggests Villas Boas was doing a good job with this. Look at Ryan Giggs and Paul Scholes; they're in their late 30s and still having a huge influence on Manchester United games and this is all down to Alex Ferguson's man management skills.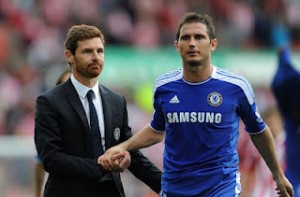 Abramovich needs to wake up, and fast. The approach he is taking at the moment is extremely short sighted. Players like Lampard, Terry and Drogba aren't going to be around much longer and such is the turnover in managers at Chelsea, nobody has had the time to put a plan in place whereby a new, younger team is groomed for future success.
Villas-Boas spoke of implementing a 3 year plan and he should have been given the chance to build a team. He has given playing time to Oriol Romeu, Daniel Sturridge, Ryan Bertrand and to a lesser extent Romelu Lukaku; players who are the future of Chelsea. Lampard and Drogba are 33 years old; Terry and Ashley Cole are 31. These are players who are nearing the end of their careers and who will need to be replaced in the very near future.
With UEFA's Financial Fairplay laws on the horizon, any potential new manager of Chelsea will have their hands tied in the transfer market with such a revamp needed.
I accept recent results haven't been good at Chelsea , but, as the clubs own statement on the sacking of Villas Boas read, they are still in contention for a Champions League spot, they are still in this year's Champions League and also have the FA Cup to challenge for.
Considering the level both Manchester clubs and Tottenham have played at this season and the managerial stability which is in place at those clubs, is this so bad for a manager in his first season in charge of an ageing team which has let manager after manager down since the departure of Jose Mourinho?
Andre Villas Boas will prove to be a great manager, that I am sure of, and I really hope the decision comes back to haunt Chelsea. But for Chelsea to live up the English hype of being a great club, Abramovich needs to wise up and show that the lack of respect being shown by his leading players will not be tolerated.
Without the leadership that is required to run a successful club, Chelsea are in real danger of slipping out of the Premier League Elite and becoming one of the also-rans…..a fate not too many people would be upset about considering how they conduct their business.
Written by Dave Butler
Follow him on Twitter @daveybutler83