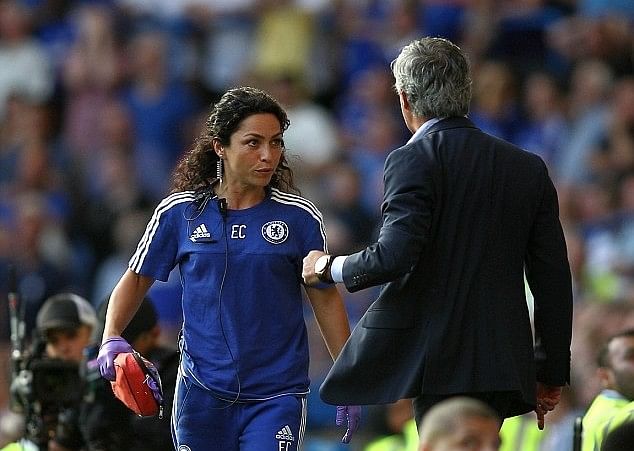 When Chelsea drew 2-2 with Swansea at Stamford Bridge on the opening weekend of the 2015/16 Premier League season, there was once incident that angered Jose Mourinho more than the result or Thibaut Courtois' red card did. And his rage was directed not at the players, not at the referee, but at his own medical team.
In the dying minutes of the game, and with Chelsea down to 10 men, Eden Hazard went down after a tackle from Swansea. Although it wasn't anything serious, the Belgian forward stayed down and this led to the Blues' medical team rushing on to the pitch.
As Mourinho watched on, he was absolutely furious when Chelsea doctor Eva Carneiro ran past him to attend to Hazard. He was seen screaming and gesticulating at the medical staff as he didn't want his side reduced to nine men.
According to the rules, if a player is attended to by a member of the medical staff, the injured player must come off the field and get treated at the touchline until the referee allows him to get back on the field of play. This is the rule even if the player is not seriously injured.
Medical staff need to understand the game: Mourinho
When questioned about his reaction, Mourinho had said, "I was unhappy with my medical staff. They were impulsive and naive.
"Whether you are a kit man, doctor or secretary on the bench you have to understand the game.
"You have to know you have one player less and to assist a player you must be sure he has a serious problem. I was sure Eden did not have a serious problem. He had a knock. He was tired."
"My medical department left me with eight fit (outfield) players in a counter-attack after a set-piece and we were worried we didn't have enough players left," he concluded.
Eva Carneiro thanks fans for their support
Meanwhile, after much criticism of Mourinho's behaviour, the fans stood by the Chelsea club doctor and sent her messages of support. And she took to he official Facebook page to thank the fans, saying: "I would like to thank the general public for their overwhelming support. Really very much appreciated."
---