Chelsea still in EPL title contention?
1.13K //
10 Mar 2011, 13:04 IST
This spin a yarn topic suddenly seems to get a complex twist. The shift in power in the Premier League race has been a complete see-saw ride. With five teams vying for it, each team has shared a period of supremacy. With just 9 games to go, it's Manchester United who lead the pack. Seeing their recent form however, them winning the title is far from assured. Chelsea, who are nine points adrift of the leaders and with a game in hand must surely believe that they still have an outside chance of retaining their crown. How they slipped after a roaring start to the campaign is quite a saga of its own. The present however is not all too dark for them.
The addition of Fernando Torres and David Luiz has suddenly appeared to bolster them. Though a duck in front of goal so far, El Nino is still quite a formidable force on any given day. David Luiz might have had a mixed start to his Chelsea career, but he sure has won the fans over with his display against Manchester United.  Having Frank  Lampard back to scoring form and injuries to key members at bay, this might just be the time to re-trigger one last shot at glory. With the once stubborn Carlo Ancelotti having altered the usually predictable Chelsea's 4-3-3 formation to a more conventional 4-4-2 has sure payed its dividends. With John Terry publicly acknowledging the supporters, the side just appears to have united in the nick of time.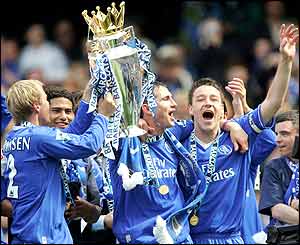 The onus is however still on Chelsea as they still have to overhaul a huge deficit and they are up against the league's most experienced manager's side. No amount of blazing guns will do without a little diligence who is the mother of good fortune. The title race still closely being a two horse race, recent results surely show that its in danger of being usurped by other teams in terms of excitement. Although the best of Chelsea is yet to fire, recent evidences suggest they might just be getting back on track.
So, will United's dip in form continue? Will Arsenal's injury list and the disheartening loss to Barcelona cripple them? Will Chelsea be able to capitalize on their rivals' weaknesses or will they stutter again? Only time is the answer. Until then, Carlo Ancelotti will surely hope that Good Lord plays dice.