Chelsea vs Southampton – Player Ratings
2.67K //
15 Mar 2015, 21:13 IST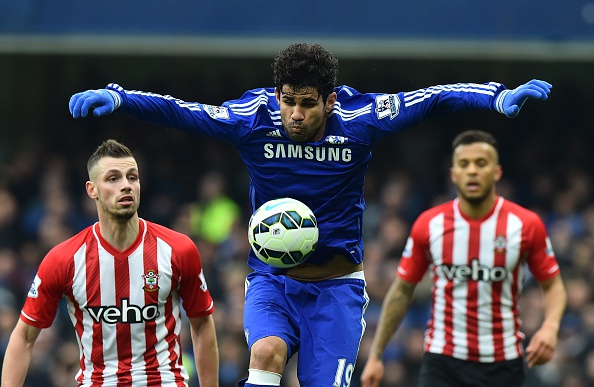 Chelsea failed to take advantage of Manchester City losing on Saturday as the Blues managed only a draw with Ronald Koeman's Southampton at Stamford Bridge. Diego Costa opened the scoring for Chelsea from the six-yards box from Branislav Ivanovic's delightful cross. But, their lead did not last long. Just eight minutes later, Nemanja Matic brought down Sadio Mane to gift a penalty to the Saints. From the spot, Dusan Tadic scored the equaliser.
After a bright start to the game, Chelsea faded away and Saints started to create chance after chance in the first half. However, Thibaut Courtois kept them at bay. In the second half, Chelsea went for the kill, but Southampton looked threatening on the break. In the end, both teams had to settle for a point.
Let us look at how the players performed on the night:
Chelsea
Thibaut Courtois – 8/10
The Belgian was the main reason behind Chelsea going into the break on level terms. He made a string of fine saves. He was also unlucky not to save the equalizer, as the ball creeped in despite Courtois getting his leg on it.
Branislav Ivanovic – 6.5/10
The Serb's inch perfect cross provided the opener for Chelsea. He offered good support up front. Except for few moments when he was out of position, Ivanovic looked solid at the back. He got booked late on in the second half.
John Terry – 6.5/10
He had a soild game at the back of Chelsea defence. However, at times he struggled to keep up with Southampton's pace.
Gary Cahil – 6/10
He was lucky to not concede a penalty for a handball from Tadic's shot. Otherwise he formed a good partnership with Terry and looked decent at the back.
Cesar Azpilicueta – 6/10
He looked solid in defence, but he offered little in attack. Right backs don't generally find it comfortable to play on the opposite flank and Sunday night was one such occasion for Azpilicueta.
Nemanja Matic – 5/10 (Flop of the match)
He made a clumsy tackle to concede a penalty to allow Southampton back into the game. Apart from that, he looked decent while defending. In order to protect him from getting a second yellow card, Mourinho took him off early in the second period.
Cesc Fabregas – 6/10
The Spaniard was not at his usual best. But still supported his attackers well and provided good cover for his defence.
Oscar dos Santos – 6.5/10
Just like Fabregas, he offered good support to his defenders, but hardly had any noteworthy moment in the match. He, however, grew more into the game in the second half.
Willian – 6.5/10
The Brazilian looked a livewire for Chelsea throughout the game. Be it attack or defence, Willian supported his teammates both in attack and defence by tracking back his opponents. However, his final ball let him down.
Eden Hazard – 7.5/10
He was at the heart of many Chelsea attacks on the night. He linked up well with his teammates and regularly took on the opposing defenders. He played a crucial role in the opening goal.
Diego Costa – 7.5/10
He held his ground really well up front on his own. After scoring the opener, Costa always looked a threat in the air whenever the ball was crossed into the box.
Substitutes
Ramires (53') – 5/10
The Brazilian offered extra pace to their attack. He also supported his defence well. But, couldn't make an impact in the game.
Juan Cuadrado (83') – 5/10
He was brought on to add more pace, which he did. However his end product let him down. He missed a glorious chance in the end.
Loic Remy (82') – N/A
Hardly anytime to make an impact
Southampton
Fraser Foster – 7/10
The English international could have come forward to collect Ivanovic's cross for the opening goal, but his hesitance resulted in Costa opening the scoring. However, he made up for it by making an excellent save to deny Cuadrado in the end.
Nathaniel Clyne – 6/10
The English fullback supported his attackers well by surging forward when ever required. However, on Sunday, his main task was to defend and he did that reasonably well.
Jose Fonte – 6.5/10
The centrehalf was commendable in his area and cleared most of the balls Chelsea put in the box.
Toby Alderweireld – 7/10
He looked composed at the back and formed a good partnership with his centre-back partner – Fonte.
Ryan Bertrand – 6/10
Just like Clyne, Bertrand's priority was to defend more than attack and he did that reasonably well.
Victor Wanyama – 6.5/10
He sat in front of his centre-backs and offered great protection to them by regularly breaking up Chelsea's play.
Morgan Schneiderlin – 7/10
Just like his midfield partner, he provided great protection for his defence. He also surged forward at every possible moment.
Dusan Tadic – 7.5/10
Tadic was a constant threat for Chelsea on the night. After missing a glorious chance early on, he made up for it by converting from the spot.
Steven Davis – 6/10
he offered good support to his attackers in the first half and defended well. However, he faded away in the second period.
Sadio Mane – 8/10 (Man of the Match)
His pace was an added advantage for Saints with many counter attacks. He was a constant livewire in the attacking third and the Chelsea defenders found it difficult to mark him. It was Mane who was brought down in the box, from which Tadic equalised.
Shane Long - 6/10
He did well on his own up front. Nothing special from the tall forward, however he closed down the opponents well.
Substitutes
James Ward-Prowse (71') – 5/10
He offered fresh legs to help Southampton relieve some pressure off the back. However, he offered little in attack.
Filip Djuricic (71') – 5/10
He supported his defenders well, but hardly made an impact in changing the games fortune.
Graziano Pelle (83') – N/A
Hardly anytime to make an impact.