Chelsea's tactical secrets revealed from litter
3.35K //
18 Dec 2012, 17:15 IST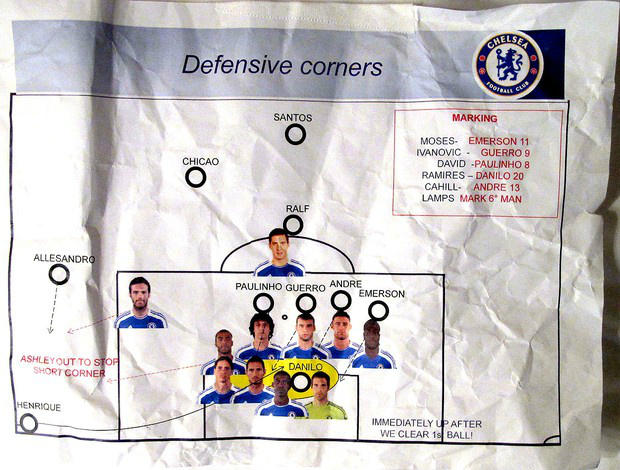 Journalists from Brazilian website Globesporte have discovered Chelsea's tactical secrets for major matches after they searched their rubbish bins following the Blues' 1-0 defeat to the Corinthians in the Club World Cup on Sunday.
The website have published photographs of the tactical instructions and the crumbled print-outs showing Chelsea's plan of positioning players in both attacking and defensive corner kicks, urging players in red capital letters to "be aware of counter attack" while moving forward and to  "immediately [push] up after we clear first ball" while defending set-pieces.
The pictures also show that Chelsea's corner-takers were asked to signal where to send the set-pieces by either raising or lowering their arm.
Globoesporte also wrote how their journalists found their information.
"Among sandwiches, energy drinks and broken sports equipment, the British left in the dressing room simple notes about O Timão [Corinthians] and detailed explanations of what each player should do at set-pieces."
The name of Paolo Guerrero, whose goal was to decide the game, is frequently abbreviated to Guerro – "A situation that may be a mistake or just an abbreviation," they wrote.