Legends of Club Football: Javier Zanetti
8.31K //
20 Mar 2013, 12:07 IST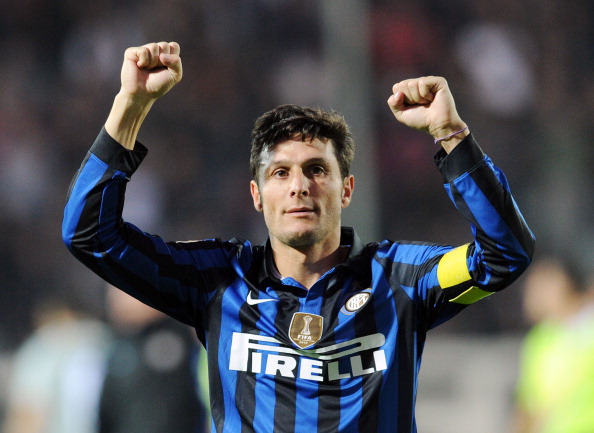 "My Mom Violeta, did housework for people while my father, Rodolfo Ignacio, was a bricklayer. Both left the house at 6 AM in the morning, and I would see them during the night. During this period, I was in school, I worked with my father, at my cousin's grocery store, delivered milk and played football at the same time. Back when we didn't have the money to buy football shoes, my father sewed me one."
"At Independiente, I got discarded because I was too young. I was 13 years old and it was a disappointment that was hard to swallow. I was a fan of that team."
"We had just won the Italian Cup against Palermo and we were on our way back to Milan to celebrate. Then I got a telephone message: 'Son, congratulations. I am so happy for you… I really love you.' The party ended late and so I thought I could return the call the next day. I never had that opportunity. She passed away in her sleep."

As Javier Zanetti recounted tales of immense hardships with a soft spoken demeanor so often criticized on the football pitch, one almost instinctively knew that the Argentinean legend was exponentially tougher than what met the eye. And during the recent Inter – Spurs Europa League encounter, a 22 year old Lewis Holtby experienced just that, as he sprinted down the right flank only to be outpaced and out-muscled off the ball by the 39 year old phenomenon. The Inter captain played the entire 120 minutes of the pulsating encounter that they dominated and won 4-1, a performance in which he displayed yet another example of his defensive master-class through the years.
Javier Adelmar Zanetti was born on the 10th of August 1973, in Dock Sud, Buenos Aires amongst humble beginnings. Rejected by Independiente's youth division at the delicate age of 13, Zanetti signed for second division Talleres de Remedios de Escalada. One season later, he signed with Banfield in the first division. It was here that Zanetti's outstanding displays came to the fore, eventually leading to his call-up to the national team. Despite strong interest from Argentinian heavyweight clubs like Boca Juniors and River plate, Zanetti stayed on for another year. In 1995, Zanetti made the switch to Italian giants Inter, in the process starting his steady and meteoric rise to club captain and legend.
Zanetti's record at Inter is as astounding as the man himself. He has played 18 seasons for the Nerazzuri, winning a remarkable 16 trophies (which includes the entire set of UEFA Champions League, UEFA Cup, Coppa Italia, Italian Super Cup and the Serie A titles), 15 of which have come under his captaincy. In 2011, he made his 1000th appearance as a professional footballer. He is Inter's all time most capped player with 834 games, and the second most capped international footballer (active) with a remarkable 145 caps for Argentina, despite being overlooked for 2 World Cups. As of today, Javier Zanetti is the only non-Italian captain in the Serie A, and the highest capped non-Italian to play for an Italian side.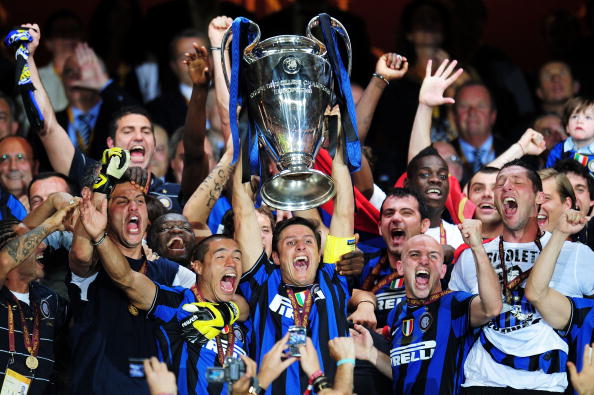 And it is not just his trophy cabinet which speaks volumes about his footballing greatness. Zanetti's resilient personality has also earned him well deserved plaudits. Despite being an accomplished fullback, Mourinho's tenure as manager saw him shift into an unaccustomed midfield role, due to injuries to key personnel like Estaban Cambiasso and Sulley Muntari, and due to the presence of a strong back 4 in Christian Chivu, Walter Samuel, Lucio and Maicon. Zanetti stood up and took charge straight away, putting in his characteristic workman-like performances. Later that season, in his 700th game for Inter, Zanetti led them to the Champions League title. Just a season later, Zanetti became the oldest player to score in the Champions League, at the age of 37 years and 71 days. Also interesting to note is that Javier has played at right back, left back, centre back, central midfield, central defensive midfield, left wing and right wing in his career, a mark of a man not just unbelievably talented but resolute to an extent to wanting to make a mark wherever and whenever he played.
Outside the football pitch, Zanetti is known as a thorough family man, and is well known for his charity work. He, alongside other stellar names like Cristiano Ronaldo and Didier Drogba, is a FIFA ambassador, and focuses on a venture called SOS Children's Villages in Argentina. Zanetti, along with his wife Paula, also created Fundacion PUPI to help malnourished children by taking care of their food needs and providing educational opportunities. He also started a charity in collaboration with Argentina and Inter team-mate Esteban Cambiasso, called Leoni di Potrero, to assist young children with mental disabilities and social isolation problems.
Whether it's been on the football pitch or off it, Javier Zanetti has proved to be an icon, and a role model for youngsters everywhere. In a way, Javier's nickname in Italy, "El Tractor", is apt in more ways than one, not just because of his strength, reliability and determination but also of his constant efforts to nurture valuable sentiments and emotions in a bid to lead by example. And being the club legend that he is, Zanetti has pledged the rest of his playing career to the Nerazzuri, extending his contract in 2010 to the summer of 2013, after which he has offered his services in any back-room role the club sees fit. Hence, the legacy of Javier Zanetti is set to carry on even further, and you can bet your life on the fact that no matter how old he gets, "El Tractor" will be gunning at full steam till the very end of his playing days.