Cluj beat Manchester United, fail to progress
It was a narrow win for the visiting team at Old Trafford on a night of entertaining football, condemning the hosts to their second loss in a row in the UEFA Champions League. It will raise questions yet again over United's ability to find the back of the net without Robin van Persie, although plenty of regular starters were left out of the side with an eye on the weekend's Manchester Derby. The result didn't matter in the end though, as Galatasaray emerged victorious at Braga, thereby relegating Cluj to the Europa League, while United went through in top spot, as has been decided long ago.
As expected, it was an overhauled United line up that took to the pitch, with 10 changes from the side that played in the 4-3 win over Reading at the weekend. Only Wayne Rooney survived the changes, with youngster Scott Wootton starting his first game since the horrid performance against Chelsea in the League Cup, which saw United knocked out of the competition. David De Gea also returned to the starting lineup after his tooth problems were sorted, during which time Anders Lindegaard had had a decent run of games.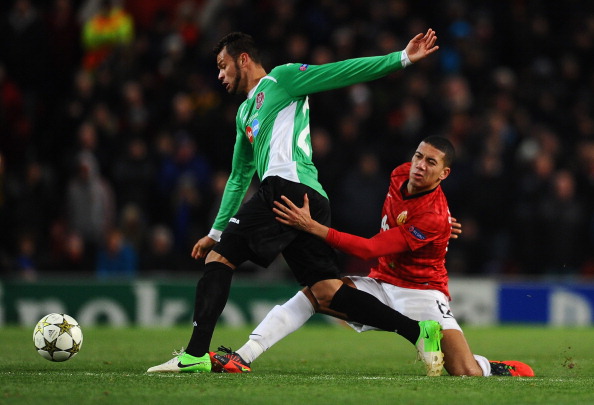 It was Cluj who had the first real chance of the match, with De Gea having to make a reflex save when an attempt by Bastos took an awful deflection off Smalling. The ball was headed behind the line by Phil Jones, ahead of two other Cluj players in the box however, and danger was averted. It was the home team who looked livelier going forward though, and after a couple of attempts off target, finally saw a great move end in penalty claims that were waived away by the referee. Danny Welbeck rescued an over-hit cross from Alexander Buttner and the ball was curled in by Jones, before Powell sent it crashing into the body of a Cluj player.
Cluj almost took the lead in the next couple of minutes, and United had first Wootton, and then Rooney to thank for denying the visitors. Wootton made up for giving the ball away by getting back to make an important block off Modou Sougou.
It was an open encounter, with end-to-end action and a defensive error from Cluj saw Welbeck steal the ball and feed it through to Cleverley, who was well denied by Felgueiras. Soon after, it was Chris Smalling's chance to head the ball over the net from an offside position, after Nick Powell miscued his volley into the ground from around the penalty spot. Both sides were going all out to get the win, as Cluj needed one to secure qualification, while United had fringe players looking to prove themselves. Cluj had Felgueiras to thank for some more excellent saves soon after, as he denied Hernandez, Welbeck, and Rooney spectacularly in the space of a few minutes. Hernandez was put through on goal by Cleverley, and failed to score past the advancing 'keeper, while a glancing header from Welbeck was beaten off the line soon after.
Rooney decided to take a finer route, attempting a fine lob over the 'keeper, which was again well saved, before Smalling headed wide in the resulting commotion, when it seemed easier to score. It was thus a lucky Cluj that went into the break on level terms, after Cleverley picked up a knock, and was replaced by Scholes just before the half ended.
The second half started just as the first had ended, with action at both ends. Cluj nearly got in at the end of a quick break, after De Gea played the ball to them, only for Buttner to make a vital interception to get to the ball ahead of Sougou.
It was the Romanians who eventually took the lead though, as an uncharacteristic loose pass from Scholes gifted them possession, and Luis Alberto finished with a wonderful strike from range. Chris Smalling could have done better to close down the Brazilian, but there was little that De Gea could do, as the ball curled wildly to go in off his left post.
1 – 0 to Cluj in the 56th minute.
United seemed lesser of a threat going forward without Cleverley though, and their next real chance came almost 10 minutes after the goal, when a good cross from Jones was hit into a defender by Giggs. Cluj seemed happy to sit back and defend their lead, as United had large spells of possession, but failed to really get in behind the opposition defence. The rest of the match was thus one failed United attack after another, causing little trouble to Cluj, and providing little to keep the fans entertained. Thus, the game ended as it had at half time, handing United their first Champions League loss at Old Trafford in three years.
Result: Manchester United 0 – 1 CFR Cluj (Luis Alberto 56′)