What's the story?
Last evening, the world entered a dizzying frenzy with footballing superstar Cristiano Ronaldo's transfer from Real Madrid to Serie A champions - Juventus - was announced. Former recruiters and 3-time back-to-back-back UEFA Champions League winners, Real Madrid, announced that the transfer had been completed and thanked Ronaldo for his contribution to the club.
The four-year deal is reported to have cost roughly €100 million and will reportedly see Ronaldo earn a staggering salary of about €30 million per year. The forward is, by far, one of the biggest sports stars on the planet, and his transfer to Juventus was bound to have an effect on Juventus.
However, the reactions this move has drawn, as well as the subsequent events seem to be much greater than expected.
In case you didn't know...
Ronaldo had spent 9 seasons at Real Madrid since he joined them in 2009 after moving from Manchester United for a then record fee of £80 million. The rest, as they say, is history.
During his time at Madrid, the 33-year-old became the club's all-time leading goalscorer, helping them lift 15 major titles including 2 La Liga titles and 4 UEFA Champions League titles.
After helping Los Blancos win their historic third-consecutive Champions League title last season, Ronaldo cast his future in doubt with some rather vague remarks. It has only been a month and a half since then, and he is now officially a Juventus player.
The heart of the matter
This epic transfer has understandably had dramatic consequences, and Juventus seem to be the biggest benefactors of the move. Ever since the rumours began to gather momentum last week, Juventus' stock prices have consistently been on the rise.
Yesterday, once the move was confirmed, the club's stock prices reportedly shot through the roof. According to reports from The Globe and Mail, the value of the Italian club's S.p.A. has jumped nearly 25% over the past week. In fact, it reportedly increased by 6% to 0.90 euros once the transfer was announced.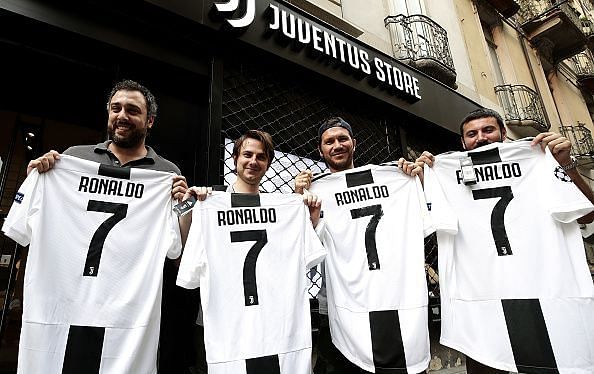 Further, as expected, Ronaldo's arrival was bound to influence the club's merchandising, with the star striker's massive fan base causing a surge in demand for Juventus' merchandise, largely consisting of Ronaldo's new jersey, printed with his famous number 7.
Video:
Real Madrid appropriately posted a farewell video on their YouTube channel to honour one of their greatest players of all time. Here's a look at it:
He truly is a special, special player!
What's next?
Cristiano Ronaldo's arrival is also bound to have a massive influence on the team itself and how they play. The Portuguese sensation will look to help Juventus to their 8th consecutive Scudetto.
More importantly, Ronaldo seems to have cultivated a habit of winning the UEFA Champions League, and Juventus and their fans will certainly hope that he continues with it on their quest to win their first Champions League trophy in over 20 years.