Dave Sexton: A tribute
938 //
29 Nov 2012, 11:06 IST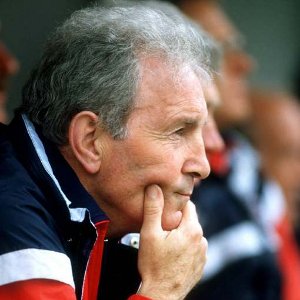 It's been a few days since football manager Dave Sexton departed for the heavenly abodes. There were many obituaries written, armbands worn in his memory by the players & officials across various clubs. As a coach, he started gaining experience after being appointed as the assistant manager under Tommy Docherty at Chelsea. He acted as an assistant manager of Arsenal before being appointed as manager of Chelsea, following Docherty's departure. Here, Sexton won the only two trophies of his managerial career before moving to Queens Park Rangers. After a successful but trophy-less spell at Loftus Road, he went on to replace Tommy Docherty at Manchester United. Here, I will take you through the four years he spent at Manchester United Football Club.
Manchester United were manager-less on the back of their FA Cup victory in 1977, the club having dismissed the Cup-winning manager Tommy Docherty for having an affair with club physiotherapist Laurie Brown's wife. The club were looking for a cautious & modest personality(opposite of Docherty) at the helm and Sexton seemed to be exactly the kind they were looking for. Besides, he possessed exemplary knowledge of the game matched by very few at the top level in those times. He was also known to possess exemplary man-management skills and a very methodical & tactical approach to coaching his teams. Further, his record at his preceding assignments highlighted his credibility, having won the FA Cup and European Cup Winners' Cup with Chelsea and having led Queens Park Rangers to just a point behind winners Liverpool in the league in the year 1975-76. In his first game in charge of the team, Sexton led United to a 4-1 away victory at Birmingham, playing the same fluid attacking football which pleased the eyes and which the fans on the terraces of Old Trafford were accustomed to watching every week.
"How I ever became a manager I'll never know," Sexton once said. "Standing in front of people, spouting. It isn't me."
Dave Sexton's tenure at Manchester United began on a very high note with such a wonderful start and it was destined to be a great, romantic & long-lasting relationship, the manager having absolute backing from the board and the chairman Louis Edwards himself. However, the job at hand wasn't an easy one as he soon realized. His predecessor, Tommy Docherty was inclined to having only the best performers in the teams and packing off the moderate ones out of the club. The lack of depth in squad, which he inherited, was felt when several of Sexton's regulars were laid off for long periods of time due to injuries. This is where the problems started and his popularity took a downward direction. He changed the formation of the team, making it more defensive and tactics oriented, although he always encouraged his team to go on a 'controlled offence'. He brought in more muscle into the team, bringing in Joe Jordan & Gordon McQueen from bitter rivals Leeds United.
The above mentioned were the best piece of transfer business that Dave Sexton managed during his time at United. His other dealings in player signing & selling would not go down as the best for the team. Following the change in his tactics, he expected his wingers to track back and help the full-backs, a duty which did not interest left winger & fan favorite Gordon Hill. Following his failure to follow the instructions, Hill was sold to Derby, which was managed by Docherty. His replacement Mickey Thomas managed to score 11 goals in 90 games, whereas Hill had 51 goals in 133 appearances. In the meantime, he had taken his team to the finals of FA Cup in the summer of 1979, where they lost in dramatic fashion in the very last minute to an Arsenal team which completely dominated United. However, the league campaign was a disappointment, following which he once again jumped into the transfer market and swooped Chelsea club captain Ray Wilkins for £8,25,000 , a club record at that time. Though a good player, Wilkins was regarded as a flash by the fans and could only win over the fans after the club had seen the back of Sexton.
"He wasn't the most popular manager we've had and a lot of fans complained he wasn't tough enough," Lou Macari said.
"I think that's just because he was quietly spoken. He wasn't one to rant and rave or make a scene for the cameras."
By now, United were in financial distress as well as there were other problems creeping in the board. Due to lackluster performances on the field, the attendances had gone down drastically and were at an all time low. This was affecting the revenues of the club, which was already running in losses. Further, big monies spent on transfers were not yielding the desired results,i.e. trophies. The club also failed to raise funds via new issue of shares, following differences on the same between chairman Louis Edwards & board member Sir Matt Busby. In February 1980, tragedy struck the club which was reeling under financial crisis, when chairman Edwards died of a heart attack. He was replaced by his son Martin Edwards instead of Sir Matt. However, United went on an impressive run winning 6 games in April 1980 to jointly head the league table with Liverpool only to lose the final game of the season against Leeds United to finish 2 points behind winners Liverpool.
Martin Edwards was clear when he expected the league title from Dave Sexton at the beginning of 1980-81 season. To strengthen his attack, he bought Garry Birtles from Nottingham Forest for a record £1.25 million, before going on to become a national joke as he fail to score even once in the season, which included 28 appearances. Much of this failure cost Sexton his job as United manager. Further, the man whom Birtles replaced, Andy Ritchie, was a local lad brought through the academy and a fan favorite as he scored a couple of hat-tricks(including one against rivals Leeds United) in the previous campaigns. Though Birtles suffered a goal drought, Ritchie went on to score many goals in his career including 4 against United. The team played in a manner, as the fans would say 'Not the United way', being too mechanical and lacking the spontaneity and flair shown by teams built and managed by Docherty and Sir Matt. United finished the season with stalemates in 18 league matches, of which 8 were goalless. Although, United won their last 7 games, it did not prevent Martin Edwards from sacking the manager. He explains it as follows.
"It was very hard to do it, it really was, because Dave was such a very, very nice man and man full of integrity . But it wasn't really happening, we weren't progressing and the crowd was getting restless. They were. But mostly I didn't feel the tradition was being upheld. There is such a thing as the United way. That is the character of the club. And the supporters demand it."
The Mercurial Center Back brought to Manchester United from Leeds United, Gordon McQueen had some good words for Sexton.
"There's a myth attached to the football Sexton played. People said that his football was negative but he didn't have a negative thought in his head when it came to attacking. I cannot tell you how strongly I feel about that, because it was totally unfair. Dave's man management was first class. He didn't have a selfish bone in his body. He wanted to improve players, improve Manchester United and he couldn't give a hoot about himself. Defensive? He used to say,"Get the ball forward", and yet he got the sack because people said he was defensive."
Clearly, Dave Sexton's case  was of a man who was not understood by the fans, a man who fell short of the expectations and standards set. He lacked the charm that his predecessors possessed, which made him unpopular among the fans and the media, which in turn affected the image of the club. Both the club and the manager were not 'on the same page', as Sexton could not match the aggression and ambitions that the club possessed and desired.
Dave Sexton, remembered. Rest In Peace.