David Villa: Should Barcelona let him go?
1.59K //
01 Jul 2013, 23:40 IST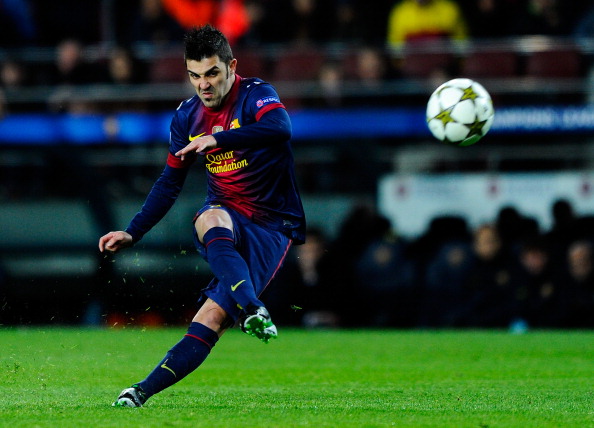 It comes as a great statement of intent from Spurs, after Franco Baldini was hired as Technical Director by request of Andre Villas Boas to help attract the bigger names, that David Villa is being intensely linked with a move to White Hart Lane.
The Barcelona forward, who has 12 months left on his current deal, is reportedly interested in a move to Tottenham to work with Villas Boas, a long-term admirer of the Spaniard and who referred to Villa as a "world renowned striker" back in May.
Of that status, few can dispute Villa fits the bill. He is a Champions League winner, a World Cup and European Championship winner with the outrageously talented Spanish side of whom he is an integral member. He is Spain's all-time top scorer with 51 and his form for Valencia, where he was top-scorer at the Mestalla five years running, convinced Barcelona to shell out €40 million for him back in 2010.
During his time in Catalonia, Villa has hit 48 goals in 116 games from his usual position as a left-sided forward in Barcelona's natural 4-3-3 which swept all before them in the recent years of Pep Guardiola. Since joining three years ago, Villa has won a total of 8 medals to go with his individual Male Athlete of the Year and Gold Medal of the Royal Order of Sporting Merit awards. This is an athlete of the very highest level.
Now he is looking, if newspapers are to be believed, to be heading to Tottenham, a club without Champions League football, for a fee in the region £12 million. Sandro Rosell, Barcelona's club president, has stubbornly dismissed reports, saying he will "still be a Barcelona player next season", though one can sense some substance behind the reports which Villa has himself said he will explore after the Confederations Cup.
It would represent a major coup for Spurs and Villas Boas who tried to sign the striker when he was manager of Chelsea. No wonder why, he is a player of divine technique, close control and unerring finishing ability. He is a complete striker likely to thrash a shot past a helpless goalkeeper as much as he is able to breeze past a defender to drive a cross into the danger area, explaining his mammoth 282 goals so far tallied from a career spanning 575 games, as well as 84 assists.
It is a story that on face value would be surprising in the extreme, but one that just happens to be gathering pace. Barcelona seem to be suffering from their own luxury, the €50 million signing of Neymar this summer thrusting Villa further towards the periphery of the squad after he was trusted to start just 17 games this season.
The Catalans have huge faith in homegrown right-winger Pedro whilst Neymar is likely to adopt his favoured position of left of the main striker, in this case the undroppable Lionel Messi. That happens to be Villa's regular position and he is unlikely to settle for a reserve role in a World Cup year after fighting so hard to restore his place in the plans of national coach Vincent Del Bosque, following his whole-season absence with a broken tibia in 2011-2012.
Therefore Spurs may be successful in luring Villa to London in a deal that would involve the winger dropping his £140,000 weekly wage. It also goes against the grain of Spurs' business under Villas-Boas so far; a 31-year-old high earner with a history of injuries at odds with his captures of Moussa Dembele, Hugo Lloris and Jan Vertonghen, all promising players in their mid-20s with their peak still to come.
It is definitely a move worth the risk however, both on the field and financially as Villas-Boas seeks to bolster his forward line that ultimately proved their Achilles' heel in the race for Champions League last term. Jermain Defoe is hampered by a troublesome ankle whilst Emmanuel Adebayor has been immersed in poor form. The Portuguese coach is targeting Villa and Leandro Damiao.
Another Spanish hit-man in Valencia's Roberto Soldado has also been mentioned but there is no doubting why Villas Boas would ideally want to land Villa, for the startling headlines as well as his ability to play right across the front three. A signing of this calibre would also go some way to convincing Gareth Bale that his future lies in North London as part of Tottenham's telling ambition.
It is an ominous suggestion of the talent at Tito Vilanova's disposal that he can afford to leave a striker of David Villa's class out of the side, yet Villa's talent is too explicit to be marginalised. Tottenham and Villas-Boas have seemingly realised that as they seek a signing of high distinction.
For Barcelona meanwhile, it would be a reckless loss regardless of the declining status of their brilliant striker.