De Gea learns to punch
863 //
10 Dec 2012, 18:19 IST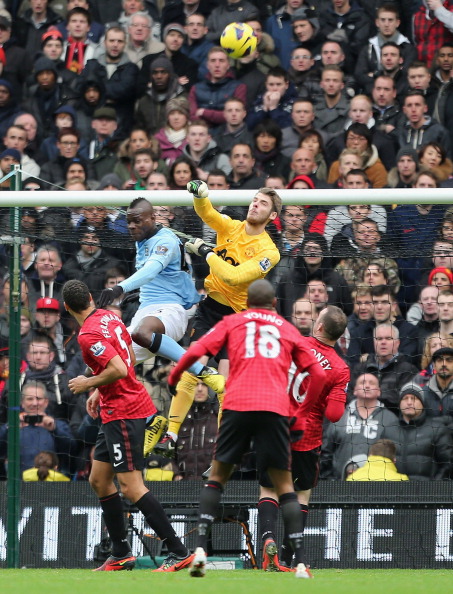 The build up to the Manchester derby had, among other talking points, the unanswered question that had plagued most Manchester United fans this term - who will start in goal for United? The answer: David De Gea.
After a few games out for De Gea, it seemed that Lindegaard would start in goal for this most crucial of clashes. However, as Sir Alex has shown many times this season, he is not afraid of ringing in the changes. True to style, Sir Alex picked De Gea for the game. This raised more than a few eyebrows for it was generally a known fact that Manchester City would pack their side with height and power.
Now De Gea's purchase as a replacement for Edwin van Der Sar has been met with mixed emotions from the United faithful and the pundits alike. While no one is ever in doubt about his shot-stopping abilities, it has been his command of the box that has been suspect on many an occasion. He seems most comfortable handling shots from far and near and his agility has been lauded in many quarters, and rightfully so.
However, when it has come to handling crosses and balls into the box, he has shown a reluctance that has resulted in hearts in mouths for United fans and even goals. The problem with such a keeper who is reluctant to come out for crosses is quite simply that it is most unsettling for central defenders, for they do not know when to leave the ball to the keeper. An authoritative keeper, on the other hand, is one that assures defences and on whom defenders can rely on, knowing that a mistake may not necessarily lead to catastrophe. This allows them to play more freely and, in tight situations, pass the ball back to the goalkeeper with more assurance.
David De Gea, on the basis of his past form with respect to dealing with crosses, was a surprise choice. Anders Lindegaard might not be as naturally talented as De Gea but has shown that he has a better understanding with his central defence. De Gea, however, proved Fergie right in choosing him.
In the second half, it was inevitable that City would come knocking on the door and come they did. They got corner after corner and flooded the penalty area with the biggies in the form of Yaya Toure et al. De Gea, however, proved to be up to the task. He came out early, took the ball when he could or punched well clear when he could not gather the ball. As the half wore on, it was visible how Rio and Evans increasingly trusted him to come and collect the ball, and thus concentrated more on blocking the forwards rather than having half an eye over their shoulders.
The two goals that they did concede had nothing to do with De Gea's seeming inability to clear his lines. In fact, De Gea's performance was so good that City quite rapidly changed tactics and did not attack him direct from the corners.
The man signed as the long term replacement for Van der Sar might well turn out to be just that. He is still very young. His talent is for all to see. He has beefed up a bit but does have some way to go. His technique is improving all the time. His performance yesterday was fantastic.
The trick really is to repeat it game after game. One swallow, after all, does not make a summer.