De Gea talks of extra pressure when playing for United
791 //
29 Nov 2012, 09:20 IST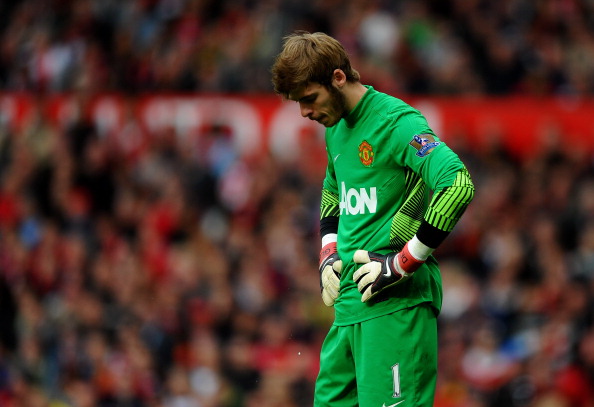 Yesterday David De Gea was praised by ex-United 'keeper Peter Schmeichel for showing a strong mind, but today De Gea has admitted that he feels the extra pressure of playing at such a big club like United. De Gea is in his second season at the club and, like the end of last season, has been largely impressive when he's been on the pitch.
Speaking to United Review, United's match-day programme, De Gea said "I'm at a huge club and there are big demands on you. As a goalkeeper I'm well aware that any mistake can be magnified by the press and the fans. That's always the case for goalkeepers, no matter where you play. But it's true that here at Manchester United there's added pressure. It's bigger than it was for me at Atletico Madrid and also for the Spain Under-21 team. It's a challenge that's enjoyable and it ensures you're always striving to operate at 100 per cent.
One of the biggest challenges for De Gea was to adapt to the different nature of the English game in regards to crosses. English teams tend to cross the ball a lot more than teams on the continent, and also tend to be more physical when challenging in the air against goalkeepers. With Spanish goalkeepers brought-up to punch the ball, getting used to catching crosses when he's being pushed off the ball has been a problem for De Gea that he's just beginning to iron out now.
Elsewhere though, De Gea admits that he loves United's never-say-die attitude and says it's great to be part of the team. "I have been surprised," said the 22-year old. "Certainly, when I was in Spain I'd heard about this aspect and seen for myself on TV the way the team always seemed to conjure up a late goal to either draw or win matches. So it's great to be a part of it myself. I think dramatic comebacks are part of the heart and soul of this club and it's almost written in the history of Manchester United that these sorts of things happen so often. I love being a part of it and experiencing it for myself."