Decoding Rafa's outburst - How he has almost ousted himself
770 //
01 Mar 2013, 00:18 IST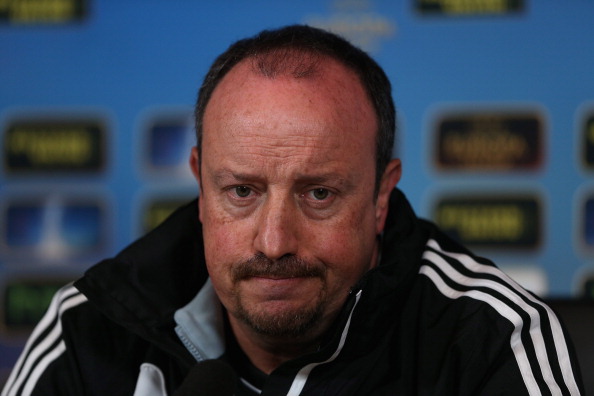 If bad public relations were to be a crime, Chelsea FC would've been behind bars every other month. Once again, a Chelsea manager is in the spotlight, but for a different reason than the usual. Roman Abramovich, infamous for sacking manager after manager as per his whim and incomplete objectives, has been pipped this time, after Rafael Benitez went out of his way to pave his route to the nearest exit.
Rafa Benitez is a manager whose resume is filled with laurels the likes of the UEFA Champions League, the FA Cup, the UEFA Super Cup, the Supercoppa Italiana, the FIFA Club World Cup, the La Liga and the UEFA Cup. In his outburst, Benitez doesn't mention his achievements, repeatedly, and if you listen carefully, he never mentions a PR class. That, among many, is one of the reasons he will be asked to leave soon, before another 'Interim' manager steps up. And while we are at the topic, one of Benitez's many bones to pick, was the 'Interim' prefixed to his title of manager. Then again, isn't every manager at the London side an interim manager? Anyway, Rafa's rant has caught everyone's attention and he went on to mention quite a few peeves that will occupy most space on his employer feedback form. He also dug his own grave and lay in it to check if it fits. Let's take a look at them and analyse what the salient points imply.
1. I will leave in the summer.
Yes, he will. Not like he has a choice anyway. Chelsea are battling for third/fourth place, got knocked out of the Champions League and Torres is still getting his weekly wages. It was apparent that he was going to go, as history stands witness to the brutality with which the Russian owner lashes out. Ironically, Andres Villas Boas is in charge of Tottenham Hotspurs, who just leapfrogged their neighbours. Also, Pep Guardiola is getting ready for Oktoberfest.
2. Interim? Yes.
Like I mentioned earlier, Chelsea managers change faster than you can say, '50 million pounds'. The line of managers who have been put out to fend for themselves after they failed to turn 'key responsibility areas' in to silverware is too long for a potential future suitor, and those shoes aren't very comfortable either. Any manager who has a guillotine hanging over his head is under pressure; a manager at Chelsea is just an exaggerated version of that. Also, Rafa could have let this one go, and concentrated on how his glasses aren't glare proof and it was too bright anyway.
3. Supporters need to start supporting the team.
He took the 'support' out of the supporters. For a change, a manager came out all guns blazing and told the fans what their job was. These people, who call themselves 'fans' obviously do not know what's best for the club, especially after their hard-earned money is spent on buying season tickets that comes out of their lunch plus dinner money. They are simply fans and should leave the decision making to Rafa, who has even coached Real Madrid at one point. (The youth team, but who cares, little Galacticos!)
4. It is the fans who are to blame.
Put simply, the fans did it. This is more of an extension of the aforementioned accusation as to how the fans are responsible for the lack of form, self-belief, early morning dew and the negative effects of globalization. If only they had woken up much earlier, Rafa would have never done well at Liverpool, thus slowing down his progress, eventually leaving his resume unfit for Chelsea. Disappointing, Chelsea fans, disappointing.
5. His time at Liverpool is the reason the fans despise him.
The fans are clearly wasting their time coming up with smart posters which call for his exit. Instead, make simple ones, bordering on stupid, which point to the nearest exit. Benitez has done no one a favour by taking up the Chelsea job. His time at Internazionale wasn't something he can be proud about, it was a team built by Jose Mourinho and the momentum just carried on for the next six months or so. It did plummet eventually, but not before Benitez was sacked. Anyone who takes up the Chelsea role has to know what's in store. Criticism should be the least of his worries. Never has a rant held out in your favour, never ever.