Defensive stalwarts speak up
1.21K //
17 Mar 2012, 16:22 IST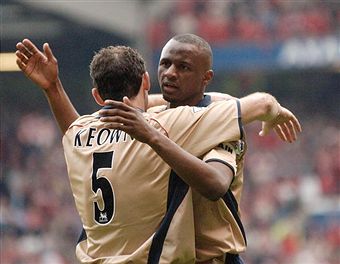 Hello there. Finally starting to get back to my daily routine back home after the long trip. A journey that was worth every single penny spent. The experience will be penned out hopefully in the next few days and if all goes well, will be up at the Arsenal Collective website.
There are a few stories going around and what better way to start than with something much closer to home (my home, at least). Arsenal have confirmed their upcoming pre-season to be in Asia for the second consecutive year. Perhaps friendlies at other destinations/continents are being lined up but those have not been announced yet. The ones that have been confirmed are the Beijing match against Manchester City and the Hong Kong match against Kitchee.
Martin Keown was present as the Arsenal ambassador and he had a few things to say as well. No real surprise at the content of his points, just highlighting the fact that we've got to keep Robin Van Persie and how we've turned the corner with the reintroduction of our first choice defence. I personally think that Arsenal couldn't have gotten anyone better. Here is a man who has Arsenal blood flowing through his vein and in that interview, there's a very strong hint of him wanting to do more than the ambassadorial role.
The fact that City sent Patrick Vieira was a little disappointing though. To me, it felt that two Arsenal legends were there at the press conference and City did not send their people. I can't say that I'm happy to see Vieira wearing a blazer with a City badge on it. I don't know how to explain it, it just felt wrong. Perhaps he's building himself up over there or perhaps he's really enthusiastic about the role that they've given him or maybe it's just about the money. In any case, my heart longs for him to work at the right place.
It seems that the team were in Asia for reasons more than confirming the pre-season tours but to also look at the commercial side of things. Maybe this is not news to you but I've only just found out about our partnership with Tencent QQ. Their main product is an internet based messaging program. I'm not sure what the deal is worth but it's good to see that more and more secondary sponsorship deals are being done while we wait for 2014 to come.
The bigger impact though, is not on the money earned directly from the deal. It's the exposure that such a deal provides to Arsenal Football Club. I don't have the specific numbers but we all know how huge the country of China is. Although the program is used only in China, the number of users are still unbelievably high. If the connection and advertisement allows us to reach even 5% of their total users, the potential money that it can generate is still significant. At the end of the day, the marketing side is what these tours are about too.
Continuing on with the Asian theme, Park Ju Young will no longer have to return to South Korea by 2014. His military service due date has now been extended another 10 years. I'm quite sure we signed him for 2 years knowing that he will leave and report back in his home country for national service. I'm not sure how this affects his contract or position with Arsenal. Maybe the story is also why suddenly Anderlecht seemed to be interested in him.
Almost everyone (including myself) thought that with such a short contract, he has to come good and come good quick. This hasn't panned out the way it's supposed to be and perhaps there should be more patience applied now. He looked good again in the reserves game against WBA, even scored a rather wonderfully taken shot from outside the box with his left foot. But let's not bluff ourselves and pretend that he's going to kick on because of that.
It's easy to write Park off and say that he's not up to Arsenal's standards. I'm not saying you're wrong to think that way. I'm just someone who believes that everyone should get an equal chance to give it a try. The position we find ourselves in at the moment does not allow for experiments and picking up of precious playing time in one's transition to the English game. That is where Park has become a victim. Of course, he could fail if he's given a run of 6 continuous games. At the moment though, it's based on an assumption.
Keown wasn't the only Arsenal legend speaking about the team. Sol Campbell was another one and he had plenty to say. He spoke at length about the spirit and desire of the team. The last few games have proven that in some ways. Coming back from behind instills belief in the team. Something that the championship winning teams of 2002 and 2004 had.
Those two winning sides steamrolled over their opponents in most matches and yet there were able to call upon their non-defeatist attitude when required. Compared to the present side which have more days slogging it out to win matches than winning it at a canter. A lot of things happen in football matches but as long as the team realise that they don't like to be beaten and keep going at it, there will bound to be a successful path up ahead.
Happy St Patrick's Day!