Der Klassiker Preview: Bayern Munich vs Borussia Dortmund
772 //
30 Nov 2012, 15:30 IST
Matchday 15 is here and it rigs us Bayern Munich vs. Borussia Dortmund, also known as Der Klassiker or the German Clasico. Bayern host the German champions on Saturday in a match where both teams cannot afford to go for anything less than a win.
Dortmund trail Bayern by 11 points in the table and need to start chipping away at that deficit as soon as possible if they want to have any hope of defending their crown. Given their position, one would think that the Bavarians can afford a draw, but then again this match isn't so much about the league as it is about pride. After four consecutive losses to Dortmund in league play and the 5-2 loss in the final of the league cup, the worst in the club's history, Dortmund have established themselves as the record champions' bogey team. And for every Bayern fan watching the game tomorrow, it's about time the club lay their demons from last season to rest.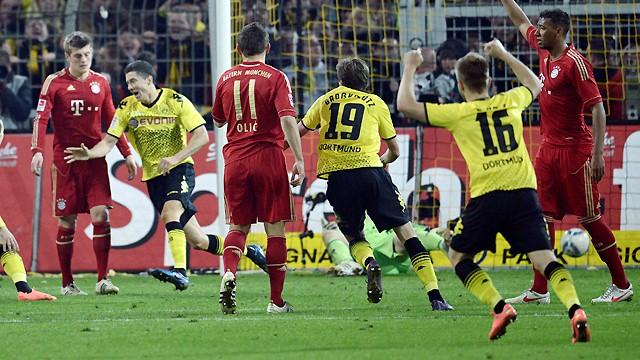 Midweek saw Dortmund draw against against a Dusseldorf side who sat deep and marked their opponents well, allowing Dortmund the lion's share of the possession. Jakub 'Kuba' Blaszczykowski opened the scoring for Dortmund in the 43rd minute only for Stefan Reisenger to equalize in the 78th minute after long spells of Dortmund dominating the game.
Bayern on the other hand won their midweek tie against a spirited SC Freiburg. The scoreline, which was 0-2, flatters the performance of the Bavarian club, who after scoring through a questionable penalty went a full hour without scoring against 10 men.
Team News
Center forward is where the dilemma lies for Jupp Heynckes. Mario Mandzukic and Mario Gomez are both great number nines and while Mandzukic is the league's top scorer with 9 goals, Gomez's goal against Hannover shows he is back to full fitness. For my money, Mario Mandzukic will start because of his great performance against Dortmund in the German Super Cup during pre-season, and Gomez giving an ineffectual performance against Freiburg in his first start of the season.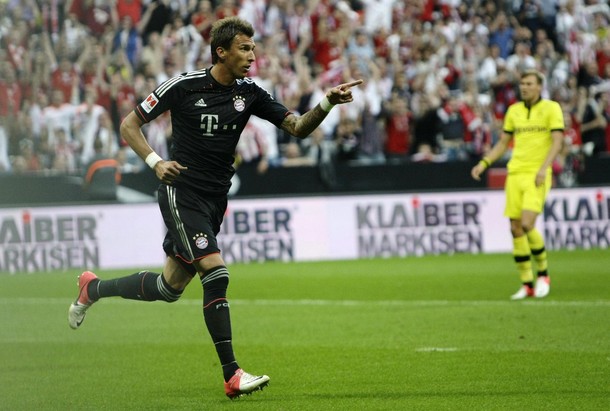 Arjen Robben is out with a minor muscle tear sustained while on international duty. In his absence the three attacking spots behind the striker will be taken by Franck Ribery, Toni Kroos and Thomas Muller. All three have been Bayern's best players this season and share 17 goals and 17 assists in between them. Bastian Schweinsteger will be fresh after being rested for the match against Freiburg. With Luiz Gustavo injured, Javi Martinez should start alongside him in the middle of the park.
For Dortmund, Hummels, Gundogan and Gotze were absent for the game against Dusseldorf, and while Gundogan could miss out with a minor injury or if Klopp elects to play two defensive mids Hummels and Gotze are certain to return. The inclusion of Gotze means that Kevin Grosskreutz will likely drop out with Reus, Gotze and Kuba playing behind Lewandowski.
Probable Lineups
Bayern(4-2-3-1): Neuer – Lahm, Dante, Badstuber, Alaba – Schweinsteiger, Martinez – Ribery, Kroos, Muller – Mandzukic
Dortmund(4-2-3-1): Weidenfeller – Piszczek, Hummels, Subotic, Schmelzer – Bender, Kehl – Kuba, Gotze, Reus – Lewandowski
Tactics
Here are the numbers from Dortmund's midweek game against Dusseldorf, the numbers are Barcelonaesque if anything, so it's surprising that the team that posted them only managed a draw and looked relatively toothless while doing so:
- Total shots: Dortmund 21, Düsseldorf 5
- Total passes: Dortmund 577, Düsseldorf 186
- Touches on the ball: Dortmund 866, Düsseldorf 466
- Possession %: Dortmund 65, Düsseldorf 35
Dortmund are a team that rely on a counter-attacking style of play with a high running/pressing game. Having too much of the ball against an opponent who's willing to sit deep doesn't allow them to create quick counterattacks as soon as they gain possession. Dortmund are a team that are at their best responding to the other team's play. Though it must be said that given that Gotze and Gundogan, who were both missing midweek, do give the team some creativity up front, the core of the team has been built around a high work rate and quick movement after gaining possession.
And in Bayern they have their favorite kind of team to play against. The Bavarians have posted the highest average possession and pass completion percentage in Europe other than Barcelona at 63.8 and 88.6 respectively. These kind of numbers have been synonymous with the side since the Van Gaal era and is one of the reasons why Dortmund have seemed to have Bayern's number in recent years.
And even though it's hard to imagine the Bavarians altering their game-plan, it's fair to say that they're a different team compared to last year. Also Bayern's relative impotence against the Dortmund defense last year can be greatly attributed to their wingers maintaining shape and dropping in deep to man-mark on their wing. Comparing Robben's heat-map against Real Madrid and Dortmund shows just how much this reduces their effectiveness:

And now comparing Grosskreutz to Cristiano Ronaldo:

And when you think about it Marco Reus has been Dortmund's best player this season, and if Gotze plays he will replace Grosskreutz. And Reus is a much better player than Grosskreutz, but he also is a lot more like Ronaldo with his tendency to drop behind the striker and play as a false nine. This change should afford Bayern a lot more space on the right wing for Lahm and Muller to exploit.
The Pie Prediction
I am a Bayern fan, always have been and always will be. And as I am not feeling like committing sacrilege I predict Bayern to win the game 2-0 with Mandzukic and Kroos scoring the goals and Franck Ribery to be MOTM. And though that prediction is laced with favoritism, you'd be hard pressed to argue that a team leading the league by ten points aren't the best in it.