EPL: Despicable blues
1.43K //
06 Nov 2012, 10:12 IST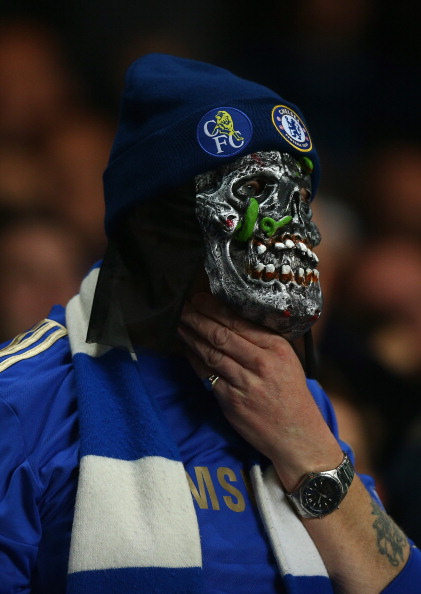 The title has nothing to do with majority of the match-going Chelsea fans. It is about racists who happened to be Chelsea fans and not the other way round.
Club football has reached a nadir where fans abuse their own national team players just because they play for a different club. David Beckham is a case in point, and Danny Welbeck experienced it on a different level last week. It wasn't the usual swearing which one would hear while a player is preparing to take a corner.
During last week's League Cup match between Chelsea and Manchester United, Chelsea fan Gavin Kirkham pinched his fingers and thumbs in front of his chest – he wasn't doing the Kevin Nolan chicken dance – but mimicking a monkey scratching his armpits. He was referring to the colour of Welbeck's skin, unless the monkey gesture was intended for Daniel Sturridge or John Obi Mikel.
Why not? It had happened in the past, and most recently Didier Drogba was racially abused by a Chelsea fan last season. It was another Gavin Kirkham this time.
During a home game against Tottenham Hotspur, Stephen Fitzwater was heard by other Chelsea fans making a racist comment towards Drogba. He was reported to the authorities, and handed a three-year stadium ban. Now Gavin cannot attend any football match in the UK or abroad.
In the 80′s, when the neo-fascist political party The National Front was in its decline, but was still supported in parts of London, Chelsea winger Paul Canoville made his debut for the club.
Playing away at Crystal Palace, Paul was 20-years-old when he got off the bench to warm up. Chelsea fans started to scream. Not in delight but anger. Instead of welcoming a youngster making his debut, and more importantly, the first black player to play for Chelsea, they screamed, "Sit down you black c***". Screams turned into vile chants: 'We don't want the n****r, we don't want the n****r, la la la la'.
After four-and-a-half years at Chelsea, suffering the abuse in silence, Paul was talked into moving to Reading despite three years remaining on his contract. All because of a fight with a team mate during pre-season, who called him a black c***.
In his autobiography Black and Blue published in 2008, he described in detail how he suffered racial abuse on his debut from his own fans.
Chelsea, as a club, have taken huge strides in football after it appointed Ruud Gullit as the Premier League's first black manager in 96, but the racial abuse that Avram Grant received after he replaced Jose Mourinho in 2007 screams of hypocrisy. It is amusing that the club owner Roman Abrahimovic was never at the receiving end of racial abuse from the fans despite being a Jew, same as Avram Grant.
Is there a way to stop racism in football? The present paints a grim picture. Black players in England are threatening to break away from the Professional Footballers Association to form their own group as they feel under-represented. Is the hatred so much that countrymen abuse fellow countrymen?
Racism is a crime and so is rape. Did punishing rapists stop women from being raped? Gavin Kirkham certainly did not learn anything from Stephen Fitzwater, and he from the fascist skinheads of the 80′s.
Who is paying the ultimate price? Not the club, not the fans, not the players, it is the game that is forced to hang its head in shame.
If England is asking for an international football ban on Serbia  for their repeated racial offences, then the FA must be brave to practice what it preaches. For the crimes of the few, many must pay the price.