Diego Simeone and Xabi Alonso charged by FIFA for improper conduct
12.11K //
28 May 2014, 10:52 IST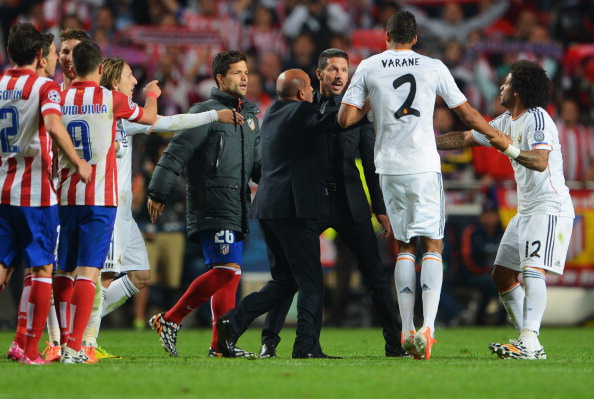 The UEFA disciplinary committee has charged Atletico Madrid manager Diego Simeone and Real Madrid midfielder Xabi Alonso for improper conduct following the UEFA Champions League final in Lisbon.
Simeone, aged 44, had twice raided the pitch during extra time period, once after the fourth goal by Cristiano Ronaldo when he confronted Real Madrid's young centre back Raphael Varane, confirmed Sky Sports.
On the other hand, Alonso, who had to sit out of the match due to suspension after he had spritined down the touchline after the final whistle.
Xabi Alonso's celebratory run:
UEFA have confirmed on their website that both of the cases will be heard at a disciplinary hearings on July 17.
In addition, both the teams have been charged for receiving at least five yellow cards during the match, with seven players from Atletico Madrid and five from Real Madrid seeing a card each.
All the punishments meted out by UEFA following Champions League final:
Real Madrid CF:
lmproper conduct ofthe team (5 cards or more.)
Setting off of fireworks.
Xabi Alonso (Breach of general principles of conduct.)

Atlético de Madrid:
lmproper conduct oftheteam (5 cards or more.)
Setting off offireworks.
Diego Simeone (Dismissal from bench.)