Do England have what it takes to make European glory in the summer?
700 //
04 Mar 2012, 23:57 IST
Arjen Robben's injury-time strike thwarted a late comeback as caretaker manager Stuart Pearce's England suffered defeat against the Netherlands at Wembley.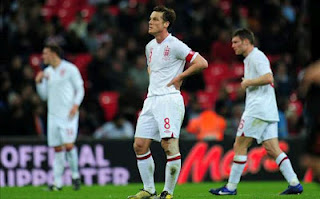 After Wednesday's illustrious and emphatic match, a couple of questions springs to the mind of FA chairman, David Bernstein as the months go by and Poland and Ukraine venture further into the sights of European countries everywhere. Holland grabbed a late, unexpected and devious goal from the ever so notorious player in English football, former Chelsea phenomenon, Arjen Robben.
The first half was a somewhat encouraging one from Stuart Pearce's view. A very young England squad held the World Cup finalist at a 0-0 draw at half time. The game was going in a somewhat monotonous motion with not many chances at either end of the pitch and looked like it was going in a relatively similar fashion in the second.
Then suddenly, out of nowhere, that man Arjen Robben illuminated the Wembley stadium with some fantastic moves and easily placed the ball in the back of Joe Hart's net in unexpected fashion.
Huntelaar quickly added a second with a spectacular header that resulted in injuries to the Dutch striker and England defender Chris Smalling, who was carried off on a stretcher after the collision. With the match looking likely to end miserably for the fans and caretaker manager, Stuart Pearce, things quickly turned around as newly transferred, Chelsea centre-back, Gary Cahill pulled one back for the Three Lions as he executed a cleanly cut finesse ball past Dutch keeper, Stekelenburg.
To pundits, the goal was clearly offside and Pearce may have been worrying about Cahill's position in the first place, but a goal is a goal and he did fantastically to get one back in the friendly.
As the match progressed into stoppage time, Ashley young equalized for the young England squad as he smashed the ball over the Dutch keeper just yards from the goal line to draw England level with Holland in this incredible match.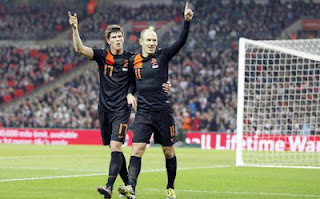 However, this achievement was short lived for the English as the Dutch goal enthusiast Arjen Robben cleanly chopped a ball over English keeper Joe Hart to make the score 3-2 to the Dutch.
To an England fan, Wednesday night could be seen as a somewhat encouraging performance from such a young England squad from delightful individual performances from the likes of, captain and Spurs player, Scott Parker, Chelsea forward, Daniel Sturridge and Manchester United forward, Ashley Young.
It's fair to say that the Netherlands didn't always play with a high tempo, yet you could still see the sheer class that they possessed. For England, the real test will come against the like of France, Sweden and Ukraine in Donetsk and Kiev in 14 weeks time because it is all about what you do in the tournament.
Written by Jake Rostron
Follow him on Twitter @jakerostrox
Please like O-Posts on Facebook
Follow the site on Twitter