Does Oxlade-Chamberlain deserve more playing time?
1.05K //
28 Mar 2013, 00:11 IST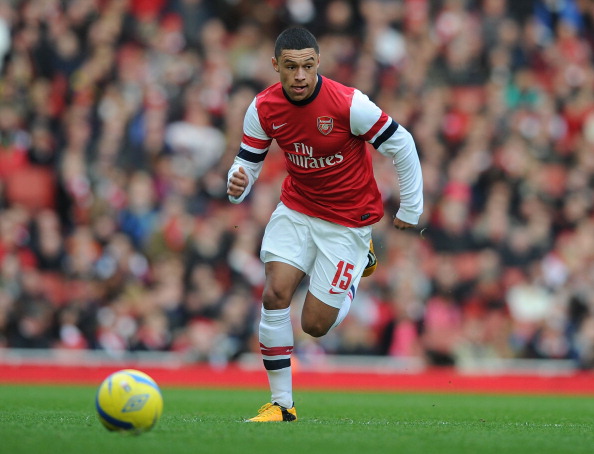 Alex Oxlade-Chamberlain is the latest talent from the now-famous Southampton academy, which in the past has produced the likes of Gareth Bale and Theo Walcott. He broke into the Saints' first team at 17 years of age in the 2010-11 season, and scored 9 goals in 34 league appearances for the then-Championship club.
His rapid development and obvious potential alerted Gunners manager Arsene Wenger, who wasted little time in bringing the talented teenager to the Emirates Stadium. It was evident that 'the Ox' would cut it in the Premier League with his brute strength and ability to run with the ball, leaving defenders in his wake.
He scored 4 goals in 26 appearances in his debut season, and his matured displays for Arsenal earned him a call-up to the national squad. He was also included in the team that flew to Poland and Ukraine for Euro 2012, and started in the Three Lions' crunch tie against France that ended 1-1.
Comparisons with compatriot Theo Walcott are inevitable, as both have been produced by Southampton, both joined the Gunners as teenagers and were thrust into national spotlight soon after. When judged against the speedy Walcott, Oxlade-Chamberlain makes up in the strength department for what he lacks in pace, is a much better crosser of the ball, and also a much better finisher than Walcott was at his age.
In terms of numbers, Walcott scored just a solitary goal in 32 appearances in his first full season with Arsenal, whereas Chamberlain scored 4 in 26 appearances. Walcott drastically improved in his second season, scoring 7 goals in 39 appearances, but Oxlade-Chamberlain has managed a paltry 2 goals in 26 appearances so far.
However, one must take into account that Oxlade-Chamberlain is being used as an impact substitute this season by Wenger. The 19-year old was strongly tipped to take the Premier League by storm this season, but Wenger has erred on the side of caution when it comes to the young player's development.
One may argue that he deserves more playing time, but Wenger is one of the few managers who has shown his ability to help promising players fulfil their potential and become superstars time and again. There have been a lot of young, talented players who have not been managed as astutely as Wenger would manage his prospects, and their careers have dwindled. David Bentley, Michael Johnson, and Adam Johnson come to mind.
Brendan Rodgers faces an uphill task of fulfilling young winger Raheem Sterling's potential, the teenager considered to be the next England prodigy. He has struggled for form in recent months after starting the season like a house on fire, and Rodgers has meticulously put him out of the spotlight. Wenger would have thrived on developing a player with the talent of Sterling, but has his hands full with Oxlade-Chamberlain.
It is difficult to adapt to the rigorous and physical demands of the Premier League, and as such, it has been a wise decision to slowly and seamlessly integrate the winger into the team.
However, Metro has reported that the winger expressed his frustration with Wenger's selection policy. He spoke after scoring for England in last Friday's 8-0 rout and said:
"My season hasn't progressed in a way as much as I would have wanted to because I always want to play. But I also understand the manager, in Arsene, will protect his younger players. I remember speaking to Robin van Persie last year, and Theo Walcott before, and they said they had experienced the same thing."