Eden Hazard: When did hazards get so beautiful?
2.65K //
21 Mar 2013, 12:57 IST
Born in Belgium to a family where both parents were professional footballers, one could easily guess where Eden Hazard was heading when he joined Lille in 2005 at the age of 14. Six years later, he had twice won the Best Young Player and the Best Player award in France. What makes the fact even more impressive is that he won all these honors consecutively, and also is the youngest to win the Player of the Year award in France.
By now, everybody knew Hazard was something special. When he confessed he wanted to leave for a bigger club, a massive scramble for the youngster's signature ensued. Chelsea managed to sign the 21 year old for a mammoth 32.5 million.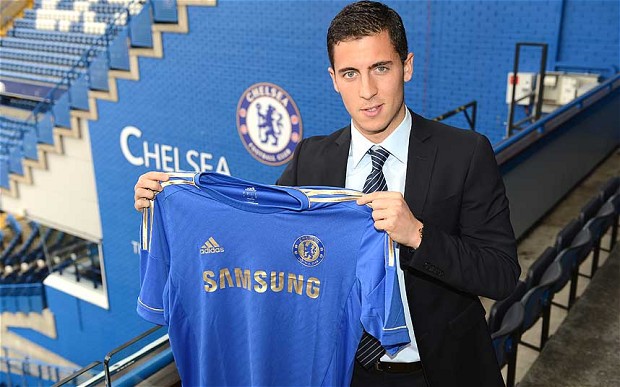 His arrival has stirred the complexion of the London side.  Hazard's impact on Chelsea in the mere 7 months he has played for them has been nothing short of massive. A Chelsea side once slammed for its lack of youth and life now looks nothing short of spectacular.
Why would one ever complain about a midfield that comprises of creative minds like Hazard, Mata and Oscar anyway? Thanks to the goal scoring exploits of an equally influential Juan Mata, Eden Hazard and evergreen Frank Lampard, Chelsea have been able to cope up without a consistent forward.
Hazard's debut season has been a rather rocky ride, but a ride full of surprises and opportunities at every corner.

When Hazard is on the ball, there is excitement in the stands; his teammates suddenly wake up as he forces the opposing defence into submission. You either focus on trying to get the ball (which, doesn't happen much) or fear a pass ripping through your defence.It's worth noticing the amount of key passes Hazard provides. His average in the above competitions is 2. Now, compare it to the likes of Messi (1.5), Ronaldo (1.8) and Iniesta (1.6), and you'll understand the lethality I'm talking about.
Hazard has managed to score 12 goals and provide 11 assist for Chelsea as of March. After suffering from a minor dip in form as 2013 commenced, Hazard is gaining momentum, mesmerizing audiences world over. His goal against Sparta Prague in the Round of 16 in the Europa League and Manchester United in the FA Cup salvaged Chelsea from faltering positions.
Chelsea were trailing Manchester United by two goals when a buoyant Hazard entered the fray with his sights set on changing the verdict and proving he is no big match refugee. The Belgian changed the state of play. Combining like a charm with Mata, he ran riot in the final third as he scored a breathtaking solo goal and provided the assist for Ramires' which essentially drew the match. Now, as a showdown at the Stamford Bridge beckons, Chelsea must be hoping Hazard can provide the fireworks again.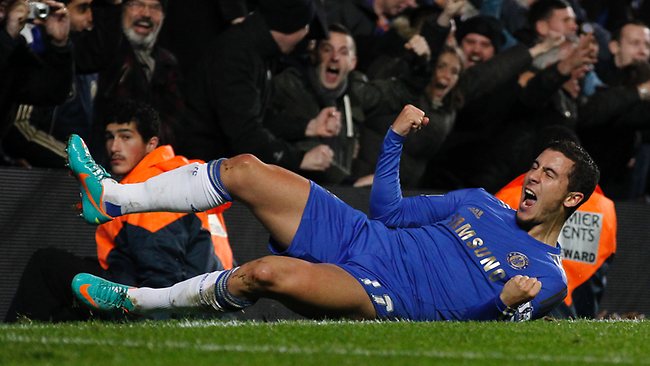 Hazard's diminutive frame and low centre of gravity helps him dribble through defences like a sea-snake majestically wriggling through water. The average number of dribbles per game at 2.1 reflects the fact. For the ones whose adrenaline rush while comparing player statistics, feast on Ronaldo's 1.6 per game. That means, Eden Hazard, who plays in a comparatively more physical league, beats arguably the best player in the world at dribbling through defences.
Hold on ladies and gentlemen, this is only the beginning. Hazard may not end up winning myriads of club honours with Chelsea in his debut season, but, he is earning something far more important for a developing player – experience. At just 22, if there's only one thing the Belgian is going to accomplish, it is improvement in his play.
Chelsea have a potential Ballon d'Or winner on their hands. One can imagine Hazard scoring and assisting more as he ages and becomes more prolific. Currently, Hazard is in his best run of form at his new club. Consequently, these two months have produced astonishing performances and goals by Hazard.
One more component that may thrust Hazard to the top of that ladder is the amount of sheer talent around him at Chelsea. I cannot think of a better midfield partner than Juan Mata for Hazard. Both think alike, always looking to provide a killer pass or try to salvage half a yard for a shot. In build-up play, both telepathically move in and around each other, always trying to ease pressure and keep the ball in possession.
Football is always looking for magic. And players like Hazard represent the magic fans are always craving for. One cannot deny how important Hazard has been for Chelsea, and more importantly, how pivotal he is going to be for Chelsea in the coming years.